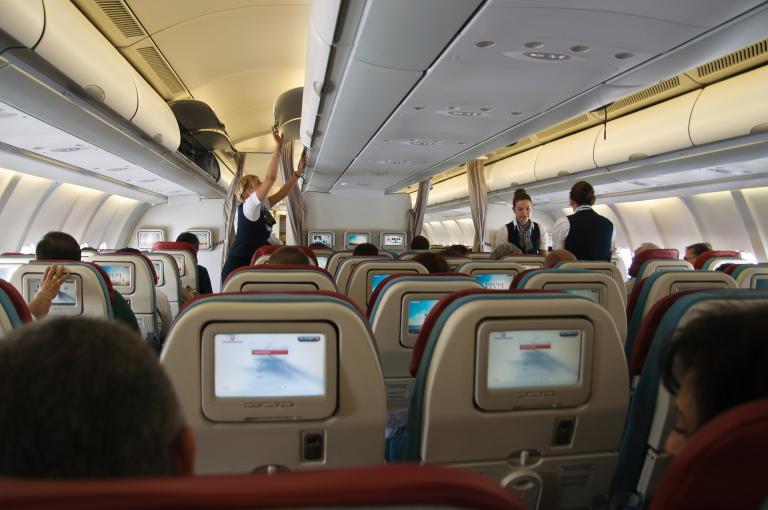 An Oklahoma woman named Savannah Phillips was flying on United Airlines from Oklahoma to Chicago on Monday when the guy next to her started harassing her… Before the plane took off, the man she described as 'in his 60s with yellow sunglasses who claimed to be a comedian' started texting someone about her.
'As soon as I got buckled, he sat back down… his phone was maybe 12 inches from my face and he proceeded to text someone that he was sitting next to a "smelly fatty",' Phillips wrote. 'I don't even know what the rest of his text said. I turned my head away as fast as I could. I was shocked and it was like confirmation of the negative things I think about myself on a daily basis. Before I knew it, I could feel hot, salty tears coming down my face.'
The Daily Mail explains that another man saw the mean texts too, a man sitting across the aisle from her.
'He tapped him on the shoulder and said, "I need to talk to you",' she recalled.

'The guy took his earphones out and turned around and he said, "We're switching seats right now".'

Phillips said the passenger told the comedian he would not tolerate the text messages he was sending.

Immediately afterward, the two men switched seats.

'When he sat down he saw me crying and asked why I was crying,' Phillips said.

'He said to not let it get to me and not to worry about it, and we started making small talk which made me feel better.'
The mother called this man who showed her kindness a hero. He turned out to be named Chase Irwin, who manages Dierks Bentley's Whiskey Row bar and restaurant in Nashville.
'I was going to wait until the end of the flight to say something but I could not have this guy sit next to her this whole flight and her thinking he's making fun of her,' Irwin said.

'It really gets to me deep down when I see someone crying, and when I saw her crying it really hit me hard and actually got sick to my stomach.'
This is such a sweet story of a guy stepping in and doing something about that a$$hole!! I am sick of people being obsessed over over other people's bodies, especially some sixty year old man who never has had to give birth! Kudos to Irwin for stepping in and showing respect to someone who obviously deserves it.
What a heartwarming story!
Watch News Channel 5's report below:
Image Credit: Caribb on Flickr