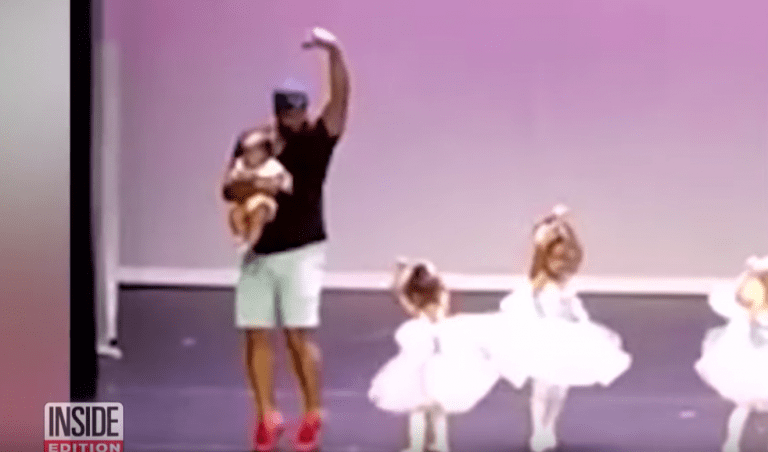 Oh my gosh, this is amazing.
A little girl in her first ballet recital was having trouble not being absolutely terrified.  During the rehearsal, she started crying on stage, so they asked her dad to come up and offer moral support.  He did more than that!
When he got on stage to help comfort his daughter, he apparently knew all of the moves.  (Must've been helping her practice at home.) Instead of swooping up his kid and taking her off to melt down in privacy, he showed her how it's done.  The dad started doing the moves, much to the delight of the audience.
How wonderful to see a dad interacting with his daughter in this way.  Showing her how to do something hard, instead of trying to usher her away without having done it.  I have no idea how the actual dance went, but I love love love that this little girl (and apparently a little baby) have such a caring dad.
This caused Twitter user Bethany Mandel to remark, "Nothing is sexier than fatherhood."
Nothing is sexier than fatherhood https://t.co/Uruz0enGTf

— Bethany S. Mandel (@bethanyshondark) June 8, 2018
I agree!  Nothing makes me happier than when I see Dakota with the kids.  Fatherhood is all hands-on-deck-experience!  The Daily Mail has the details:
A burly father-of-three performed some dainty ballet moves while holding his daughter's hand after she suffered stage fright during a performance.

Hilarious footage shows Marc Daniels rush to help his youngster at Hamilton City Hall in Bermuda on May 29 during a dress rehearsal for her first ever dance recital.

The self-employed barrister can be seen pirouetting and gracefully balancing on one leg beside his two-year-old daughter Bella as parents and teachers giggled.
Watch the video below:
Hat Tip: Daily Mail
Image Credit: Screen Shot