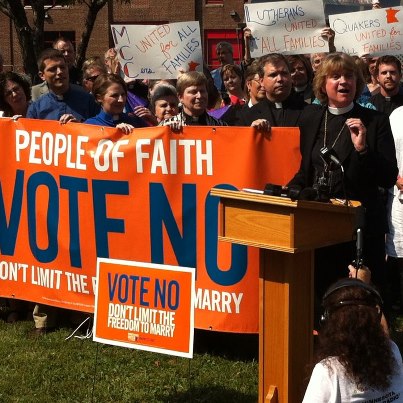 This picture is of Rev. Ann Svennungsen, Bishop of the Minneapolis Area Synod of the Evangelical Lutheran Church in America, speaking at a rally at the Minnesota State Fair this summer. I use it courtesy of Javen Swanson, Faith Organizer at OutFront Minnesota, a cofounder of the Minnesotans United for All Families coalition.
Minnesota Public Radio reported on the event as the state's 2012 political season ramps up:
One of the biggest questions on this year's ballot is a constitutional amendment that would effectively ban same-sex marriage — an issue that has those on both sides of the debate squaring off down the street from one another in two new booths at the fair

Opponents of a constitutional amendment that would define marriage as only between a man and a woman staged their first event Thursday just outside the fair.

With the iconic gates to the fairgrounds in the background and amendment supporters singing the gospel song "This Little Light of Mine," more than 100 clergy leaders gathered to show their opposition to an amendment.

Rabbi Harold Kravitz of Adath Jeshurun Congregation said one view of marriage shouldn't be enshrined in the Minnesota Constitution. State law prohibits same-sex marriage.

"I'm a rabbi of a conservative synagogue in suburban Minnetonka," Kravitz said. "Our congregation has been grappling with this issue respectfully and thoughtfully for at least 30 years. Many of us have come to believe it's time to expand the canopy of marriage to same-gendered couples who want to make that significant commitment."

Kravitz and the other religious leaders at the event are part of Minnesotans United for All Families, the coalition opposing the amendment.
A conservative rabbi, a Lutheran bishop, Quakers, MCC members and so many other people of faith working to support all families in their state.
This is what twenty-first century faith leadership looks like.