Should women be priests?
Should women submit to their husbands?
Is premarital sex okay?
These questions headline the promotional flyer for the new book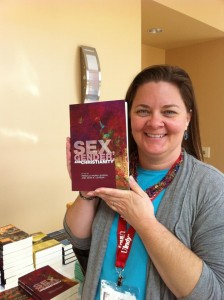 Sex, Gender, and Christianity, edited by Priscilla Pope-Levison and Jack Levison, and they give you a sense of some of the topics and themes tackled in a set of essays that resulted from a Lily Fellows Program Summer Seminar for Faculty at Seattle Pacific University.
I was one of about fifteen faculty that gathered for a summer month in 2010 to read, write, and discuss issues related to gender and Christianity in our teaching, research, and campus cultures. Led and graciously hosted by Jack and Priscilla, the group collaborated on written work as well as teaching tools and modules. In fact, the final chapter of the book is a short discussion guide designed to be used with a video that was made during our time in Seattle. It is specifically tailored for use with students on college and university campuses, especially those that have Christian religious and cultural influences.
Further description of the book, available now, in reference to those opening questions:
"Inflammatory questions such as these have splintered Christianity and polarized the church. In Sex, Gender, and Christianity, a cadre of seasoned college professors offers the modest proposal that honest, fruitful conversations about these questions will take place only if we develop the ability to deal with sex, gender, and the Christian faith with the academic rigor and perspectives of our various disciplines. This volume contributes an unprecedented collection of first-rate articles from a variety of disciplines—from the social sciences to history, from literary criticism to theology—that will challenge college administrators, professors, and students to address fractious questions in an atmosphere of scholarly inquiry."
I commend this volume to you, and hope that your conversations can be as fruitful and challenging as ours were.
Here's the video, Impossible Promises and Broken Hearts: Sex and Spirituality on the 21st Century Campus:
Author note: 'Honorable Mention' is a recurring feature on this blog … a quick mention/shout-out to someone or something worth noting.