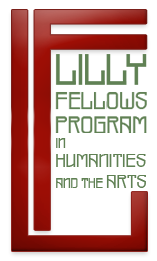 This week, I'm at the Lilly Fellows Program National Network Conference at the University of Indianapolis, and at the meeting of the LFP's National Network Board, on which I serve.
The LFP has been an integral part of my own development as a teacher and scholar, providing resources and community that informed my sense of vocation. Reinforcing that I am in fact called to serve in these ways in the world. That my work has meaning and purpose. As a postdoctoral teaching fellow at Valparaiso University over a decade ago, I taught the first classes that were my own, experiencing all the joy and terror that accompanies such an endeavor. I was mentored by thoughtful people of faith who take scholarship and spirituality seriously. I formed lasting friendships with people who seem to be more like extended family because of the year or two we lived and worked together at a transitional stage of our professional and personal lives.
More importantly, the LFP has been an important national voice in church-related higher education since its founding in 1991. In addition to its National Conference for network representatives, it sustains programs to nurture younger teacher-scholars, support graduate students interested in church-related higher education, and fund a number of programs providing opportunities for conferences, seminars, and institutes on various topics.
The theme for this year's conference is Incorporating Service: The Body at Work. We will be thinking and talking
"about how service has been enacted in the history of various church-related colleges and universities as well as to reflect theologically about what it means to embody service and how we can make service more integral to the missions of LFP institutions of higher education."
And if previous years' conferences are any indicators, we will also be laughing, struggling, working, and worshipping together as a diverse and thoughtful gathering of Christians committed to excellence in higher education.
Not a bad way to spend a few days.
Author note: 'Honorable Mention' is a recurring feature on this blog … a quick mention/shout-out to someone or something worth noting.