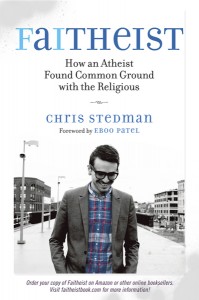 Chris Stedman has written the book I didn't know I needed to read after finishing Richard Dawkins' The God Delusion. After discussing Sam Harris's Letter to a Christian Nation. After considering Christopher Hitchens' God is Not Great (still sitting on my living room table … waiting). After watching Bill Maher's documentary Religulous.
Because when I read, watch, or listen to these men, there's not much that I intellectually disagree with when they criticize religion, call faith-claims into question, and challenge the dominance of Christian ideology in the Western world. Even as a person of faith who has belonged to a church for all of her life, I often agree.
But they leave me unsatisfied. There's always been something about them that doesn't sit right. Tone? No, I'm not averse to conflict and disagreement. Anger? No, give me righteous outrage any day.
What I needed was to read Faitheist: How An Atheist Found Common Ground with the Religious.
"And in a universe where I believe meaning and purpose are not gifted from a divine source but are instead collectively assembled by humans, learning to live alongside and love others – all others – is perhaps our greatest task."
This spirit of generosity, curiosity, humility, and compassion pervades Stedman's book and I am grateful for it. His leadership in bringing atheism to interfaith dialogue and public service will be essential for us to learn to live with and love each other.
But it's not just that Stedman is Not-Dawkins-et.al. It's that he is able to weave together two stories of personal discovery deeply embedded in a culture that privileges heterosexual Christians.
There were, in fact, two "coming out narratives" in Faitheist. Stedman realizes twice that he's just been trying too hard to be what the dominant culture says he's supposed to be. Trying to be straight. Trying to be Christian.
Because this is the power of systemic privileges in this culture. I've written about Christian privilege and being an atheist ally elsewhere on this blog, and I sincerely wish more people of faith would reckon with their complicity in a system that advantages them.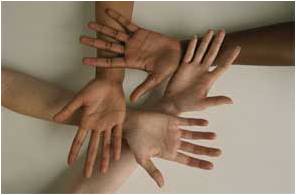 Another thing that struck me throughout the book (released November 6) was the pervasiveness of Lutherans. The positive presence of (ELCA) Lutheranism in Stedman's story. Now, of course I'd notice this when I'm one of them, and of course Lutherans will be pervasive when a large part of a story takes place in Minnesota. And yet, I was beyond relieved when this is what the pastor said to the vulnerable struggling queer teenage boy:
"I know that I can't even begin to imagine how difficult this is for you," he said, looking pained. "But I want you to know that there are people who care about you a whole lot, like your mom, and who love you just the way that God made you. They don't want you to change, and neither does God."
Because I know how very differently that conversation might have gone with another pastor, how that conversation goes terribly wrong every day with homophobic people of faith and clergy who try to pray the gay away. But Pastor Luther Dale (I had to confirm that this was his real name, since Lutherdale is in fact the name of a Lutheran camp in Wisconsin!) is the one to whom Stedman's mother brought him.
And Augsburg College, a Lutheran college in Minneapolis, is where Stedman found the importance of community through service with the Campus Kitchen Project and at the Brian Coyle Community Center. I've been at Augsburg several times in recent years, visited BCCC, enjoyed the fruits of the Campus Kitchen, talked with its director, and know how it is an important expression of Augsburg's commitment to being a college "guided by the faith and values of the Lutheran church, and shaped by its urban and global settings." Knowing that there are many other campus environments in which Stedman, the angry queer atheist at that stage of life, might have found himself, I am again grateful that it was this community where he was able to safely work through his questions and find his passions for service. And even study religion.
One of the gifts I find in Lutheran theology is its ability to reckon with the complexity of being human. And I can't help but see that influence when Stedman reflects:
"For years I was blinded by my own anger, animosity, and resentment. It prevented me from seeing myself honestly, and from seeing and hearing others in their complexity."
This is what Chris Stedman does that Dawkins et.al. cannot or will not do.
And it's why Faitheist is really the new atheist.