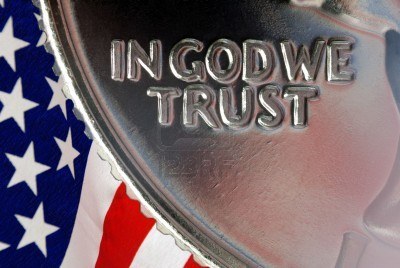 One of the most viewed posts I've written yet at Patheos was published back in September, On Christian Privilege & Being an Atheist Ally.  The response that it got and the conversations and relationships that it has sparked convinced me that there is a pretty significant need for people of faith, especially the Christian variety, to see more of the ways in which our culture affords us a privileged place, whether we want to admit it or not.
Here's some of what Frank Bruni wrote over at The New York Times last week about our national God-talk:
We Americans aren't careful at all. In a country that supposedly draws a line between church and state, we allow the former to intrude flagrantly on the latter. Religious faith shapes policy debates. It fuels claims of American exceptionalism.

And it suffuses arenas in which its place should be carefully measured. A recent example of this prompted my conversation with [former Nebraska Senator Bob] Kerrey. Last week, a fourth-year cadet at West Point packed his bags and left, less than six months shy of graduation, in protest of what he portrayed as a bullying, discriminatory religiousness at the military academy, which receives public funding.

The cadet, Blake Page, detailed his complaint in an articlefor The Huffington Post, accusing officers at the academy of "unconstitutional proselytism," specifically of an evangelical Christian variety.
Bruni goes on to talk more about the case of the culture at West Point, suggesting ultimately that the problem is a much broader one in our society:
Every year around this time, many conservatives rail against the "war on Christmas," using a few dismantled nativities to suggest that America muffles worship.

Hardly.We have God on our dollars, God in our pledge of allegiance, God in our Congress. Last year, the House took the time to vote, 396 to 9, in favor of a resolution affirming "In God We Trust" as our national motto. How utterly needless, unless I missed some insurrectionist initiative to have that motto changed to "Buck Up, Beelzebub" or "Surrender Dorothy."
Oh how I'd love to see a case for "Surrender Dorothy!" as a national motto!  Just kidding … it's the Wizard of Oz fanatic in me that had to write that.  Sorry.  Back to Bruni's concluding points:
God's wishes are cited in efforts to deny abortions to raped women and civil marriages to same-sex couples. In our country God doesn't merely have a place at the table. He or She is the host of the prayer-heavy dinner party.

And there's too little acknowledgment that God isn't just a potent engine of altruism, mercy and solace, but also, in instances, a divisive, repressive instrument; that godliness isn't any prerequisite for patriotism; and that someone like Page deserves as much respect as any true believer.
I disagree on only one point here:  Bruni is too generous in his inclusion of a "She" reference to God.  It's pretty clear to me that the national god invoked in many of these references and occasions is a racist white male patriarchal heterosexist conservative exclusivist evangelical god.
All the more reason to dis-enthrone him from our national consciousness.