In so many ways, 2012 was a year of setbacks for women's reproductive health. Katie over at Feministing puts it plainly:
"The Guttmacher Institute is reporting that 2012 saw the second highest number of abortion restrictions (43 in 19 states) ever. The scary thing is that this is better than 2011, when a record-breaking 92 abortion restrictions were enacted."
She also includes Guttmacher's "scary graph" depicting the leap up and in the wrong direction.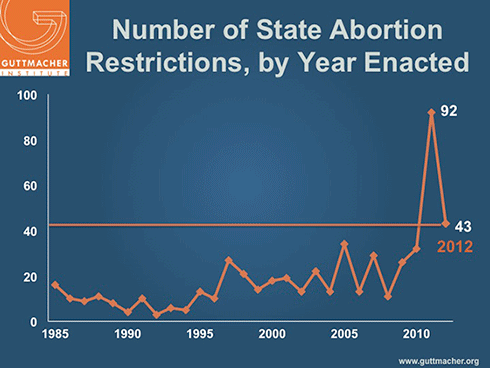 So it's good to have this list from Eleni Towns at The Center for American Progress of the not-insignificant wins for reproductive justice, particularly related to faith leaders and institutions advocating for that justice.
1. Thanks to the Affordable Care Act, women have access to contraception at no cost, enabling them to make important decisions about becoming a parent according to their conscience.

2. Religious leaders and denominations defend their support for family planning.

3. Several states have moved away from abstinence-only programs toward more comprehensive sex education.

4. The Unitarian Universalist Association made reproductive justice a denominational priority.

5. The global United Methodist Church voted tosupport maternal health in the United States and around the world.

6. Faith Aloud, a religious counseling organization, organized a prayer campaign to support women.

7. Congress worked to ensure that women in uniform receive the same insurance coverage as the civilians they protect.

8. Attempts to pass so-called personhood laws failed in all 11 states in which these laws were proposed.

9. Faith leaders publicly condemned politicians' extremist views on rape.

10. Voters in Florida rejected an extreme ballot measure that would have restricted a woman's access to health care.

11. Women made their voices heard in the 2012 elections regarding health and reproductive issues.

12. The voices of faith-based groups were stronger than ever in speaking out for women's reproductive health.
For more information and links on each of these wins, head over to Eleni's longer piece here.