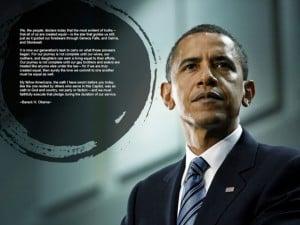 Unless you've actively studied the gay rights movement in the U.S., it might be possible that you'd never heard of "Stonewall" before President Barack Obama name checked it in his second inaugural address. You might have had the opportunity to learn about U.S. women's history at some point, given that we now have such a thing as 'women's history month' (March), but you might not know much about the Seneca Falls convention. My speculation is that most people know that Selma refers to a civil rights march, but how much of the detail do you know?
There has been a fair amount of analysis about the significance of that line in Obama's speech:
"We, the people, declare today that the most evident of truths—that all of us are created equal—is the star that guides us still; just as it guided our forebears through Seneca Falls and Selma and Stonewall; just as it guided all those men and women, sung and unsung, who left footprints along this great Mall, to hear a preacher say that we cannot walk alone; to hear a King proclaim that our individual freedom is inextricably bound to the freedom of every soul on earth."
Here is your primer – an equality 101 lesson, perhaps – so that you know exactly what he was talking about.
Seneca Falls
"In July of 1848, Elizabeth Cady Stanton and Lucretia Mott spearheaded the first women's rights convention in American history. Although the Convention was hastily organized and hardly publicized, over 300 men and women came to Seneca Falls, New York to protest the mistreatment of women in social, economic, political, and religious life. The Declaration of Sentiments and Resolutions issued by the Convention, which was modeled after the Declaration of Independence, detailed the "injuries and usurpations" that men had inflicted upon women and demanded that women be granted all of the rights and privileges that men possessed, including the right to vote."
"The Selma-to-Montgomery March for voting rights ended three weeks–and three events–that represented the political and emotional peak of the modern civil rights movement. On 'Bloody Sunday,' March 7, 1965, some 600 civil rights marchers headed east out of Selma on U.S. Route 80. They got only as far as the Edmund Pettus Bridge six blocks away, where state and local lawmen attacked them with billy clubs and tear gas and drove them back into Selma. Two days later on March 9, Martin Luther King, Jr., led a "symbolic" march to the bridge. Then civil rights leaders sought court protection for a third, full-scale march from Selma to the state capitol in Montgomery. … On Sunday, March 21, about 3,200 marchers set out for Montgomery, walking 12 miles a day and sleeping in fields. By the time they reached the capitol on Thursday, March 25, they were 25,000-strong. Less than five months after the last of the three marches, President Lyndon Johnson signed the Voting Rights Act of 1965–the best possible redress of grievances."
In 1969 Police raids on gay bars occurred regularly. It was illegal to serve Gay people alcohol or for Gays to dance with one another. […] At 1:20 in the morning on Saturday, June 28, 1969, eight police officers arrived at the Stonewall Inn. Approximately 200 people were in the bar that night. But the raid did not go as planned. This time the patrons refused to cooperate. … Within minutes, about 150 people had congregated outside. By the time the first patrol wagon arrived the crowd had grown to at least ten times the number of people who were arrested. A scuffle broke out when a lesbian in handcuffs was escorted to the police wagon. She fought with the police, and was hit in the head with a billy club for complaining that her handcuffs were too tight. An officer then picked her up and heaved her into the back of the wagon. That was the last straw for the already tense crowd. […]

News of the [subsequent] riot spread quickly throughout Greenwich Village and the next night, rioting again surrounded Christopher Street. Thousands of people gathered in front of the Stonewall, which had opened again, choking Christopher Street until the crowd spilled into adjoining blocks. Fires were started in garbage cans throughout the neighborhood. More than a hundred police arrived again and the street battling ensued until 4:00 in the morning. […]
I included a bit more here on Stonewall, because I think it is the least known of these three watershed moments in our struggles toward equality. Liz Halloran over at NPR has a longer description of the era and events here, including a conversation with historian and gay rights activist Martin Duberman, who remembers the events well:
Gay men in San Francisco had already been protesting their treatment at the hands of police. But, for whatever reason, he said, "Stonewall somehow became the symbol for all of this."

From the Stonewall uprising came activists groups, gay-rights organizations, and in 1970, the first Gay Pride marches in New York and other major American cities on the anniversary of the first night of the riots.
So there you have it. By alliteratively linking these three events, President Obama effectively drew direct lines between the work for women's equality, racial justice, and gay and lesbian rights.
It underscores the idea, attributed in variations to people ranging from Emma Lazarus and Martin Luther King Jr., to Lynard Skynard that "until we are all free, we are none of us free."