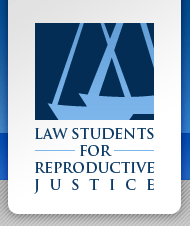 One of the many great things about participating in the Faith and Reproductive Justice Leadership Institute at The Center for American Progress this past year has been learning about organizations doing essential work for justice that I didn't even know existed.
One of them, Law Students for Reproductive Justice, invited me to speak on a panel about religion and reproductive justice at their regional conference in Chicago this weekend, and I'm excited to attend and learn about their work.
The organization's mission and vision:
Law Students for Reproductive Justice trains and mobilizes law students and new lawyers across the country to foster legal expertise and support for the realization of reproductive justice.

Reproductive justice will exist when all people can exercise the rights and access the resources they need to thrive and to decide whether, when, and how to have and parent children with dignity, free from discrimination, coercion, or violence.
And their goals:
Advance understanding of reproductive justice through active communities on law school campuses to foster diverse membership and encourage multi-issue activism.

Integrate reproductive rights law and justice (RRLJ) into legal education to further scholarly discourse and to increase learning opportunities.

Enhance law students' and new lawyers' roles in the reproductive health, rights and justice (RHRJ) movements through experiences and opportunities that develop their leadership, advocacy, and legal skills.

Build a foundation of lasting support for reproductive justice within the legal community.
I'm so glad that this organization exists. Looking forward to being among them this weekend, and to the work for justice that we can all do together.
Author note: 'Honorable Mention' is a recurring feature on this blog … a quick mention/shout-out to someone or something worth noting.