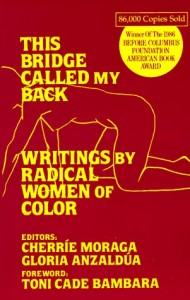 Last Friday, @feministtexican tweeted a simple query:
feminist books by women of color that everyone should read – go!
And her followers were off and running.  @lizwithhat compiled the responses in Storify, and I thought I'd share some of the listed responses here.  In part this is because I'm starting a new semester teaching Introduction to Gender and Women's Studies again, and I am thinking again about how important it is, especially for white feminist educators like myself, to read, share, teach, pay attention to, and learn from the work of women of color writing about race and gender issues.
Women, Race, and Class, by Angela Y. Davis

Feminism is for Everybody, by bell hooks

The Color Purple, by Alice Walker

Sister Outsider, by Audre Lorde

Sister Citizen, by Melissa Harris-Perry

Black Feminist Thought, by Patricia Hill Collins

Colonize This!  edited by Daisy Hernandez & Bushra Rehman

Ain't I A Woman, by bell hooks

This Bridge Called My Back, edited by Cherrie Moraga & Gloria Anzaldua

This Bridge We Call Home, edited by Gloria Anzaldua & AnaLouise Keating

Quran and Woman, by Amina Wadud

The Girl in the Tangerine Scarf, by Mohja Kahf

Mi Opinion, by Luisa Capetillo

En La Lucha, by Ada Maria Isasi-Diaz

Borderlands/La Frontera, by Gloria Anzaldua

Ain't I A Womanist, Too? by Monica Coleman

Chicana Power, by Maylei Blackwell
Twitter rocks because this list was compiled by probably a dozen or more people, from different backgrounds and places with different interests, in minutes.  Tell me where else that happens.
If you haven't read ANY of these books or authors, your feminist education needs a little work.  The great news is that now you know!  And now you have the opportunity now to head to your local bookseller or library, and get busy borrowing, ordering, and buying whatever you can.  There are others, to be very clear, but this will get you started.
Go!  Now!