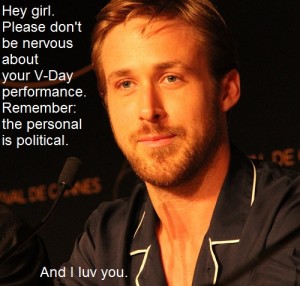 Ms. Magazine offered this round-up of suggestions if you want to mark Valentine's Day with feminist activism:
As a feminist, how about joining a political campaign in honor of Valentine's Day?

Saint Valentine was arrested for marrying couples against the wishes of Emperor Claudius II, so what better way to honor the day than to continue fighting for the right to marry? Celebrate Freedom to Marry Week, which concludes on Valentine's Day, by adding your voice to those supporting the freedom to marry or by asking Congress to repeal the Defense of Marriage Act.

You can also join or organize a marriage license counter action on Valentine's Day to protest Prop. 8.

Be part of a global movement to end violence against women and girls by attending a V-Day event–"The 'V' stands for Victory, Valentine and Vagina."

You can always send a Planned Parenthood Valentine's Day e-card to your special someone.

February 14 is also National Condom Day, so take part by being safe and using one.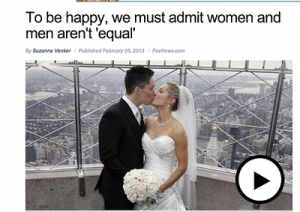 You can also head over to Samhita's tumblr Occupy Valentine's Day, and check out suggestions like this:
Shout about the lack of queer visibility in sexual rights politics.
Have a sexy conversation by candlelight with your partner about structural inequity.
Make a commitment to having fulfilling, accountable and loving relationships in all areas of your life.
You can also take as much feminist glee as you can muster at how Fox News recently used this picture (above) of a lesbian couple kissing at their wedding, in a story on traditional gender roles. Awkward!
Happy Feminist Valentine's Day to you!
Gosling image via.