I first met Darcy Baxter several years ago at a Faith and Feminism conference at Ebenezer/herchurch Lutheran in San Francisco, and have had the joy of getting to know more about her and her work through our participation in The Faith & Reproductive Justice Leadership Institute at The Center for American Progress in Washington D.C. this past year.

This month, she wrote an excellent piece for UUWorld, the quarterly magazine for the Unitarian Universalist Association of Congregations. In it, she focuses on the UUA's recent decision on what it's social justice issue for the next four years will be:
Every couple of years at the Unitarian Universalist Association's General Assembly, congregational delegates choose a social justice issue for our congregations to engage with over a period of four years. The UUA provides resources and a study guide for congregations. Each congregation then decides how it will act on that issue.

In June 2012, the General Assembly voted to make reproductive justice our Congregational Study/Action Issue for the next four years. (Learn more at UUA.org/reproductive.)
Darcy goes on in the piece to break down some of the basics, for people who may be unfamiliar with this language to talk about these issues:
The reproductive justice movement was created by a coalition of women of color to promote the right of all women to have children, not to have children, and to raise their children in safe and healthy environments.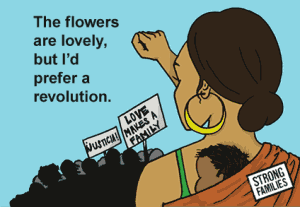 The reproductive justice movement, thus, has some key milestones in its history:
In 1984, the National Black Women's Health Project was founded with two goals: to more effectively address reproductive health issues in African-American communities, and to advocate within the mainstream (predominantly white) pro-choice movement for a broader agenda that includes the concerns of women of color. Over the next ten years, other women of color created reproductive justice organizations, such as the National Latina Health Organization, the Native American Women's Health Education Resource Center, and Asians and Pacific Islanders for Repro­ductive Health. Following the 1994 International Conference on Population and Development in Cairo, Egypt, the women involved with these organizations coined the term "reproductive justice" to name their work, ideas, and aspirations. In 1997, the SisterSong Women of Color Reproduc­tive Justice Collective was formed, bringing together sixteen organizations advocating for the reproductive and sexual health of women of color. SisterSong has been instrumental in promoting reproductive justice and in building support for it, as a conceptual framework and movement-building political strategy.
Darcy also effectively explains what is unique and indeed essential in framing these issues as "reproductive justice" :
Reproductive justice emphasizes that everything is connected, and therefore insists we refuse to isolate or pit important social issues against each other. Instead, reproductive justice advances these rights across the interdependent web of social justice issues. As the advocacy group Forward Together puts it in their "Strong Families" initiative, reproductive justice calls on us to work towards a world where every person and family has the rights, recognition, and resources to make decisions about their gender, their bodies, and their sexuality; where every person, family, and community has what they need to flourish.
And, what does this all have to do with religion and churches?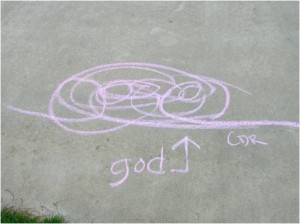 All of us are many things at once, even though we often feel a need to hide or highlight one part over another. For me, religious community is about a place of connection and interconnection. It is about building a space where all parts of us can show up, where we do not have to be singular, tidy, and complete. Religious community should be a place where each of us can be our multiple, messy, in-process selves.
I encourage you to head over to UUWorld.org and read the full piece. Darcy's compassion and commitment to justice shines through in the piece, and I hope that this sparks more conversation and work in all of our communities.
Image from the Forward Together/Strong Families website "Mama's Day Our Way"