This is part of an opinion piece I wrote for my local newspaper, the Jacksonville Journal-Courier, published last Thursday, March 14: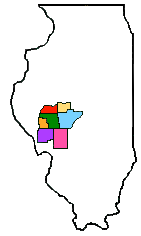 As I drove south out of Jacksonville on U.S. 67 to pick my husband up at the St. Louis airport, I thought of her.  The 16-year old girl who punched the cop impersonator in the face when he assaulted her, before she got out of his non-police-car, got away, and went for help.  We've read her story, and now several others, in the Journal-Courier over the past month.
I thought of how I want to tell her she did the right thing.  How brave she was in what must have been a terrifying moment of vulnerability, alone with a monster in the dark, in the middle of the country, when everyone else was probably asleep at home.  How much courage it took for her to strike back, get away, and go for help.
I also thought about what I would do.  I scanned the highway around me for that reported white car.  I  kept track of how far it was to each next town in case I needed help, made sure I knew where my hazard lights button was, even fantasized about how I could pull over, take a picture of him and his license plate with my iPhone before speeding away toward the next police station and finally some justice.  I knew that last one was too risky, though.  As I drove through town after town, I realized that since it was the middle of the day, the odds of this predator being out were pretty slim.  So I eased up on making my plans.
Then I got angry.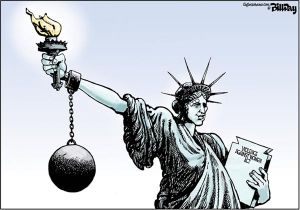 You see, we live in a culture that tolerates violence against women.  Why else would women be about
14 times more likely
than men to be sexually assaulted?  What other explanation can there be for the fact that Republicans in the 112
th
Congress let the Violence Against Women Act expire, and then more than 130 House Republicans and 22 Senate Republicans voted
AGAINST
its reauthorization?  This after a 2012 election season in which too many members of the GOP said indefensible things about rape and women's bodies.  They didn't prevail, thankfully, and President Obama
signed the renewal
of the 1994 act, which provides increased legal protections for victims, and services like a national hotline, funding for shelters and domestic violence agencies, and enhanced training for local law enforcement, on March 7, 2013.
This is is how it is for women in a patriarchal culture.  Don't walk alone.  Carry your keys so that one sticks out from between your fingers as an added weapon if you have to punch someone.  Check the backseat of the car before you get in.  Take a self-defense class.  The threat of assault and rape is something that girls and women learn to live with every single day.  The statistics are well known:  Over 200,000 people are victims of sexual assault every year.  The CDC reports that 1 in 5 women (18.6 %), and 1 in 71 men (1.4%) experience rape at some point in their lifetime.
So women are taught that we have to defend ourselves.
And now, for women in Morgan and Sangamon counties, we have to come up with an action plan just because we are driving down the highway alone.  Here's the truth:  When my husband drives down the highway to come and pick me up at the St. Louis airport, he doesn't think about these things.  He doesn't have to.  He never learned the key-in-the-fist trick when he worked late nights as a high school student.  He didn't have to.
Until the cop-impersonator is caught, understand that this is what sexual terrorism looks like.  Making decisions on a daily basis so that you won't get assaulted.  And know that women and girls disproportionately bear this burden as long as our culture remains the same.
For more, check out the Journal-Courier website.