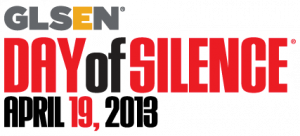 Today is the National Day of Silence, "a day of action in which students across the country vow to take a form of silence to call attention to the silencing effect of anti-LGBT bullying and harassment in schools."  It is organized and promoted by the Gay, Lesbian, & Straight Education Network (GLSEN) a "leading national education organization focused on ensuring safe schools for all students."
A bit about its history:
Founded in 1996, the Day of Silence has become the largest single student-led action towards creating safer schools for all, regardless of sexual orientation, gender identity or gender expression. From the first-ever Day of Silence at the University of Virginia in 1996, to the organizing efforts in over 8,000 middle schools, high schools, colleges and universities across the country in 2008, its textured history reflects its diversity in both numbers and reach.

Organizing a Day of Silence (DOS) activity or event can be a positive tool for change-both personally and community-wide. By taking a vow of silence, you're making a powerful statement about the important issue of anti-LGBT bullying, and when you organize others to join you that message becomes stronger.
I have participated in this event on my campus in past years by allowing students in my classroom who've taken the vow the freedom to not participate in class discussion, and one year I wore a t-shirt in honor of a silenced group.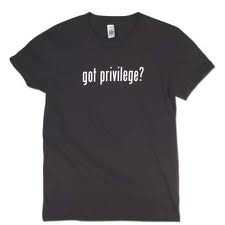 For a person with systemic privileges, being an ally is a complex and important thing.  There are plenty of suggestions out there for being an ally to LGBT people, being an anti-racist ally, a feminist ally, and many others.  There are ally guides for teachers, for friends, and for the general public.
Today, think about one of the common threads in a lot of these instructions: 
Listen
.  Listen to what is being said, and listen to what is not being said.  The latter, of course, seems harder.  Listen to the silence.  Whose voice isn't present?  Whose experience isn't being represented?  Figuring this out demands attention and careful thought in any social and political moment.
But the first part is hard too.  Listen to what is being said.  If white supremacy is being called out for what it is, and you have white skin, shut up and listen.  If sexism and misogyny are being named, and you are a man, stop talking and pay attention.  If homophobia is being described, and you are a heterosexual person, sit down and focus on the details.  If Islamophobia is the subject of news commentary once again, and you are Christian, take the time to really hear what it feels like.
Because the truth is, people are talking about this stuff all the time, and if you aren't hearing it, you aren't paying attention.
In fact, it's the people with systemic privilege who need a day of silence.
Actually, we might need more than one.