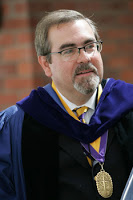 June is LGBT Pride Month and so it's a particularly good time to celebrate the fact that Rev. Dr. Guy Erwin has been elected by the Southwest California Synod to be the first openly gay bishop in the Evangelical Lutheran Church in America.
President Barack Obama's 2013 proclamation about Pride Month reads in part:
Lesbian, gay, bisexual, and transgender (LGBT) Americans and their allies have been hard at work on the next great chapter of that history — from the patrons of The Stonewall Inn who sparked a movement to service members who can finally be honest about who they love to brave young people who come out and speak out every day.

This year, we celebrate LGBT Pride Month at a moment of great hope and progress, recognizing that more needs to be done. Support for LGBT equality is growing, led by a generation which understands that, in the words of Dr. Martin Luther King, Jr., "injustice anywhere is a threat to justice everywhere."
ReconcilingWorks is an organization working for the "acceptance and full participation of people of all sexual orientations and gender identities within the Lutheran communion," and their news release on Erwin's historic election reads in part:
This election of a partnered and openly gay member of the clergy marks a historic first for the ELCA. Erwin will serve as one of 65 synodical bishops in the denomination. Bishops function as spiritual leaders, administrators, and chief executive officers of synods which are, save one, geographical collections of congregations. …

"In many ways his election is simply the logical and appropriate next step for our denomination following the 2009 elimination of policies precluding pastors in committed same-gender relationships," said Emily Eastwood, executive director of ReconcilingWorks.  "In other ways, Pastor Erwin's election marks a new and brighter day for lesbian, gay, bisexual and transgender Lutherans as one of our own has been chosen not in spite of being gay, but because he is truly gifted and skilled for the office. Once again, today we are proud to be Lutherans."
Erwin is also an academic teaching theologian, and an active member of the Osage Nation of Native Americans, also things that communities of which I am a part are celebrating today.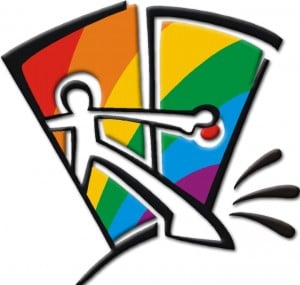 As the ReconcilingWorks statement points out, it was not that long ago that openly gay and lesbian Lutherans were not recognized as called and ordained clergy by this very same church.  Additionally, I am reminded of the still uneven progress we are making toward equality and full participation for gay and lesbian Americans when at the same time I read the news about Rev. Erwin's election, I read the headline in my local paper that the Illinois House of Representatives adjourned yesterday without voting on the marriage equality bill that the State Senate had passed and that the governor was ready to sign.
So work remains to be done.  Thankfully, we now have one more leader now committed to doing that work.
Erwin image via.