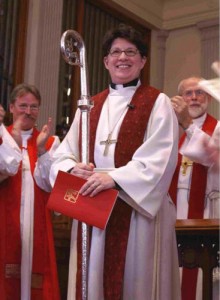 The Evangelical Lutheran Church in America made history today by electing the first woman to serve as its Presiding Bishop.  Rev. Elizabeth Eaton has served as bishop of the Northeastern Ohio Synod of the ELCA since 2006, and was ordained in 1981.  That was eleven years after the church began ordaining women in 1970.
It took 43 years to go from battles over whether or not women can be ordained to calling a woman to lead the national church body.
There will be more news coverage in days to come, you can be sure.  For now, I transcribed a few notable things from Bishop Eaton's initial remarks to the Churchwide Assembly that elected her.
On sexism and the importance of feminist trailblazers, she recounted an early conversation with a male colleague:
He said, "You don't seem to be strident like the other women."

I said, "I don't have to be because they were the pioneers who made it possible for me."
On racism and white privilege, and getting out of the way, she described the work that the church has to do in coming years:
"We are an overwhelmingly European American church in a culture that is increasingly becoming more pluralistic, and we need to find ways to get out of the way, those of us who are in this position of privilege, to welcome the gifts of those who have come from other places, or other cultures, or who have different histories or different colors of skin.  That's a conversation we must have as a church."
The four million members of the ELCA have some important work to do, to really be made new, and now we have a gifted leader called to serve that task.