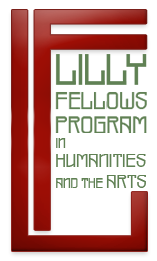 I'm travelling to the University of Scranton today to attend a board meeting, administrators workshop, and the national conference of the Lilly Fellows Program in Humanities and the Arts. Last year at this time I described the program and some of my involvement in it over the years, from a postdoctoral teaching fellow to faculty representative and now a member of the National Network Board:
The LFP has been an integral part of my own development as a teacher and scholar, providing resources and community that informed my sense of vocation. Reinforcing that I am in fact called to serve in these ways in the world. That my work has meaning and purpose. As a postdoctoral teaching fellow at Valparaiso University over a decade ago, I taught the first classes that were my own, experiencing all the joy and terror that accompanies such an endeavor. I was mentored by thoughtful people of faith who take scholarship and spirituality seriously. I formed lasting friendships with people who seem to be more like extended family because of the year or two we lived and worked together at a transitional stage of our professional and personal lives.

More importantly, the LFP has been an important national voice in church-related higher education since its founding in 1991. In addition to its National Conference for network representatives, it sustains programs to nurture younger teacher-scholars, support graduate students interested in church-related higher education, and fund a number of programs providing opportunities for conferences, seminars, and institutes on various topics.
As I head off to another national conference and board meeting this year, I'm thinking even more about how the LFP is extended family for so many of us. In particular, this is because of the sudden death last week of Valparaiso University history professor and friend of the LFP Alan Bloom.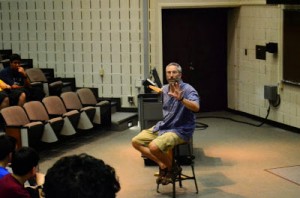 During the memorial service for Alan held in the University's Chapel of the Resurrection on Monday, his life as a teacher and advocate for the marginalized was lifted up.
[His widow, also a professor of history, Colleen Seguin] gave the students a final assignment from Bloom.

"He wants you to reach across the aisle," she said. "Reach out, don't pull in."

Her husband believed other cultures made him sharper and more human, while talking to those with other political beliefs gave his more authenticity.

Teaching was also an act of faith for him, she said.
My fellow-postdoctoral-fellow John Fea wrote:
Alan was the first friend I made at Valparaiso outside of the folks involved with the Lilly Fellows Program. We hit it off immediately. We were both New Jersey natives making our way in the small midwestern city of Valparaiso, Indiana. At the start, our conversations revolved around the Jersey Shore, skeeball, and Garden State high school basketball. A few years later, when I had an essay published in the Journal of American History, the first congratulatory e-mail I received was from Alan. "Congrats on the article," he wrote, "always glad to see a situation where a Jersey kid makes good."

We were both at the start of our careers. Alan was finishing his Ph.D at Duke and I had just finished at Stony Brook. We were both students of early America. (I am so sorry I will not get to read Alan's book on homelessness in 19th-century Chicago). We both loved to teach history and in this sense we shared the same calling. We met regularly to talk about how to be more effective in the classroom. Those long conversations were among the highlights of my two years at Valpo. Twelve years later I still think about them, asking myself "What would Bloom do?" Alan's students loved him and he loved them back.
These are the kinds of teachers, scholars, and human beings that make the Lilly Fellows Program some kind of amazing combination of professional network and extended family. I'm honored to be a part of it.
Image via.