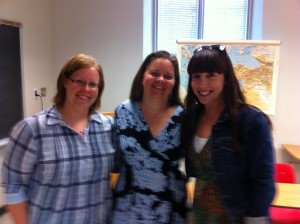 This weekend, I'm heading to Miami University of Ohio for the Association for Interdisciplinary Studies annual conference.  I'll be co-presenting with a colleague about our first year learning community, some of which I have written about already here and here.  (The two of us are pictured here with our student affairs teaching partner on the left.  That's right – faculty working WITH student affairs staff.  Integration!)  In the presentation, we're going to talk about some of our joint interdisciplinary teaching activity in religion & English, along with our recent leadership roles in transforming the general education curriculum at Illinois College to be more integrative and transformative.
I've never been to this organization's conference before, so I'm excited to learn more.  Here's a bit from the conference description:
We are working at a time when higher education is placing ever greater premium upon integrative and interdisciplinary approaches to learning and problem solving. This shift in the academy is driven by multiple factors, including the professional demands of the 21st century marketplace. Major employers are looking for graduates with strengths in critical and creative thinking, broad cultural and scientific literacy, and a commitment to teamwork. These skills have proven difficult to obtain sometimes through traditional disciplines. Interdisciplinary studies hold great promise for enhancing the modern curriculum, but require imaginative strategies to enhance communication and collaboration among educators in the natural sciences, social sciences, and the arts. To promote these goals, the 2013 conference will serve as a forum for a wide-ranging dialogue among scholars interested in the development of new approaches to teaching and research that will meet the complex needs of students, employers, and other stakeholders in our rapidly evolving society.
We will be talking about some of our approaches to integrative learning in our presentation, titled "Tautological or Oxymoronic?: A Liberal Arts College with a BLUEprint."  (spoiler alert:  it's neither!)  I will share some specifics of it here soon.