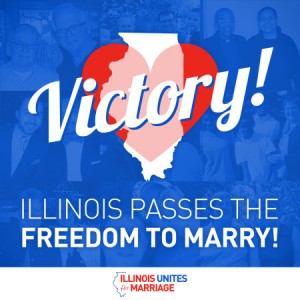 This just in from Illinois Unites For Marriage:
The Illinois House just passed the freedom to marry!  In a vote count of 61:54, the Religious Freedom and Marriage Fairness Act passed on the House floor. The marriage bill passed in the Senate in February, and will  now return to the Senate for a procedural vote before Governor Quinn signs it into law.

Today, Illinois will become the 15th state to secure marriage for all loving and committed couples. Soon, same-sex couples will begin marrying in Illinois. They'll stand up in front of their family and friends and make a lifelong promise to one another in the state they call home. It's a moment we've all waited too long for — but soon, we'll celebrate it together.

"Today is an important and historic day for the State of Illinois and for the rest of our country.  Our neighbors, our colleagues, our family members and friends – everyone in our state will now enjoy the freedom to marry.  I want to thank our many coalition partners, staff and state-wide community partners, including the thousands from the faith, African-American and Latino communities.  We couldn't have done it without you," said John Kohlhepp, Campaign Manager for Illinois Unites for Marriage.  "We look forward to the Illinois Senate's approval and Governor Quinn quickly signing this momentous legislation into law."

Once the Governor signs the bill, it will go into effect on June 1, 2014 and will be implemented by 102 county clerks statewide.

"I want to thank the thousands of wonderful families across the State of Illinois, throughout all our 102 counties who stood up for fairness, for justice and equality and made today's victory possible. I want to thank my colleagues who will proudly remember that they voted on the right side of history. I want to thank the faith leaders, the business leaders and civic leaders who made their voices heard. And in particular I want to thank Speaker of the House Mike Madigan, whose tireless efforts in the last week made today possible." said Chief House sponsor Sen. Greg Harris (D-Chicago).
I wrote more about marriage, religious freedom, and this most recent legal struggle in my state here.
Hip hooray!  One step closer today!