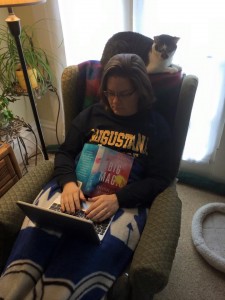 Some people would say that because I'm a theologian I already embrace magical thinking (i.e., all religion = magical thinking).
Elizabeth Gilbert has me embracing big magic in a whole new way this year.
I got her newest book, Big Magic: Creative Living Beyond Fear, for Christmas and have made it part of my morning reading and writing routine a few times in the past two weeks.
Here's a key paragraph from pages 34-35:
"I believe that our planet is inhabited not only by animals and plants and bacteria and viruses, but also by ideas. Ideas are a disembodied, energetic life-form. They are completely separate from us, but capable of interacting with us – albeit strangely. Ideas have no material body, but they do have consciousness, and they most certainly have will. Ideas are driven by a single impulse: to be made manifest. And the only way an idea can be made manifest in our world is through collaboration with a human partner. It is only through a human's efforts that an idea can be escorted out of the ether and into the realm of the actual."
Gilbert embeds this in a story she tells about an idea she had for a book, one that she was deeply working on, that she had to abandon for the year she travelled internationally with Felipe (about which she writes in Committed.) When she returned to the book, the idea was "gone." Not long after, she met Ann Patchett, who described her newest book, based on a remarkably similar idea coming to her around the time Gilbert found it "gone" from her.
Many creative people talk this way about ideas. Even Eddie Van Halen, which I learned from a speaker at a conference I attended in October; in an interview with Esquire Magazine in 2012, Van Halen said about the song-writing process:
"All you can do is what comes through you. I can't even personally claim to be responsible for what comes out of me because it comes through me from somewhere else."
I keep being reminded of how this is true. A couple of weeks ago, I was musing about writing a new op-ed on Black Lives Matter issues to submit somewhere. I've written about this topic locally, and am working on getting my op-ed writing in larger publications (see the St. Louis Post-Dispatch this week!). When I have stuff on my mind, it takes me a while to fall asleep, so I suppose I was musing on this as I was dosing one night, and a phrase came to mind: Holy interruptions. Or, (Un)holy interruptions. Or some combination thereof. I do this tossing-and-thinking enough that I keep a notepad beside my bed so I wrote it down, along with a few other jumbled thoughts of what I might write about.
(Actually, when I'm in the throes of a busy semester I have to write down "to-do" items to get them out of my head before I fall asleep. A lovely feature of sabbatical life is that these days I'm having to write down cool ideas to get them out of my head instead of tedious reminders to follow-up on tasks and meetings.)
Anyway, I eventually wrote the piece, submitted a draft to a mentor-editor, did a light revision after feedback, and submitted it to a national newspaper. The editor soon replied, kindly declining to publish, and said: "This reads like it should have been published two weeks ago."
Of course. Because THAT'S WHEN THE IDEA SHOWED UP!
I'm sending it elsewhere, undeterred, because it will eventually be published somewhere. But to me it's an example of what Gilbert talks about. It's not the first time I've had these Van Halen-esque moments of ideas coming to me "from somewhere else."
Sitting in the drive-through at an In-n-Out Burger in Upland, California, reading Martin Luther's essay on "The Babylonian Captivity of the Church" (because there was always a long line), I was seized by the idea that Luther and radical feminist philosopher Mary Daly had stunning similarities. That was around 1994, and in 2007 I finally published Two Reformers: Martin Luther and Mary Daly as Political Theologians.
In May 2010, somewhere between home, feeding my friend's cat, and the Walmart parking lot one day, I was seized by the idea of a professor finding something while taking her students on a field trip to Nauvoo. By the end of that summer I had drafted a novel around that idea and am currently working on getting it published (after oodles of substantial revisions and lots of research). Don't worry, idea. I'm not giving up. You'll eventually be published too.
I also love the "theology" behind Gilbert's description of ideas collaborating with us, depending on our work, commitment, and discipline.
We are co-creators.
And I'm a Big Magic believer.
Image mine.