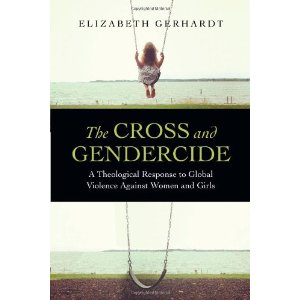 Once I determined who the audience of Elizabeth Gerhardt's The Cross and Gendercide is, I got it.  She's writing to those Christian churches who have, for whatever reason, eschewed their responsibility for responding to the global pandemic of violence against women and girls.  She provides a deeply theological and cruciform argument requiring their immediate attention.  I hope they pay attention.
I paid attention, but not because I find the theology of the cross the most effective response to gendercide (more on that later).  I paid attention because there was so much Gerhardt said that was spot on, that needs to be said:
"Churches that emphasize the preaching of the gospel and then ignore the reality of the plight of millions of women and girls are guilty of a detached confessionalism." (p.19).

"From the perspective of the cross, violence against women is exposed as a sin that divides humankind, violates the dignity of God's creation, abuses power and obstructs the gospel message of salvation and freedom." (p.93).

"Christians are responsible to act in order to bring about justice in the social and also the political arena." (p.104).
Throughout the book, Gerhardt refers to the problem, to what I determined to be her audience:  "a proud, triumphant church" and the view of "some churches … that care for the poor and marginalized is through to be too politically radical."  She also calls out "self-preservation and pride" and churches who are "concerned with the promotion of narrow political ideologies" as well as expansion and their own comfort.
By framing violence against women and girls as sin, and by using resources from within the Christian (heavily Lutheran) tradition, she demands response from those persons and institutions claiming to preach to gospel, claiming to live and work at the foot of the cross.
The book is full of statistics and stories to make global gendercide real to anyone who doesn't yet fully grasp its scope.  Gerhardt also, importantly, includes an entire chapter on "the social, religious and political roots of violence against women and girls."  I wanted more on the religious roots here, and more on the ways in which Christian theology, not just Christian people, is complicit in perpetuating violence against women and girls.
Gerhardt never talks about God-language and images of the divine, and how the exclusivity of male language and images of the divine undergirds patriarchy.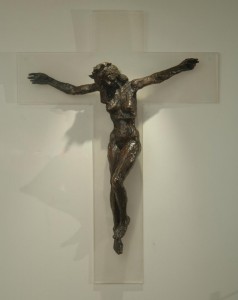 When talking quite strongly and directly about the church "colluding with perpetrators," she relies on stories of victims being silenced, and of survivors being disbelieved and shamed.  Yes.  It happens.  This is crucial to hear and essential for any reader to know.  And, and, and!, there is a whole patriarchal theology that frames each of these terrible conversations that we must investigate, dismantle, and delegitimize.  Because in so, so, SO many ways, the problem here is still patriarchy.
This is where I wanted to hear more.  Gerhardt has just gotten started, in my opinion, and there's more that has to be said.  But, as I noted above, this book isn't only for me.  I also think that this book isn't written for the victims and survivors of gender-based violence.  Its focus really is on the problem of a complicit proud church.  By calling it to account, survivors (indeed all of the world) will be well-served.
The theological resources that Gerhardt relies upon help her make her case to that audience. Luther's theology of the cross is read as something that "
humbles a proud, triumphant church and brings that church back down firmly to the reality of the cross
."  This is because it reveals the real and destructive power of social and political systems that demand death.  For Gerhardt, it also reveals the presence of God in the midst of suffering and death.  The parallels drawn to Dietrich Bonhoeffer's writings about the church resisting the Nazi state are interesting, if perhaps a bit too easily collapsed.
She anticipates my (and many other feminist theologians') resistance to the cross as symbol of hope by noting that
"instruction regarding the reality of suffering in Christians' lives has also been used as an ideological tool to maintain power over women's and girls' lives. … This is a horrific perversion of the teaching of the cross. … Women and girls' suffering results from evil, not good." (p.100).
Again, I wanted more of this awareness, more discussion of how for many women and many survivors of violence it is not good news to be driven to your knees at the foot of the cross, not helpful to be humbled, and not always meaningful to hear that love is revealed in violence and death.  On this as well as the theological point made above, I am much informed by the work of Delores S. Williams, the authors collected in Carol J. Adams' volume Violence Against Women and Children: A Christian Theological Sourcebook, as well as those in Christianity, Patriarchy, and Abuse.  My first book was in part an attempt to craft my own solution to feminist criticisms of cross theologies and atonement theories … I'm not convinced that even I've succeeded yet.
In the end, Elizabeth Gerhardt has effectively walked a fine line in The Cross and Gendercide, weaving together statistics, stories, and traditional (Lutheran) Christian resources like Martin Luther and Dietrich Bonhoeffer before concluding with suggestions for action and solution-making.  Her careful and detailed (and what will be for some a bit inaccessible) scholarly work demands attention from the proud, haughty, and triumphant gospel-preaching Christian churches who have not yet come to terms both with their real, interpersonal, and political collusion in gendercide, as well as with their responsibility to engage in solutions.
Image is Christa, a bronze sculpture by Edwina Sandys.