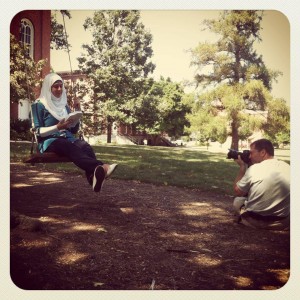 Many good people live and work at the intersections, and I occasionally invite someone to tell a story from where they stand. Today's piece comes from Fatima Alshantti, who was a student in my Women in Islam class last spring. She is a sophomore majoring in Biology-Pre Nursing at Illinois College. She is a graduate of Shohadaa' El Maghazi Secondary School(A) and grew up in Maghazi Camp in Gaza Strip, Palestine. She hopes to get her MSN in the United States and work to help her people in Palestine.
Here is her story.
Being a Palestinian is the worst thing that life can give you, yet it is a way to teach you courage, and pride. I am from Gaza, which makes it even worse. I read in my history books about wars between nations, but never imagined myself that I would witness one, and for my luck, I lived two. Seeing innocent people killed, hearing the bombs landing in front of my house, and looking to the Israeli tanks surrounding the area gave me a reason to escape from this life.
I wanted to taste freedom. I want be happy.
I studied hard. I didn't put any limits to my dreams, and soon enough I got a full scholarship to study in Illinois College with help from the Hope Fund Organization. To achieve something, you have to lose some other things. I lost being around my dad, seeing my sisters fight and laugh, and sleeping on the floor. I finished my school year as I wanted to be. I got a summer job on campus so I can take care of my expenses. For the first time, I am totally independent.
Eight days ago, while I was working, I opened Facebook. I saw pictures of dead people, videos all over the social media of families saying the last goodbye to their children. Only in Gaza, parents buried their children. I started sending messages to my family. Unfortunately, none of my messages were received. The news websites I opened were endless. I was looking for anything about the camp that I am living in, anything about my family. I got nothing. The next day of the war, I received so many messages from my relatives asking me if I called my family to know their condition. I thought they are worried about me because I am away from them, so I said "no not yet, why?" They told me, "Because the land beside your house was bombed by the Israeli air-force."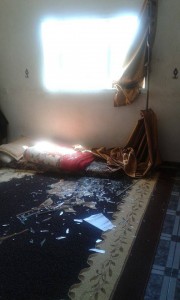 I sat silent for minutes. Countless thoughts were passing my head. My warm tears were dropping down like volcanoes. I was prisoned in my own thoughts of losing my family. Then a friend of mine asked me to take his phone and try to call them, maybe they will answer this time. I called them and my dad answered. I said, "How are you, how is mom, how are you sister, are you ok, are you injured, did you go to the hospital, did you leave the house" My dad interrupted saying, "All is fine, just the house got damaged. It is nothing. We will clean it and fix it with time. Don't worry we are all safe." Then he excused himself, and hanged up the phone.
SAFE! How come you are safe when your house, which you spent your life building it, is damaged.
SAFE! When I hear the sounds of the bombing while you were talking.
SAFE! When you almost got killed and I lost you forever.
Imagine that moment when the Israeli army calls and orders you to evacuate your home to shell and destroy it within ten minutes. Imagine that! Just ten minutes and your little history will be wiped off the earth, photos of your brothers and sons, the stuff you like: your chair, books, the latest divan you read, a letter from a migrant sister, memories of moments with whom you love, your old clothes, and your money you saved over your life.
Oh! Everything comes to your mind and astonishes you! And then, you took only your identification papers from inside a candy tray and go out to die a thousand times or, instead, you stay and die for once.