I wrote the following piece which was first published in the Springfield State Journal-Register on February 1, 2017.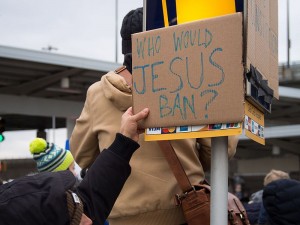 People of faith should be leading the opposition to President Donald Trump's Executive Order that bans refugees and effectively targets Muslims. They should have found his stated desire to do this during the campaign disqualifying. Yet, 81 percent of white evangelical Protestants and 60 percent of white Catholics voted for Donald Trump, 11 months after he made clear his intention to have "a total and complete shutdown of Muslims coming to the United States."
If they don't now oppose this action, they either don't understand basic, core teachings of the faith that they claim, or they don't care.
One of these things can be addressed. The other is, at best, an alarming indicator of an apathy for which we have no time. At worst it is a callous disregard for and fear of the stranger based only on prejudice and misinformation. Now that we have a president who traffics in prejudice and misinformation, people of faith — and the Christians in particular who put him in office — have a responsibility to resist.
The green card holders, families, and even children detained over the weekend, those most affected by the chaotic implementation of this order, are not the people threatening the safety of the country. They are not from countries that produced the 9/11 hijackers or any other terrorist event in this country during recent decades. They include a doctor from the Cleveland Clinic, a 5-year-old boy, and a grandmother.
This is why more than 2,000 national faith leaders publicly oppose this action. The Interfaith Immigration Coalition statement on refugee resettlement concludes:
"As people of faith, our values call us to welcome the stranger, love our neighbor, and stand with the vulnerable, regardless of their religion. We pray that in your discernment, compassion for the plight of refugees will touch your hearts. We urge you to be bold in choosing moral, just policies that provide refuge for vulnerable individuals seeking protection."
The Coalition includes national leaders of Protestant denominations like the Evangelical Lutheran Church in America, the United Church of Christ, the Alliance of Baptists, the Unitarian Universalist Association, and the United Methodist Church, Catholic leaders from groups like the Jesuit Conference, the Sisters of Mercy, and the Franciscan Action Network, along with leaders of Jewish and Muslim organizations.
In short, if you are a person of faith in this country, chances are pretty good that your tradition and leaders within it are taking a stand against this executive action, and against any policy that targets those who are already vulnerable. To be very clear: The U.S. Constitution expressly protects against bigotry based on faith, nation of origin, and/or skin color. And, welcoming the stranger is explicitly lifted up in the Hebrew Bible as well as the New Testament.
So, something else must be motivating those who still support this action. We have strong indicators that this thing is race. Racial prejudice intersects with religious bigotry when it comes to banning refugees and Muslims from the United States because they are overwhelmingly black and brown people. Race was a determining factor in the 2016 election. It was white Christians of all types that voted for Donald Trump. Hispanic Catholics, black Christians, nonreligious people, Jews, and people of any religion other than Christianity all favored Hillary Clinton.
Being white seems to trump being Christian for too many people.
This Executive Order is the first step in President Trump implementing his ban on Muslims. It is unconstitutional and unbiblical. Opposition to it requires seeing beyond the misinformation that is driving it and realizing that shared values among so many religious leaders and traditions are a strong indicator of what is right.
Image via wikimedia commons.