In some crisis moments, some of us do well to listen, learn, and read as a precursor to taking action toward justice.  Here, I feature excerpts from a few different places around the web that I think are important to lift up in light of the ongoing protests in Ferguson, Missouri.
From Christena Cleveland:
THE CROSS AND THE MOLOTOV COCKTAIL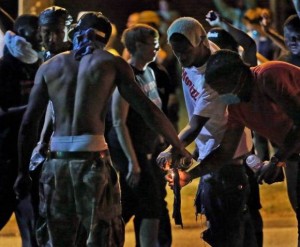 As someone who has walked alongside black men, witnessed their suffering firsthand, lamented with them and fought for justice with them, I can see why black men who have lived under the oppressive boot of society for their entire lives would decide to stop turning the other cheek[iv], to refuse to see the police as anything other than the Red Coats, and to reject "respectability."
Can you see the suffering Christ in the oppressed, even the ones who aren't responding perfectly to society's oppression? Christ doesn't just suffer for the innocent, the ones who don't have the energy to fight back, or the ones who perfectly respond to injustice. He suffers for the ones who suffer now and sin in their suffering.
And make no mistake, our God is a God of justice. The young black men who launch Molotov cocktails at the police are misappropriating God's justice by taking it into their own hands, but the rage they feel is the rage that God feels towards injustice. In a sense, they are imaging forth God's justice to an unjust world.
Seeing the suffering Christ in these young men isn't achieved by theological gymnastics, deep pity, or altruism. It's done by listening to their stories, sharing life, standing in solidarity with them, and experiencing their rage.
I've written elsewhere that when oppressed people are angry, privileged people should listen up.
Can you learn from the violent protesters as well as the peaceful protesters? Can you see the Imago Dei in both?
From leaders in the ELCA:
In an Aug. 14 pastoral letter to members and congregations of the ELCA Central States Synod, the Rev. Roger R. Gustafson, bishop of the synod, said that "St. Louis' racial divisions and strife are deeply rooted and complex. Related issues – what has been called the militarization of the police, the lop-sided racial makeup of the Ferguson Police Department itself (nearly all White in a predominantly African American community), (and) a struggling local economy – intensify the conflict.  Related events – store lootings, peaceful street demonstrations and a police response that has treated them alike – further poison the atmosphere.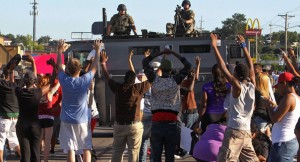 "The various elements of this painful drama carry the temptation of distracting us from an even more painful truth, one that's at the heart of it all: His name was Michael Brown. He was 18 years old. He was Black, and he was killed by a police officer. Had he been White, chances are excellent that he would still be alive," wrote Gustafson. "But the stark fact of Michael Brown's death under extremely unclear circumstances points our attention to a larger truth: To be born male and African American in this country is to be born into a clear and present danger."
"We need to talk about race and privilege, but high-level conversations between groups will take us only so far. There is no substitute for personal relationship, for connecting one to one with someone who is unlike 'us.' Such relating is not comfortable because it has not been the norm. But it is possible and necessary if we want to become more and more the people who trust in God and God's providing more than we trust in ourselves," he wrote.
And, 12 Things White People Can Do Now Because Ferguson.