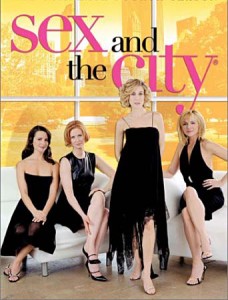 Over the span of six weeks this summer, mostly for fun, I re-watched every episode of the six seasons of Sex & the City (except the one where Miranda is fascinated with the guy in the hot dog suit because my DVD inexplicably won't play that one!), followed by both movies. Here are some observations, a reflection in listicle form that even notes how and when religion shows up:
It still works. It's fundamentally about women's friendships and the eternal quest for love and self, and that still works. Some things are a bit dated, like the technology, but the things that matter are not. It has a timeless quality that still moves and entertains (and occasionally annoys, see below) and tells a lot of truth about women's lives.
The criticisms are still valid. Gays as props, whitewashing New York City, conspicuous consumption, implausible lifestyles, crippling shoes … it's all still a problem.
It still works.
Some scenes can still bring the tears: "We're having a baby…" said in a context that reveals all that is important about SATC. And the laughs: "We have a teabag situation …" a statement between two friends, having two completely different meanings. And the realization of how far we can come … I refer you to the crushing scenes around Miranda washing her mother-in-law's back in the bathtub.
Some of the big questions still matter. I've always loved the episode "A Woman's Right to Shoes" for the way it captures a fundamental tension between single people and their married & reproducing friends. Judgment about how we each spend our time and money is always just around the corner.

The two movies work, in different ways and to varying success. I know that not everyone agrees with me on this, so hear me out.
In movie one, the wedding meltdown in the street is still heartbreaking; Carrie's Mexicoma a picture of devastation. The wedding in the courthouse after the proposal in the closet … perfection.
In movie two, some things work: the cocktail conversation between Miranda and Charlotte is long overdue. Carrie and Big trying to understand and live into marriage as an adult affair sans children; this is something not talked about in enough movies and television shows. And some things absolutely do not work: Stanford & Anthony's wedding is a dozen steps too far, even for the fantasyland of SATC. Speaking of fantasy, Abu Dhabi … so not necessary. All the breakthroughs and connections that the women have there (being a mother is hard, I still want my job, marriage isn't what I thought it would be), could and should have happened in NYC. Tokenizing Muslim women as voiceless and Muslim men as personal servants wasn't needed to service these important story lines. And it's a lovely story, but Louise is little more than the "magical negro" in this tale.
Religion shows up in interesting, minor, family-connected ways: Big goes to church every Sunday with his mother, Charlotte converts to Judaism to honor Harry's family commitments, Miranda agrees to Brady's baptism to placate Steve's Ma, Carrie steps in to walk Miranda down the church aisle behind her mother's casket. That's about it. And yet each of those things are, to be fair, important moments in the series. Perhaps exemplary of the "spiritual but not religious" lifestyle, Carrie and her friends constantly wrestle with big questions, with living lives that matter. And they don't really rely on religion to do it. The only possible exception is when Charlotte and Harry briefly separate and her friends assume that she'll drop her Judaism. She doesn't. And in fact, it is how they find each other again at the synagogue's singles night.
So what? It was just a summer fling, my project of re-watching. It might not mean much, but I know that there aren't enough good depictions of women's friendships on television right now. This series didn't do everything perfectly, but it did a whole lot right. It's on regular rotation in syndication on any number of cable and satellite channels these days, which I hope means that a new generation gets to discover these women and their lives.