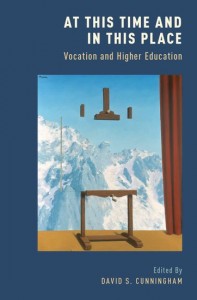 Today I'm heading to St. Louis for the National Conference of the Network for Vocation in Undergraduate Education, NetVUE. I'm particularly excited to hear Krista Tippett speak at one of the plenary sessions, she of the On Being podcast, radio show, blog, and general fabulousness. I have written before about this conference, and my participation over the past two years in a collaborative group of faculty and staff writing a new book that we finally get to talk about in some detail at this conference. The book, At This Time and In This Place: Vocation and Higher Education (edited by David Cunningham), is now available for pre-order from Oxford University Press. I shared a draft of my work for it here last year.
Here is an excerpt of what I will say on our panel at the conference:
My chapter continues to focus our attention in by considering students' lives in this context and our relationships with them as educators, advisors, and mentors. By focusing on students, my goal in this chapter is to return us to the center of our work. In doing that, I encourage us to look at ways that students' lives today are shaped and affected by social systems and structures that inform their sense of self and their vision of a future. Very specifically, I look at how issues surrounding race, social class, technology, gender, gender identity, and sexual orientation are not mere abstractions for our analysis and discussion; rather, they are lived in concrete ways and have practical consequences that affect a student's sense of what is possible in terms of occupation, friendship, political alignment, and home life.
What motivated me to write this was the juxtaposition of the faces and stories of students who sit in my office and toil in my classroom, honestly trying to figure it all out, alongside the news and images and chatter we see and hear every day.
The young gay man falling in love for the first time as a cascade of headlines about which states will allow him to marry in any given week continues.
The African American woman finding her voice through poetry as we see images of a militarized white police force staring down the barrel of a gun at crowds of black faces.
The first year student whose family is simultaneously proud and suspicious of him, the first of them all to go to college, trying to be with his family in the aftermath of a cousin's shooting while keeping up with his biology homework.
The junior who spends more time pinning ideas to her dream wedding board on Pinterest than she does reading the book for her literature class, while Sheryl Sandberg and Adam Grant let us know from the op-ed page of The New York Times the specific ways that gender stereotypes continue to disadvantage women in workplaces around the country.
The senior whose LSAT scores weren't quite as good as they needed to be, trying to find a graduate program or a job or anything at all to convince herself that it was worth it.
The trans* student who comes out as male for the first time to his friends and has to decide which battles to fight for safety and equality on campus, at the same time Laverne Cox is featured on the cover of Time Magazine.
And all of our students who are more equipped to communicate through a four-inch screen in their hands than they are to make small talk before class starts, with the other seven people in the room who, similarly unequipped, are doing the exact same thing.
The concept of vocation serves this work when it helps us talk about how our students are sitting at the intersection of self and world in some distinctive ways … they are in the midst of naming and claiming a self in relationship to a complicated and changing world around them. They are discerning here and now what the direction and texture of a future life might become.
Our book is now available for pre-order from Oxford University Press, available in the fall this year. I encourage you to check it out if you are interested in how a dozen faculty and staff from different disciplines and departments at colleges and universities around the country come together to talk about undergraduate education, vocation, and our work together.