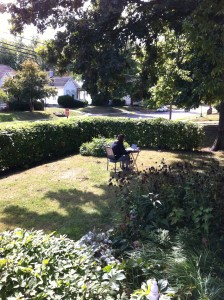 The first spring I spent in Chicago after two years of living in southern California was magical. Do you know how brilliant the first green grass is after a long snowy winter? Having grown up in South Dakota I was and am intimately familiar with dramatic season changes.  But something about having been out of that rhythm for the two years of graduate school in sunny Claremont let me forget what a marvel spring can be.  After we moved to central Illinois and bought our 150+ year old house, our first spring here was a delight of discovering where tulips would pop up next, and how randomly some previous owners had planted hyacinth bulbs and daffodils all around the yard.
This spring, in addition to enjoying the flowering redbud trees all around, I'm anticipating a seasonal change that's rooted firmly in religious tradition and now entrenched in the culture of higher education: sabbatical.  I've never lived a life outside of the academic calendar, actually, having started kindergarten at age 4, and plowed on through high school right to college and directly to three graduate degrees thereafter , Ph.D. in hand by 28, a teaching postdoctoral fellowship for two years leading into a tenure-track job where I've been toiling away for thirteen years now.
I first wrote about sabbatical and the Sabbath a couple of years ago after my first sabbatical.
It's one of the privileges of a job as a tenured professor.  Every seven years we can apply for a semester or a year away from the classroom, with full or partial pay.  The purpose is manifold:  scholarly productivity, pedagogical innovation, research and travel, and oh yes, rest.  I found it alternately ironic and painful that my [first] sabbatical was in the spring semester of 2009, which you may recall as the peak/valley of the great recession.  All around me, family and friends losing jobs, struggling to keep their homes, and having to relocate.  On the news every day a wildly bouncing stock market and social volatility that made everyone jumpy.

And I'm on sabbatical?  Reading, writing, travelling, speaking … keeping busy but in ways that only I truly controlled.  And enjoyed.  And reckoned with the social privilege that my life reflected in so many ways.  This time set apart from anxiety and rollercoaster-existence.
Now, the next seven year cycle is complete and I'm preparing for a full year sabbatical.  Well, preparing is too gentle a word for the frantic countdown that's been occupying my mindset for the last year and a half.  There's an app for that, you know … and I frequently snap a picture of the countdown and share it with friends, thinking that knowing it officially starts in three weeks and five days, twelve hours, twenty-nine minutes …. that this somehow makes it more real or helps us get through another crazy academic year.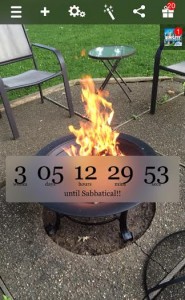 As I described it in my earlier post, Sabbath is rooted in sacred time, and that's something I'm trying to re-member as it gets closer:
The Jewish and Christian traditions of sabbath offer this.  Sacred time, time set apart, to not do what we are daily consumed with.  Biblically, it is connected to the first creation story in Genesis.  When "God blessed the seventh day and hallowed it, because on it God rested from all the work that he had done in creation." (Gen. 2:3).  Judaism and Christianity have scheduled this differently, as Friday/Saturday between sunsets for the former, and Sunday for the latter.  Historically, the practice of sabbath has shifted.  For some times and traditions, it has meant not working at all, and conducting no business that would require others to work.
When people ask me what I'll be doing on sabbatical, I usually respond by saying, "whatever I want!"  Because it's true.  Also, because I'm going to do a lot of things, it's just that teaching classes isn't one of them.  I want to remember, though, that the gift of sabbatical is in fact the privilege of controlling where I direct my energy and how I spend my time.  For too many of us, this is what's missing in daily weekly ordinary life.
But you don't get awarded a sabbatical from teaching to "do whatever you want!" so in a few days I'll share in another post some of the specific things I will be working on during this rite of passage.
In the meantime, I'll pass on a version of question I heard in a webinar from Dan Blank last week that is guiding my thoughts as this sabbath draws near:  What would you do with an extra three hours a week (or three days, or three weeks, or fifteen months) for your own creative work?