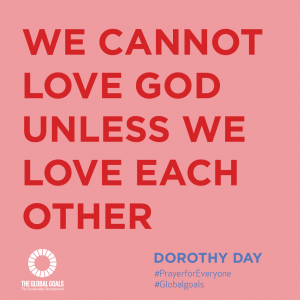 This week sees the launch of the Global Goals for Sustainable Development, a series of 17 goals that together promise to end extreme poverty, fight inequality and justice, and fix climate change. At the United Nations on Friday, September 25, 193 world leaders will commit to support the goals over the next fifteen years.
Gender equality is goal number 5: "achieve gender equality and empower all women and girls." This includes things like ending gender-based discrimination, eliminating violence against women and girls, recognizing unpaid care and domestic work which women and girls often carry out, and ensuring "universal access to sexual and reproductive health and reproductive rights."
It seems to me that gender equality threads through every one of the other 16 goals as well, given the ways that poverty (ending it is goal 1) is feminized, which means that more women live in poverty than men, decent work and economic growth (goal 8) is particularly precarious for women around the world, and things like climate change (13), health systems (3), education (4), and clean water and sanitation (6) disproportionately disadvantage women when inequities exist.
Human life is lived at the intersection of identities and statuses,
including gender, race, class, sexuality, nation, ability, and so many other things. The Global Goals will be successful insofar as they lift up and recognize the
intersectional challenges of human life on this planet
in the 21
st
century. They are therefore best seen as a collective rather than seventeen individual things.
The #PrayerforEveryone campaign this week seeks to identify religion and spirituality as part of this intersection. To me, working for gender equality is a prayer for everyone insofar as lifting women and girls out of poverty and into sustainable living conditions benefits all of humanity, and reflects the will of the divine.
Each religious tradition offers resource and support for this work, whether it takes the form of prayer or advocacy or both. I encourage you to check out the many resources linked here.
Acquaint yourself with the Global Goals, because as Stephen Hawking puts it in the video below: "People cannot fight for their rights if they do not know what they are."