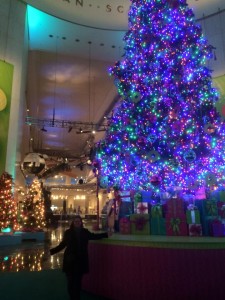 I am in the midst of my annual Christmas music and movies binge, are you? Feliz Navidad is playing on my Sirius XM Holly station right now. Yesterday while waiting for a train at Union Station in Chicago, the theme song from Christmas Vacation was on some kind of loop and on the drive home, Let It Snow blared from the radio. Last week, as you can see in the picture, I took in the majesty of Christmas around the world at the Museum of Science & Industry in Chicago … a favorite for many years.
I've written here before about some of the mixed legacies of Christmas songs and movies, particularly when it comes to racism and sexism … the rapey-ness of Baby It's Cold Outside, the blackface in Holiday Inn, the knight-in-shining-legalese in Miracle on 34th Street, and so on.
I've also been so glad to be able to share the work of Rev. Jann Aldredge-Clanton re-visioning many of our classic sacred Christmas songs toward justice and gender-inclusion. Some opening lines of these beautiful and familiar tunes:
[ala O Little Town of Bethlehem]
"O Holy Darkness, loving Womb, who nurtures and creates,

sustain us through the longest night with dreams of open gates."
"Sound forth the news that Wisdom comes

to bring new life to birth."
[ala What Child is This?/Greensleeves]
"Come, let us join our Sister Creator,

birthing a new world more than we know."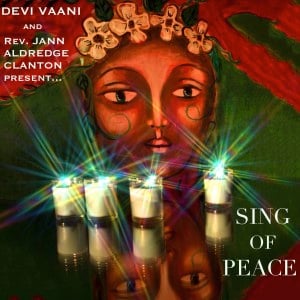 And now, Jann has released a new CD with Devi Vaani, Sing of Peace. It brings together these and several other Christmas songs that combine words of inclusion and justice with familiar and dear Christmas tunes. You can hear samples of each song here, including "Our Mother Within Us" to the tune of Away in a Manger.
There will always be something comforting about the ritual familiarity of this music for me. Having Jann's words and a theology of justice connected to them transforms the holiday season with even deeper expressions of hope and joy.
You can read more about the music and producing the CD here, and then go buy and download the CD here, for your most merry feminist Christmas!
Images mine and via.