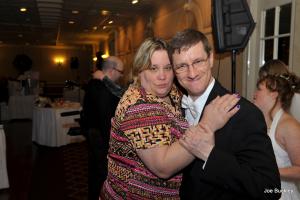 When I was younger, just about a decade ago, I was very extroverted and outgoing. I used to love going out and being with my huge assortment of friends. Now that I'm older and more tired from working all the time, I have tended to shift to being an extrovert to more of an introvert. But even though I don't talk to my friends as much as I used to, I still keep in touch with many of them and talk to them from time to time. One set of my friends was a close-knit group who dubbed themselves as the god-family.
They meet every Friday and Saturday night, every week, for several years. We usually went to a restaurant and then to Barnes and Noble to hang out and browse the books. I didn't go all the time, but went often. I used to leave at the end of the night blasting 'Birdhouse in My Soul' by They Might Be Giants from my car's loud speakers.
The group still hangs out sometimes but with not as many people. Times changes.
St. Augustine — whose heart was as warm as his mind was bright — spoke beautifully about friendship. Friends love one another; they share one another's joys and sorrows. "They enkindle themselves and they inflame one another." They find joy in being together to share ideas and enrich one another by exchanging their experiences.
Alice von Hildebrand, The Canons of Friendship, Catholic Culture
Just tonight though, we got together on Zoom to discuss our friend Pattie. She was
of the group.
Pattie Goodale worked as a CNA at a nursing home. So, she was on the front lines of the whole pandemic war. Her refusal to leave her job for a safe environment caused her to contract the coronavirus. I also work in a nursing home where Covid has taken up residence. It's an uninvited guest that just won't leave. Covid has chocked the life out of some and punched others in the gut. Others… it has basically left alone. One of the nurses I talked to, seemed to have no problems during her absence away from the nursing home due to Covid. Another person from housekeeping was in the hospital for a week, and then out again just like that.
It's amazing how this disease affects anyone and everyone differently. Kills some, wounds some, and barely makes a scratch on others. It's like someone who smokes all their life and still functions fine and someone who only smoked a little while but develops lung cancer.
Covid was not content on spending alone time with Pattie and infected her family as well. Pattie lived with her mother and brother. She had bought the house they lived in with her mother, not as mother and daughter but as co-equal adults. Her mother has already passed due to the virus. Pattie was unconscious in the hospital but unexpectedly had a brain bleed which caused a stroke. She has died at just age 55.
Her brother if he wakes up and survives will have to suffer the loss of his sister and mother. What a cross to carry.
UPDATED 6/13/2020: Her brother has also died due to Covid-19. A whole family wiped out to this disease. It seems that Mercy is not taken into consideration by Death. Even the hamster died. Snoopy the Dog is still alive. This makes it clear to me that Tragedy can strike anywhere at anytime. All the cards can fall on the table without a moment's notice.
She is the 2nd person of the god family who has died. Several years ago, my friend Sam died. Sam's funeral was the first funeral I think my adopted daughter ever went to. Princess was crying hysterically at his funeral. When asked by someone how well she knew him, she replied "I never even meet him". There have been some enmity between certain members over the year. A split. A faction. It happens in most groups and families. But the deaths of Sam and Pattie seems to have brought people together. The bounds that may have been frayed have strung back together tighter. Death can have that effect on people.
Dying is part of living. All things that are born will live and then die, and no one knows exactly when that end will come in most cases. Being human is 100% fatal. Death comes to all (unless Christ appears first), and at best, we can only guess, so what happens when someone is taken away by tragedy or disease, and suddenly you're left speechless before your friend or family member?
Jack Wellman, What Do You Say To A Grieving Friend Or Family Member? (April 9, 2018) Christian Crier @ Patheos Evangelical
As we were all discussing the recent sad news, we talked about what was going to happen to their cars, their house etc. Certain members of our group were in charge of taking care of different things. Contacting estranged family members was discussed as no one was quite sure who to contact. Pattie, her brother Herbie and Betty were more or less a family of three. If it wasn't for the god-family I don't know what would be accomplished in terms of the stuff they leave behind.
It got Kristin thinking about what will happen when we die.

Who will take care of our things, tie up our loose ends?
I last saw Pattie in November when a few of us went out to eat. I ended up buying everyone a hot drink for a Christmas present. We were planning on getting together again in the near future. It never happened. But for the time being I have videos of her I can watch which preserve some of the memories we have together.
Kristin and I talked to her on the phone even though she was unresponsive. The nurse said when she heard our voice her heart rate rose. We prayed for her, told her to Trust in Jesus and sang Amazing Grace to her.
Even when others are not fully conscious of it, they can sometimes sense our love
I am sad at her passing even though I didn't see her as much recently as I had in the past. Even though I am sad at her passing but not as much as my best friend Dave who was really extremely close to her. Dave is a friend of mine I have known since I first went to Fitchburg State back in 1992. He was in my wedding party. We have lived together and traveled together. He has lost his mother, sister and brother. But losing Pattie is his greatest cross yet. Knowing the whole family is gone is like having a piece of his life ripped away from him all at once.
And I and the whole god-family will be there for him just like they are there for Herbie for when he wakes up, and for each other. And they are there to help Pattie in her absence from us by taking care of those things left undone by her untimely death.
We humans, despite our best efforts to the contrary, struggle constantly against the notion that death is the conclusion of a story, rather than the gentle pause that comes at the end of a chapter. No wonder we are terrified and undone by its impending arrival. But as "Departures" (a movie) reminds us so beautifully, it is the recognition of death as a single step along the endless path of life—an understanding that the span of our worldly days can only be properly understood in the context of a far greater work, penned by a far greater Writer than ourselves—that lies at the heart of our ability to accept it without fear.

May we all be granted the comforting grace of this understanding as we draw ever-nearer to that gate which awaits us all.
Joseph Susanka "Departures": Death, Where Is Thy Sting? (January 07, 2011) @ Patheos Catholic
I honestly have much more to say on death, dying, and preparing for the departure from this to the next life. But that's for another post. The main purpose of this writing was not to give a long and lengthy essay on death, dying, and grief. It was not to give a eulogy or long summary of a life you have no vested interest in unless you knew the person. It was not to give a written lecture on the theology of what happens to us when we die, as important as that is. It was to give a simple tribute to a friend who is now gone. Someone I will never see again in this life, but hope by the grace of God to see her in the next. In the meantime I will miss her. I also hoped to give you A post that perhaps gave you some things to think about.
Mainly how are you preparing for death?
I pray for the repose of her soul and ask you to do the same.
Offer up your rosary or divine mercy or next mass for her.
Everyone we know will die eventually and we might have to clean up after them.
And hopefully someone will be close enough to us,
and love us enough,
to clean up after us
and pray for our souls when we die.