I'm writing these particular words on Labor Day, September 7th, 2020 on my wife's computer. My computer's screen just fizzed out and I can't use it. I have to bring it in to get fixed or I have to get yet another computer. My computer ceased to labor on Labor Day. In the overall scheme of life, this is not a very tragic event, it's just a setback and inconvenience, as I use the computer to type my blog and do my bills and talk to people etc. But it happen on a particular time I can associate with a particular day. Often times people can remember insignificant events that they were doing when big important events occurred.
People who were alive back in 1963 remember where they were when President Kennedy was shot.
In an article by George Gao at Pew Research Center he writes…
According to a September 2011 Pew Research survey, 95% of Americans born in 1955 or earlier said they could recall exactly where they were or what they were doing when Kennedy was killed. That compares with 81% of adults asked in 2011 who remember those details when Osama bin Laden was killed in 2011, and 72% when Martin Luther King, Jr. was killed in 1968, according to the same survey.
He continues…
The only other event that weighed on American consciousness to such an extent was the 9/11 terrorist attacks (97%). (Survey questions were filtered to people who were at least eight years of age at the time of each historical event.)
I was on my way to work at Staples listening to the radio when I first heard about the planes crashing into the world trade center. I didn't know what to make of it. It was unlike anything I had ever heard of. Even thou this type of violent attack occurs on a much wider scale across the seas in the middle east, back in Europe decades and centuries ago, it doesn't happen here in safe secure America. Until now. We have now joined the rest of the world in the reality that we are not completely safe. We are vulnerable to attack just like everyone else.
We remember where we were when the tragedy struck and we also remember certain people who lived and died during those events. We remember the fallen and remember the phoenixes who rose out of the ashes of disaster.
Father Mychal Fallon Judge, O.F.M. was an American Franciscan friar who served as a chaplain to the New York City Fire Department. He was in the North Tower lobby at an emergency command post when debris from the South tower struck him when it collapsed. He became the first certified fatality of the September 11, 2001 attacks. (May 11, 1933 – September 11, 2001)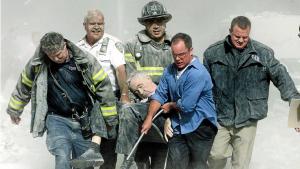 According to Wikipedia…"
"The Father Mychal Judge Walk of Remembrance takes place every year in New York on the Sunday before the 9/11 anniversary. It begins with a Mass at St. Francis Church on West 31st Street, then proceeds to the site of Ground Zero, retracing Judge's final journey and praying along the way."
The first victim of these horrible attacks is still remembered today almost 20 years later.
Prayer of Father Mychal Judge

Lord,

Take me where you want me to go,

Let me meet who you want me to meet,

Tell me what you want me to say and

Keep me out of your way
Here are a few other events that stick out to me in terms of remembering good people that came out of a really really bad situation.
April 20, 1999
The Columbine High School massacre left 15 dead including the shooters. Among the dead lay devout Christians Rachel Scott and Cassie Bernall who came to be regarded as Christian martyrs by Evangelical Christians. One student who survived that day was Mary Gianna who years later ended up going to Franciscan University and eventually became Sister Mary Gianna Thornby.
"I really feel like the sufferings I've had in this life; I think it's kept me close to the Lord. And I think it's the call to trust God, that He never allows a tragedy or a heartbreak to happen unless He can bring a greater good out of it."
October 2, 2006
A shooting occurred at the West Nickel Mines School, an Amish one-room schoolhouse in the Old Order Amish community of Nickel Mines, a village in Bart Township, Lancaster County, Pennsylvania. The event that makes this incident stand out is the forgiveness offered to the killer of the children and his immediate family. About 30 members of the Amish community attended his funeral and they also set up a charitable fund for the shooter's family. They gave an example of what forgiveness looks like for all people, especially Christians.
"We have to forgive," said Aaron Beiler, whose farm is just a few miles away from Nickel Mines. "Jesus forgave us of our sins. How can we expect forgiveness if we can't give it?"
Dec. 14, 2012
The Sandy Hook Elementary School shooting leaves 26 dead. Jennifer Hubbard's 6 year old daughter Catherine was among the victims. Jennifer went on to write reflections in the Magnificat magazine and to give talks about healing and God's mercy around the country.
"The moment I deny the grace extended to me, I become the anticipated thunderous boom at which I cowered. I deny the one whose example I long to follow, and I forget it was with his last breaths as he hung from the cross that Jesus prayed for our forgiveness. Head bowed low and knees firmly planted, I pray for the courage to love as I have been loved and forgive as I have been forgiven."
– Divine Mercy 2017
Often times we can not forget the horrible disasters and tragedies that befall us. It lodges in our memories like a festering sore. But the touch of God in the lives of those who survive, if even in our memories, is the remembrance that brings healing and grace to our fractured souls.