Last Week In Life: June 28, 2021- July 4, 2021
Last Week's SPECTACULAR STORY OF WEEK
A Reason to Reconsider on UFO Day
On June 24, 1947 American aviator private Kenneth Albert Arnold (March 29, 1915 – January 16, 1984) was flying his plane near Mt. Rainier in Washington State minding his own business when all of a sudden out of the blue he saw nine unusual objects flying by at immense speeds in the skies near his slow flying vehicle. They were flat like a pie pan and shaped like a pie plate. Ken was both awe struck and hungry at the same time. The press when first reporting the incredible story first began using the terms "flying saucer" and "flying disk" (or "disc") to describe the sighted objects and Wala FLYING SAUCERS WERE BORN.
Soon the UFO sighting craze began lifting off ground with the most famous UFO story of all time. The Roswell Incident. This happen in July 1947 in which a supposed United States Army Air Forces balloon crashed at a ranch near Roswell, New Mexico. Of course, that is what the Government wants you to believe.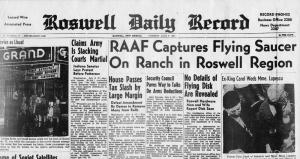 Once upon a time there were two days that were called World UFO Day. July 2nd and the 24th of June. The WUFODO (World UFO Day Organization) in its planetary wisdom declared July 2nd to be the official World UFO Day eliminating any confusion about the two days.
And just in time for the 2021 celebration of UFO Day comes this government report. Here is some recent info from University Distinguished Professor of Astronomy from the University of Arizona, Chris Impey
On June 25, 2021, the Pentagon released a much-anticipated report on UFOs to Congress. The military has rebranded unidentified flying objects as unidentified aerial phenomena –UAPs – in part to avoid the stigma that has been attached to claims of aliens visiting the Earth since the Roswell incident in 1947. The report presents no convincing evidence that alien spacecraft have been spotted, but some of the data defy easy interpretation.

I'm a professor of astronomy who has written extensively on the search for life in the universe. I also teach a free online class on astrobiology. I do not believe that the new Pentagon report or any other sightings of UFOs in the past are proof of aliens visiting Earth. But the report is important because it opens the door for a serious look at UFOs. Specifically, it encourages the U.S. government to collect better data on UFOs, and I think the release of the report increases the chances that scientists will try to interpret that data. Historically, UFOs have felt off limits to mainstream science, but perhaps no more.
Pentagon UFO Report: No Aliens, but Government Transparency and Desire for Better Data Might Bring Science to the UFO World – Government Executive (govexec.com)
Jimmy Akin covers this story in his latest Mysterious World Podcast. See Below for details.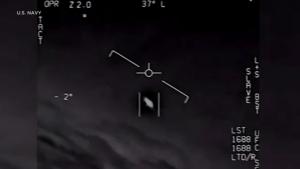 Just what do UFOs have to do with the Catholic Faith?
While the Church does not have any specific teachings on extraterrestrial life, theologians can speculate on the existence of these beings and their nature due to the "underlying principles" which influence Church doctrine, said Dr. Christopher Baglow, director of the Science and Religion Initiative at the University of Notre Dame's McGrath Institute for Church Life, on Saturday.

If rational life existed outside of earth and were to be discovered, it would not be theologically inconsistent to believe that the extraterrestrial rational beings were creatures of God in need of a savior to achieve salvation, he said. Baglow referred to this as "incarnational plurality," adding that God would not be limited by constraints.

Baglow delivered the keynote lecture, titled "Extraterrestrial Life and Catholic Theology," on June 5 at a conference for the Society of Catholic Scientists in Washington, D.C.

Theology can help guide speculation about aliens, professor says (catholicnewsagency.com)
What if the alien beings were not fallen like us?
But what would it mean if other intelligent beings did not disobey God, as our ancestors did, but instead obeyed Him, remained in the "garden," and retained the gifts God bestowed on them at their creation? Obviously, that their minds were not clouded nor their wills weakened by "original sin" as our first parents' were. Also, presumably, that they and their progeny did not need Salvation and thus were blessed with a closeness with the Father, the Son, and the Holy Spirit that goes beyond our imagining. These thoughts are humbling. They also help to explain the evidently superior intelligence implied by the UFO phenomenon. They could suggest, as well, a higher level of virtue than is common among us humans. And that, too, is humbling. (Perhaps those beings could give us new insights not only into technology but also into loving God and neighbor.)

For Catholics (and other Christians and Jews), the UFO phenomenon should not be considered a threat to their faith but instead as a reinforcement of it. In this matter, as in countless others, our guiding thought should be the calming words mentioned no fewer than 105 times in Sacred Scripture—"Do not be afraid."
–UFOs and Catholic Faith – Catholic Journal
And just a few more Catholic Voices to hone in the proper theological thought in your head.
I still run across people who seriously believe that the discovery of extraterrestrial life would be a shattering blow from which the Catholic Church would never recover. Catholics have been speculating about non-human intelligent life since forever. That is, after all, what angels are and they are literally encoded right into the Tradition from the get-go. If we happen to run into non-human intelligences encased in meat (or plant matter like The Thing) that will not be especially different. Not that I anticipate ever meeting aliens. I think we never will, though we may well discover some sort of life living near a thermal vent on Europa or detect chlorophyll from the algae scum on some planet orbiting Proxima Centauri or something. But complex intelligent life? Prove it.- Mark Shea

In the summer of 1977, I arrived — in utero — for my first-ever movie theater experience: Star Wars: Episode IV – A New Hope. I would be born just a few months later, and the Star Wars universe, with its archetypal heroes and villains, weird aliens, quirky robots, uniquely-designed space ships, and lived-in feeling would go on to form a vibrant part of the imaginative framework of my childhood. After the first film (where the view was admittedly lousy) I went on to see every single subsequent live action Star Wars movie in the theater. Yes, all 10 of them. Even the lousy ones.

Space is the greatest source of natural wonder wonder in my life. The seemingly infinite possibility of it. The mysteries and secrets it holds. The implications of a literal ocean of stars, each of them incomprehensibly larger than our own little planet, each with millions of miles of distance in between, many of them with any number of planetary bodies in their orbits that could hold…well, anything.

I want to know what's out there.

Like Fox Mulder, the quixotic, alien-hunting FBI Agent in the long-running X-Files television series I watched religiously growing up, I wanted to believe. But I had no means of pursuing that interest, and the fact is, the Fermi Paradox is a harsh mistress, and I've always been pretty skeptical that there's anyone else out there.

Recently, though, I've been given a reason to reconsider.
We Have Evidence That UFOs Are Real. What Now? – by Steve Skojec – The Skojec File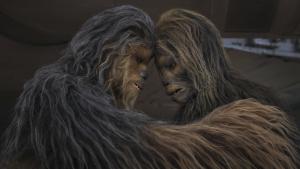 At one point in our history, the discussion of nonhuman persons would have been limited to Wookies like Chewbacca in "Star Wars" or Vulcans like Spock in "Star Trek." But with the stunning "60 Minutes" segment on UFOs this week, it is now fair to say not only that we have something close to strong evidence that we are not alone in the universe but that the idea has gone mainstream.

According to the CBS News flagship show, a report due to Congress next month from the director of national intelligence and the Pentagon is poised to offer firm video evidence of incredible encounters with UFOs — including from Navy pilots who claim to encounter them "every day."

There is some chance that these vehicles could be supersecret spy technology from, say, China or Russia that we previously didn't know about. But in light of documented movements that no other known aircraft can pull off — even when flying into a massive headwind and without having any kind of exhaust plume — the UFO explanation is, remarkably, more likely at this point. UFOs are back in the news—and Catholics are ready to deal with any theological questions on alien life. | America Magazine
This particular UFO Day we celebrate the great UFO movie. Independence Day, with Jeff Goldblum and Will Smith as it turns 25. And this UFO day we get a sci-fi time travel adventure story with Chris Pratt fighting aliens called The Tomorow War. And we also get in the Catholic world an opportunity to bring speculation about God into the very real possibility that the physical image of God extends beyond our solar system into a galaxy far far away. If we meet these beings on this side of eternity may we all live long and prosper together.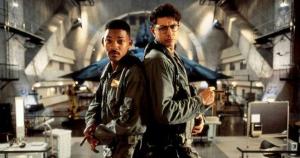 Jimmy Akin explores some of the issues talked about here in this particular podcast.
FEAST DAYS ,HOLIDAYS AND LAST WEEK IN HISTORY
Mon June 28, 2021
Saint Irenaeus, bishop and martyr – Memorial
Tuesday June 29, 2021
Saints Peter and Paul, Apostles – Solemnity
1613 – The Globe Theatre in London, built by William Shakespeare's playing company, the Lord Chamberlain's Men, burns to the ground.
Wednesday June 30, 2021
First Martyrs of the Church of Rome– Optional Memorial
Thursday July 1, 2021
Friday July 2, 2021
UFO DAY
Saturday July 3, 2021
Saint Thomas the Apostle– Feast
Sunday July 4, 2021
Saint Elizabeth of Portugal– Optional Memorial
On America's Independence Day
Last Week's News of the World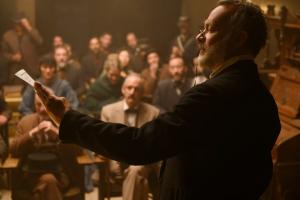 There are pictures of children's faces, retired couples at elegant dinners, a father and son moment, a young married couple, crosses, candles and handwritten prayers on yellow Post-it notes and drugstore greeting cards.

"God is 'El Roi,' the God Who Sees — Help the First Responders find their bodies," reads on note, using a reference to one of God's names found in the Book of Genesis.

Another note, posted beneath a photo of a Hispanic father and son, reads: "Be with their family, Lord. Let them know they are not alone, Jesus. We are praying."
UPDATE: During border visit, bishop speaks with vice president about immigration – Catholic News Service
First Denomination to Condemn Uyghur Muslim Genoc… | Christianity Today

hile headlines focused on intra-Baptist fights during the recent Southern Baptist Convention (SBC) in Nashville, many commentators overlooked a remarkable resolution advocating for Uyghur Muslims in China.

With Resolution 8, Southern Baptists joined Pope Francis in highlighting the abuses suffered by Uyghurs but went a step further by labeling their persecution as genocide.
Bishop Barron: True Dialogue Impossible if Catholic Dems Won't Protect Babies Who Survive Abortion| National Catholic Register (ncregister.com)
Bishop Robert Barron, auxiliary bishop of Los Angeles and head of Word on Fire ministries, called out Catholic Democratic lawmakers and others for claiming dialogue with the US Bishops over abortion and the reception of the Eucharist is the best way forward in the Eucharist controversy, despite a reticence on the part of Democrats to modify even the most extreme pro-abortion positions.
Pro-Life Catholic Democrat Dan Lipinski Supports Clarity From US Bishops on 'Eucharistic Coherence'| National Catholic Register (ncregister.com)
In an interview with the Register, the former co-chairman of the bipartisan Congressional Pro-Life Caucus also warns that both the Democratic and Republican parties are becoming 'fundamentalist religions.'
Indigenous leaders condemn recent vandalism of churches in Canada – Catholic World Report
Indigenous and Catholic leaders have condemned a recent spate of church vandalism in Canada, including the "suspicious" burning of Catholic churches.
New Study Estimates More Than 900,000 People Have Died Of COVID-19 In U.S. : Coronavirus Updates : NPR
A new study estimates that the number of people who have died of COVID-19 in the U.S. is more than 900,000, a number 57% higher than official figures.

Worldwide, the study's authors say, the COVID-19 death count is nearing 7 million, more than double the reported number of 3.24 million.
Why was Bill Cosby released from prison? The court decision overturning his conviction, explained. – Vox
Bill Cosby, the disgraced comedian who was convicted of sexual assault in 2018, is no longer in prison, due to a state supreme court decision in Commonwealth v. Cosby.

The circumstances that freed him involve a stunning display of prosecutorial incompetence, a divided Pennsylvania Supreme Court that split three ways on what should become of Cosby, and a long, rambling judicial opinion that is often difficult to parse.
Massachusetts I-95 standoff was with Rise of the Moors militia, police say | Massachusetts | The Guardian
Folks this is my home state. I travel down this quite frequently.
Massachusetts state police said 11 people who were arrested following an hours-long armed standoff that partially shut down Interstate 95 on Saturday claimed membership of the group Rise of the Moors, which police said calls itself a militia and follows "sovereign citizens" ideology. Police said the group claims to adhere to "Moorish Sovereign Ideology".
POPE FRANCIS'S FAMOUS LAST WEEK'S WORDS
Pope Francis concluded the day of prayer and reflection for Lebanon by urging the Lebanese people and the international community to come together so that the country can remain "a project of peace" and not a land for "outside interests and profits."

"May the night of conflicts recede before a new dawn of hope," he said on Thursday. "May hostilities cease, disagreements fade away, and Lebanon once more radiate the light of peace."

It is essential, Francis said, that those in power – both in and outside Lebanon – choose to "work for true peace and not for their own interests. Let there be an end to the few profiting from the sufferings of many! No more letting half-truths continue to frustrate people's aspirations!"
Pope Francis calls on international community to help Lebanon (cruxnow.com)
BLOG/ARTICLES POSTS OF THE WEEK
When anyone knows that they should not go to Communion, but still go, they commit a sacrilege. There must be some reason we are receiving when we shouldn't. Generally, we want something like appearing as a better Catholic than we are, wanting to avoid awkwardness, out of fear others might think bad of us, or some such end we seek for ourselves: at least that's what was going in my mind when I did so as a teenager and others have told me was going on in their mind when they received unworthily. This is a weaponization of the Eucharist for our own ends. This applies for any of us who has committed a mortal sin or a person who has created grave public scandal due their positions contrary to the Catholic faith and natural law.

Let's not weaponize the Eucharist. Let's protect it from politicians and others presenting public scandal who want to weaponize it for their ends. The Eucharist is God and should be protected. Canons 915 and 916 are law, not suggestions.
-Fr. Matthew P. Schneider LC, Who is Weaponizing the Eucharist? Politicians, Not Bishops (patheos.com)
Pondering Podcasts OF THE WEEK
Most of us go from day to day just coasting on the status quo. If it ain't broke, why fix it—right? But when routines just get too mundane or systems stop making sense, sometimes you just have to hold your breath and jump. People who leap from their lives, their comfort zones, even through time. The Leap – This American Life
Book Em, Dano on your reading list
Jesus, the Master Psychologist: Listen to Him by Dr. Ray Guarendi
Sprinting Through No Man's Land: Endurance, Tragedy, and Rebirth in the 1919 Tour de France by Adin Dobkin
A PSALM FOR THE WILD-BUILT BY BECKY CHAMBERS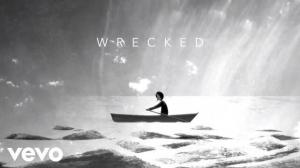 Andy Grammer – Lease On Life (Official Lyric Video)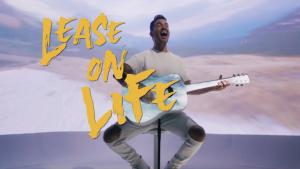 A Million Dreams (from The Greatest Showman) | One Voice Children's Choir Cover
Informative, Funny, Unique and Vibrant Videos
This Week on

MYS161: The US gov't released a long-expected report on Unidentified Aerial Phenomena in June 2021. Jimmy Akin and Dom Bettinelli look at the unclassified, public version and look at what it does and doesn't say; what we read between the lines; and what the future holds for UFO study. (This episode is available as a live video on YouTube at https://youtu.be/3rNu2VpU1YE).

WATCH IT!

America: The Motion Picture (2021) Netflix [movie] Wednesday, Jun. 30

The Tomorrow War (2021) Amazon Prime Video [movie] Friday, Jul. 2

Summer of Soul (…Or, When the Revolution Could Not Be Televised) (2021) Hulu [movie] Friday, Jul. 2

The Boss Baby: Family Business (2021) Peacock [movie] Friday, Jul. 2
Literally Their Last Week in Life
Donald Henry Rumsfeld (July 9, 1932 – June 29, 2021) was an American politician, government official and businessman who served as Secretary of Defense from 1975 to 1977 under Gerald Ford, and again from 2001 to 2006 under George W. Bush
Piffy Quality Quotes

of the Week

A funny story about my sister is making into the homily tonight. If she gets angry, I'm just going to say, "Hey, you should have considered the possibility that I would become a priest when you did those homily-worthy things 25 years ago. That's on you." Ironclad argument.-Fr. Casey, OFM @caseyofm