Welcome to Advent
The mediations connect to the gospel readings and to whatever interesting events happen that day in history.
Sunday November 28, 2021
FIRST SUNDAY OF ADVENT violet
Jer 33:14-16/1 Thes 3:12—4:2/Lk 21:25-28, 34-36 (3) Pss I3
1st day of Hanukkah (Jewish Observance)
On This Day in 1520…
After sailing through the dangerous straits below South America that now bear his name, Portuguese navigator Ferdinand Magellan enters the Pacific Ocean with three ships, becoming the first European explorer to reach the Pacific from the Atlantic.
Ferdinand Magellan Reaches the Pacific – HISTORY
After sailing through the dangerous straits of 2021, Christians have finally reached Advent from the rest of the crazy year. And as a Catholic writer I wanted to contribute my bit of thought at the beginning of this wonderful season of preparation for the big day of Christ's birth. Here is at my attempt at that process.
The Grand Ole Opry (TGOO) invited America to start singing along with them back on November 28, 1925. This weekly American country music stage concert in Nashville, Tennessee began broadcasting their one-hour radio "barn dance" on WSM. It has become the longest-running radio broadcast in US history. Each week it brings listeners a various mix of hit singers and contemporary chart-toppers performing country, bluegrass, Americana, folk, and gospel music as well as comedic performances and skits. It was started by a newspaper reporter and radio personality named George D. Hay. Back when the show was just called the WSM Barn Dance, Hay said what the Hey and took the persona of The Solemn Old Judge. One particular session of the WSM Barn Dance in December 1927 had him opening the show with these words…
Friends, the program which just came to a close was devoted to the classics. Doctor Damrosch [host of the program right before Hay's] told us that there is no place in the classics for realism. However, from here on out for the next three hours, we will present nothing but realism. It will be down to earth for the 'earthy'.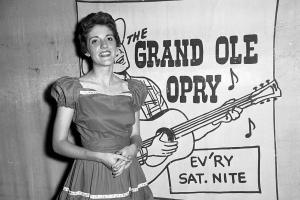 At the beginning of Advent 2021, the Christendom started by Jesus Christ the 2nd person of the Triune God invites you to sing along with the chorus of angels as he makes his way to Bethlehem to be born. He promises to be down to earth as his existence as the Word has become Flesh in the womb of the virgin Mary. This is realism at its most real as the reality that made all of reality wants join his reality to yours. This is what the journey of Advent is all about, getting ready to invite the song of Christ into our inner dance halls so we may dance with the Trinity in a square dance of Love with Him and all our brothers and sisters. Get ready to lift our heads to the music that is being played for our redemption is near.
Monday November 29, 2021
Advent Weekday violet
Is 2:1-5/Mt 8:5-11 (175)
Explorer Richard Byrd flies over South Pole – HISTORY
Back in 1929 (4 years after TGOO began broadcasting) the great American explorer Richard Byrd and three of his buddies made a dip into aviation history. Byrd and company made the first flight at the ends of the earth as they flew over the South Pole in their plane called the Floyd Bennett.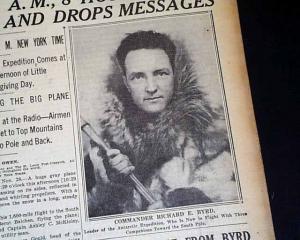 As we take a metaphorical flight over our lives this advent we look at it and see where we are going and make the necessary changes to arrive at our destination. We make sure our instruments are working properly and that our engines have enough fuel for the long trip of life ahead. We hope to arrive at Jesus's birthday and amaze Him with our great faith in his mercy and love.
Tuesday November 30, 2021
Saint Andrew, Apostle red
Feast
Rom 10:9-18/Mt 4:18-22 (684) Pss Prop
Meteorite strikes Alabama woman – HISTORY
Mrs. Elizabeth Hodges was sleeping peacefully on her couch on November 30, 1954 in Sylacauga, Alabama when a pesky meteorite crashes through the roof her house and into her living room, bouncing off the radio (perhaps with the Grand Ol Opry playing in the background) and strikes Elizabeth on the hip. The meteorite was not big enough to wipe out the dinosaurs but it did give her a nasty bruise along her leg and hip. This rock from outer space was sulfide meteorite weighing in at 8.5 pounds and measuring seven inches in length.
Ouch!.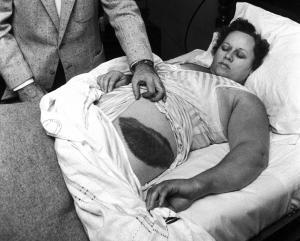 The meteorites of life come crashing down on us all the time. Sometimes they give us more than a bruised hip. Sometimes they can cause major damage and destroy our whole lives. This is why Jesus asks us to follow him, like he asked Andrew, during this season of Advent. He wants us to be ready for that space rock that is aiming for our houses by being ready and preparing. That is best accomplished by being his disciple. May we all become better disciples of our Lord by following Him this Advent and always.
Wednesday December 1 , 2021
Advent Weekday violet
Is 25:6-10a/Mt 15:29-37 (177)
Rosa Parks ignites bus boycott – HISTORY
At the beginning of December in 1955 in Montgomery, Alabama, Rosa Parks was arrested for refusing to give up her seat at the front of the bus for a white person. Black people were supposed to seat at the back of the bus, not the front. This little act of civil disobedience inspired and sparked a young Martin Luther King, Jr. to organize the Montgomery Bus Boycott.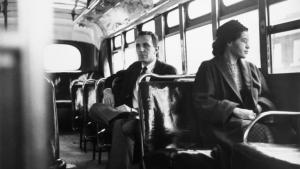 Rosa took her loaves and fishes and God multiplied the fight for injustice into something bigger and more grand. And that is what God can do for us this Advent. He take the little things in our lives and make it bigger and wider. We may not start a national crusade against injustice like Dr. King and Ms. Parks, but wherever we are at God can give us more of his grace to eat and consume.
Thursday December 2 , 2021
Advent Weekday violet
Is 26:1-6/Mt 7:21, 24-27 (178)
Enron Files For Bankruptcy – HISTORY
Back on this day in 2001, the mega energy corporation, Enron, after all its attempts to seize wealth and power did the inevitable; they filed for chapter 11 bankruptcy. This happen in New York and sparked a rather well-known cooperate scandal in the United States. They filed for chapter 11 hoping to receive some sort of mercy. Not everyone who is big and powerful will enter the kingdom of heaven.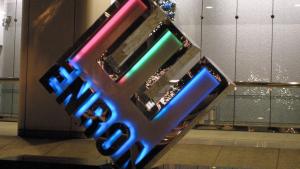 After our spree of greed we sometimes feel spent and have to file for spiritual chapter 11 with God. For Catholics this means going to confession. Enron had to go to court to settle matters. We go to the sacrament so that Jesus can have pity on us sinners. So if this Advent if you feel bankrupt with sin, go to the one who can fill up your spiritual bank account once again.
Friday December 3, 2021
Saint Francis Xavier, Priest white
Memorial
Is 29:17-24/Mt 9:27-31 (179)
Illinois becomes the 21st state – HISTORY
Back in 1818 the United States of America grafted Illinois in the union. Illinois went on to give us such people as Robin Williams, Walt Disney and Harrison Ford, not to mention Barack Obama. as our 44th president and Honest Abe Lincoln as #16. It also gave us the first McDonalds and a lot of corn and pumpkins. It also gave us the largest catsup bottle.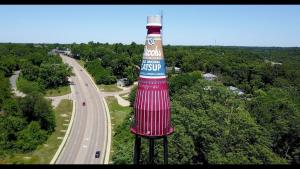 God through Christ has grafted us into his family through adoption. We have the honor of being part of his family just like Illinois has become part of the US family of states. If we cry out for mercy, he will hear us and let us see what it is our blindness is hiding from us.
Saturday December 4 2021
Advent Weekday violet/white
[Saint John Damascene, Priest and Doctor of the Church]
Is 30:19-21, 23-26/Mt 9:35—10:1, 5a, 6-8 (180)
Polish Christians come to the aid of Polish Jews – HISTORY
Hostage Terry Anderson Freed in Lebanon – HISTORY
Back during WWII in 1942 in Warsaw, Poland a group of Polish Christians named Zofia Kossak and Wanda Filipowicz decided to act like Christ and put their own lives on the line when they set up the Council for the Assistance of the Jews. The group was led by two women.
The other bright spot in history on this day in 1991, the Islamic militants who kidnapped American journalist Terry Anderson in Lebanon released him after 2,454 days in captivity.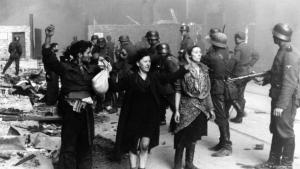 As the polish Christians helped the polish Jews by helping to aid them against the evil of the Nazi's, so does Christ aid us in our occupation by someone more evil. That is the devil and his angels. He proclaims the good news that sets us free like Terry Anderson. May we imitate Christ and help to set others free when they are oppressed by others.
Sunday December 5 2021
SECOND SUNDAY OF ADVENT violet
Bar 5:1-9/Phil 1:4-6, 8-11/Lk 3:1-6 (6) Pss II
At 2:10 p.m., five U.S. Navy Avenger torpedo-bombers comprising Flight 19 take off from the Ft. Lauderdale Naval Air Station in Florida on a routine three-hour training mission. Flight 19 was scheduled to take them due east for 120 miles, north for 73 miles, and then back over a final 120-mile leg that would return them to the naval base. They never returned.
Aircraft Squadron Disappears in the Bermuda Triangle – HISTORY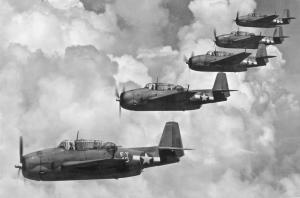 One of the greatest wonders of Advent and of the Christmas season, is the spectacular mystery of all the weird and awe filled events surrounding the story we know so well. Just like the aircraft squadron is a mystery so is the incarnation of the divine person of Son remaining a 100% God while grafting onto himself a 100% of human nature a mystery. Mysteries keep our inner child alive with speculation and contemplation about things we just don't understand. As Michael Card sang
When the Father longed to show
A love He wanted us to know
He sent His only Son and so
Became a holy embryo
That is the Mystery
More than you can see
Give up on your pondering
And fall down on your knees
A fiction as fantastic and wild
A mother made by her own child
The hopeless babe who cried
"Was God Incarnate and man deified?"
That is the mystery
More than you can see
Give up on your pondering
And fall down on your knees
Prepare the way of the Lord by getting lost in that mystery.