This Week in Life- Advent Week 2
Monday December 6 , 2021
Advent Weekday violet/white
[Saint Nicholas, Bishop] Is 35:1-10/Lk 5:17-26 (181)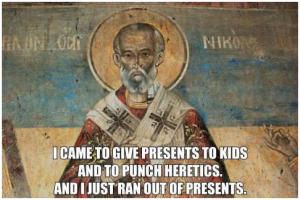 We start out his week's Advent meditations with the feast day of Jolly ol' St. Nicholas. Over the years he has evolved from a holy bishop helping poor children to a legendary worker of mind-blowing miracles such as resurrecting murdered cut up children into whole people once again with all their limbs reattached. It is not that far-fetched that he might actually perform some miracles. Our Lord healed a paralyzed man in today's gospel. But more importantly he healed his soul by forgiving his sins. St. Nick heals souls by brining them the joy of Christ into their hearts.
Most people today associate him with the myth inspired figure Santa Claus who lives at the North Pole and flies around the world on Christmas Eve with a sleigh full of toys made by his army of skilled elves. In the Catholic world not only is he a Saint he is the model for some who feel that aggressive force is necessary against heretics. But if there one thing you take away from this short meditation it is that St. Nick was a real person and has a truth that is stranger than fiction kind of life. And that life is worth knowing about.
Tuesday December 7, 2021
Saint Ambrose, Bishop and Doctor of the Church white
Memorial
Is 40:1-11/Mt 18:12-14 (182)
On December 7, 1965 – Pope Paul VI and Patriarch Athenagoras I simultaneously revoked mutual excommunications that had been in place since 1054. The Catholic church made peace with the Orthodox Church after about a millenium. This is something that Jesus had wanted them to do since 1054. He wants to reunite the church's as one. Just as he wants to reunite the lost sheep who has wandered away from the flock.
Sometimes it seems like some of the sheep in our lives have left the fold for what they thought were greener pastures and may never be return to the safety of the shepherd. But, perhaps one day these lost sheep will come back in a spirit of mutual love,forgiveness, reconciliation, acceptance and understanding. And perhaps someday the separated brethren of those churches that have split off from the Catholic Church will reunite with her and we will once again be one body in Christ.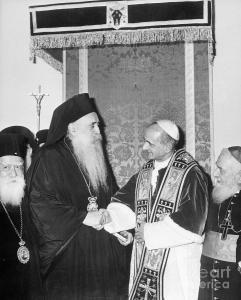 Today is also the anniversary of when the Japanese attacked America at Pearl Harbor. It launched our nation into one of the bloodiest wars in human history. Today our two nations are at peace. God speaks tenderly to his children and wants to restore peace and have warfare ended. The fact that two warring nations can move from hate to peaceful co-existence is but a sign of what God will one day do for all mankind.
Wednesday December 8 , 2021
THE IMMACULATE CONCEPTION OF THE
BLESSED VIRGIN MARY
(Patronal Feastday of the United States of America)
Solemnity [Holyday of Obligation] Gn 3:9-15, 20/Eph 1:3-6, 11-12/Lk 1:26-38 (689) Pss Prop
Mary was created in the usual way. She was conceived when St. Joachim's sperm hit his wife St. Anne's resulting in the existence of Mary. But God did something different with Mary, that he hadn't done since Adam and Eve. He did something he would not repeat afterwards. He silently and miraculously halted the transmission of original sin in Mary. The stain of separation from God did not touch her. God the Father bestowed favor on his beloved child so that he could prepare a fitting place for his only begotten child, God the Son, so that she could be his mother. God the Holy Spirit enveloped Mary in an act of coming into being not seen since the creation of the universe. When Mary the mother conceived, she would forgo the usual act of physically legitimate pleasurable self-giving. She would conceive Jesus not in a miraculous spiritual manner, but in a miraculous physical manner.
Pondering the Immaculate Exemption | Mark Wilson (patheos.com)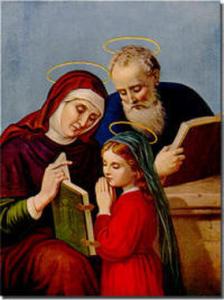 Thursday December 9 , 2021
Advent Weekday violet/white
[Saint Juan Diego Cuauhtlatoatzin] Is 41:13-20/Mt 11:11-15 (184)
Smallpox is officially declared eradicated – HISTORY
Saint Juan Diego is a native of Mexico and has the honor of being the first Catholic indigenous saint from the Americas. OLOG paid him a visit on five different occasions at the hill of Tepeyac, then a rural area but now within the borders of Mexico City. It is reported that she said to him in his native Nahuatl language (the language of the Aztec Empire)…
My son, I love you. I desire you to know who I am. I am the ever-Virgin Mary; mother of the true God who gives life and maintains its existence. He created all things. He is in all places. He is Lord of Heaven and Earth and I desire a church in this place where your people may experience my compassion. All those who sincerely ask for my help in their work and in their sorrows will know their mother's near in this place. Here I will see their fears and I will console men and they will be at peace.
In order to prove her authenticity as the mother of God, she left her ID imprinted on a Tilma in which St. Juan had used collected out of season flowers to bring back to his bishop as proof of the Blessed Mother's heavenly visit. This mantle or clock with the image of OLOG is now located in The Basilica of Guadalupe, located at the foot of Tepeyac. The Basilica of Guadalupe is now one of the world's major Centre of pilgrimage for Catholics, receiving 22 million visitors in 2010.
This appearance of Our Lady of Guadalupe changed the face of the Church and radically renewed it. The choice of a Native American as God's messenger meant that all Native Americans are important. There was a new-found, unheard-of dignity for the indigenous and the poor. Juan Diego was given the role of going to the local Bishop to tell him of the importance of the indigenous people.-
Who is Juan Diego?- Houston Catholic Worker
It's important to note that just years earlier that human sacrifice, which had been part of the Aztec culture, had been outlawed. It's also interesting to point out that on this day back in 1979 a group of scientists declared that deadly disease known as smallpox has been eradicated. SP carries a whopping 30 percent chance of death for those who contract it. This so far has been the only infectious disease afflicting humans that has officially been eradicated. Thank You to the scientists who made the vaccine that helped save lives. Thanks to the mother of God who said Yes to the living vaccine that was coming into the world to cure us of sin and death. And this same woman helped put a stop to the culture of death in the Aztec world. May she do the same in our times.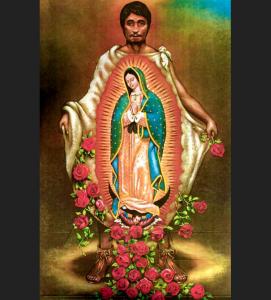 Friday December 10, 2021
Advent Weekday violet/white
[Our Lady of Loreto] Is 48:17-19/Mt 11:16-19 (185)
The song Mary Did You Know is a song that I think really ponders the mystery of Christ and ponders Mary's ponderings and the wonder and awe she felt of the role God destined her to have. In this season of Advent, we also get to ponder Mary in her Immaculate Exemption from the rest of sinful humanity. We also get to ponder her miraculous appearance to St. Juan Diego on December 9th as Our Lady of Guadalupe celebrated on December 12th. And Pope Francis has given us a new Marian feast to ponder on December 10th. The Feast of Our Lady of Loreto.
Tradition holds that a small house in Loreto, Italy originated in Nazareth and is the actual home of the Blessed Virgin Mary. The dimensions are very small, one-room measuring 30 x 13 feet. It is composed simply of stones and mortar found in Palestine and hand-chiseled in a style consistent of the time of Jesus. This was thought to be the home of Saints Anne and Joachim, Mary's parents. The Immaculate Conception occurred in this house. It is here that the Angel Gabriel appeared to Mary, and with her " Fiat" the Incarnation happened in this very house. This was also the house that the Holy Family lived in Nazareth after returning from their time in Egypt. Jesus lived here until he was 30 and began his public ministry. Here also is where St. Joseph died.

Since apostolic times this house was a place of pilgrimage and worship. In 313 AD Constantine built a basilica around the Holy House of Nazareth to protect it. The basilica was destroyed by the Saracens in 1090, but the Holy House was untouched. Another basilica was built during the twelfth century but this was destroyed by Moslems in 1263 during the Crusades. The Holy House was again unharmed. When the Christians were driven completely out of the Holy Land in 1291, the Holy House disappeared from Nazareth and suddenly appeared in modern day Croatia. It is said that angels transported it. The house was again moved (by angels) on December 10, 1294 (hence the date of the new Optional Memorial), due to the Muslim invasion of Albania. The house landed first in Recanti, Italy, but soon after moved for a third time to its present location in Loreto, Italy.
Jennifer Gregory Miller The New Advent Feast, Our Lady of Loreto (Dec 11, 2019)
It is fitting that celebrate the spiritual miracle of the Blessed Mother in the same season as the physical miracle of her son.
As Mary pondered these things in her heart may we ponder them in ours.
For more on the Immaculate Conception please see The Immaculate Connections
Saturday December 11 2021
Advent Weekday violet/white
[Saint Damasus I, Pope] Sir 48:1-4, 9-11/Mt 17:9a, 10-13 (186)
On this day in 1925 Pope Pius XI introduces his papal encyclical Quas primas to the world. The Feast of Christ the King was instituted because the good pontiff was very concerned because Stalin had risen and taken over Russia; the godless communists. Of course, Mussolini and the fascists had taken over Italy. Hitler had not quite come to fullness of his power at this time. Pope Pius XI saw the problem of that ultimate secular state that sought to drive God out of the public square, making the state supreme. He was calling people, not just Catholics, throughout the world to look to Jesus Christ as that reference and be adherent to him and not some godless principles that they were making. And I would suggest that it is the same game in our culture today. In the sense their is hostility to faith and hostility to God in the marketplace. We can see the disasters that can happen when people's lives are not referenced on God.
In the infancy narrative of Matthew's Gospel, we hear that he is born the newborn king of the Jews. He is not just king of the Jews but king of the universe. He is also supposed to be King of our hearts and he is made to reign supreme in our lives. And this is how we are connected to Christ the King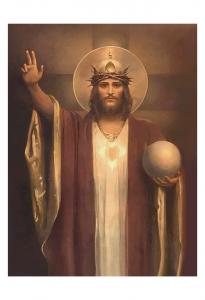 Sunday December 12 2021
THIRD SUNDAY OF ADVENT violet or rose
Zep 3:14-18a/Phil 4:4-7/Lk 3:10-18 (9) Pss III
Even though this feast day gets superseded because it falls on the 2nd Sunday of Advent,
we thought we would still honor the day with a meditative poem about…
Our Lady of Guadalupe
Juan Diego simple convert, Catholic man
Saw someone more holy than most of us can
Yes the rose petals glided from his garment
Just as the Bishop looked upon it
There he saw a miraculous image
on that poncho where people now pilgrimage
12th of December 1531, the day
And all in Mexico stopped to pray
For there with a native face,
An image of our Mother, full of grace
Yes, the flower's fell on that blessed day
For us all, thank God for Our Lady of Guadalupe.