In the last WPI article I asked Do You Know Where Peter Is?
In this article I want to know Are You Reading Where Peter Is?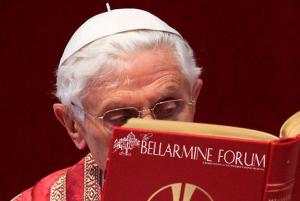 Where Peter Is has many spiritually uplifting, and informative articles.
The list of contributors includes a variety of various people from all backgrounds.
Mike Lewis@mfjlewis: Going out on a limb to venture that @Where_Peter_is is the only online Catholic publication in the universe with regular contributions from a cloistered nun, a former SSPX priest, and a hermit who lives in Spain with four mules. Are you reading it?
I really like some of the contributors such as Deacon Greg Kandra and Dawn Eden Goldstein.
Some WPI writers are have been or are current Patheos Catholic bloggers such as Henry Karlson, Theresa Zoe Williams and William Hemsworth.
I'll admit that I'm not a fan of all the contributors nor do I necessarily agree with all content published on their website. I'm not an unthinking fanboy. But I'm not going to nitpick and look for splinters. There are too many others doing just that. I agree with the overall message and mission of WPI and think they are doing God's work. And because of that I want to give others a taste of what they might find on WPI. Here are some of the articles and authors that stood out to me. If you like what you read here check out their site for more great content as this is just a tiny little sampling.
Catholics Read
CatholicsRead is a weekly feature in collaboration with the Association of Catholic Publishers. Every week, we highlight just a few of the latest titles in Catholic publishing, from children's books to professional ministry resources and everything in between.
CatholicsRead is a also a free, email-based opportunity for Catholics to learn about the best and newest in Catholic publishing on a weekly basis. These include resources in many and multiple formats for children, youth, parents, and volunteer and paid Church leaders.
Each week, CatholicsRead's Therese Brown will provide a write-up about the featured titles here at Where Peter Is. The column appears on Tuesday mornings.
Therese Brown,Therese Brown is the Executive Director of the Association of Catholic Publishers.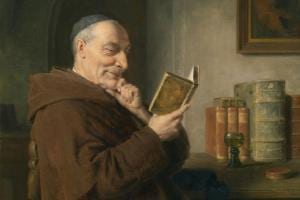 The Catholic Bard 2020/21/22 Reading List
Conversion
Conversion is allowing God to transform us. Conversion is allowing God to mold us into the kind of persons God wishes us to be. Conversion is allowing God to send us wherever God wants to send us.
When we think of conversion, perhaps we think of those "awful people" out there. I might say to myself, "I am a good person. I don't hurt anybody. I am not a murderer, or an adulterer, or a thief, or a racist." But, you see, neither were John of the Cross, Thérèse of Lisieux, Oscar Romero, or Francis. They were all good people living 'normal' lives. But they responded to the gospel's call to radical conversion. The greatest danger we can fall into is to think that conversion is for "them." Conversion is for good people too.
If God could have God's way with us as God did with John of the Cross, Thérèse of Lisieux, Oscar Romero, and Francis, what would that look like?
Fr. Satish Joseph Conversion is for Good People Too – Where Peter Is (Fr. Satish was ordained in India in 1994 and the founder of MercyPets  a charitable fund that invites pet-owners to donate a percent of their pet expenses to alleviate child hunger.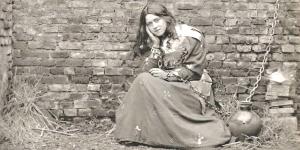 Context for African Americans
If the Average Joe Protestant is uninformed on the basic facts of Catholic belief and practice, what do you think goes on in the African-American community, the most systemically underserved, marginalized, and undereducated group in America? Black people in America may be the group in America least-informed on—and thereby least-interested in—Catholicism, and one can hardly blame them. Restricted access to education, resources, public dignity, and equality for 400 years will do that to a people.
It was into this context that I was born.
Apparently there had been a Black Catholic parish in my hometown since the 1940s, spearheaded by a progressive bishop who fought racism tooth and nail in a time when that was—to say the least—an unpopular move. Apparently my mother's adoptive father, a pastor, did joint services and a weekly TV program with a Catholic priest in her hometown. Apparently my mother's biological parents and grandparents were themselves Catholics. Apparently all of her siblings were baptized into the Church on the same day, at a parish a few miles from my childhood home. Around the corner from my dad's workplace. Across the street from my doctor's office.
It's one thing to say, "Small world." It's another thing entirely to discover that your own family's heritage existed right under your nose your entire life, unbeknownst to you, until exactly the moment you were ready to see it.
Nathaniel "Nate" Tinner-Williams .Catholicism at the Intersection of Blackness and Self-Discovery – Where Peter Is (Nate is a co-founder and editor of the Black Catholic Messenger)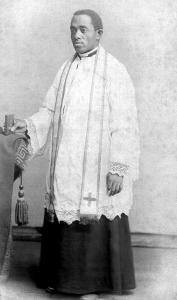 Dangers of Tribalism
Conservative Catholics want the Church to focus on denunciations of abortion and sexual sins, while progressive Catholics want the Church to focus on social justice. Our various political tribes slice the teachings of the Church up and package them into a range of comfortable and non-threatening moralities. These packaged selections can then be used to demonize the opposition. By contrast, a complete and truly "catholic" presentation of the Church's teaching challenges every political ideology and every individual.
For this reason, we should be careful whenever we find ourselves becoming too comfortable in any group or faction or political ideology, no matter how good or holy or correct it might seem. Every group contains certain failings and spiritual dangers. As part of our Christian witness, we should always be on the alert for ways in which our group is not living up to the Gospel. An excessive focus on the faults of opponents will destroy the clarity of vision needed for self-criticism, repentance, and conversion.
Malcolm Schluenderfritz Who are the Real Idolaters? – Where Peter Is (Malcolm hosts Happy Are You Poor, a blog and podcast dedicated to discussing radical Christian community as a means of evangelization.)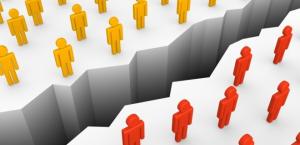 In August 2018, it was announced that Pope Francis approved a new revision of paragraph number 2267 of the Catechism of the Catholic Church, which now teaches, "the death penalty is inadmissible," and arranged for it to be translated and inserted in all the editions of the Catechism.
At the same time, the Congregation for the Doctrine of the Faith released a 'Letter to the Bishops,' signed by the Prefect, Cardinal Luis Francisco Ladaria, which explained the reasoning behind the revision, and stating that "the new formulation of number 2267 of the Catechism expresses an authentic development of doctrine that is not in contradiction with the prior teachings of the Magisterium."
Unfortunately, not only do many Catholics reject this teaching, but many prominent Catholics, particularly in the United States, refuse to acknowledge the legitimacy of the teaching at all. We have discussed this issue many times at Where Peter Is in order to help our fellow Catholics understand why this teaching is both valid and binding on Catholics today. We also respond to many of the criticisms of the teaching and explain why the teaching is consistent with the Catholics faith.
Click on the link above for  a selection of our articles on the death penalty.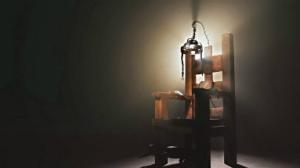 Disagreement With the Church
Moments or seasons of disagreement with the Church are common—maybe even universal—among believers. These thoughts and feelings aren't necessarily good or bad in themselves; sometimes they simply happen. Ultimately our response and the way we handle these situations are what can be good or bad, life-giving or harmful.
Catholics rarely talk about this, and there are few, if any, resources available to help Catholics respond to this experience. Sometimes a person lives with this discomfort for long periods of time. Sometimes it drives people to open rebellion against the Church. Others simply leave the Catholic Church—or even Christianity altogether.
Sometimes our disagreement with the Church seems insurmountable. But God's love for us is unconstrained, and he will help us to never lose faith. "For a loyal spirit, animated by love for the Church, such a situation can certainly prove a difficult trial. It can be a call to suffer for the truth, in silence and prayer, but with the certainty, that if the truth really is at stake, it will ultimately prevail" (Donum Veritatis 31).
Whenever we disagree with the Church or struggle with a teaching, ultimately we are asked to trust in Jesus' promise to never abandon us or his Church.
Paul Fahey Disagreeing with the Church – Where Peter Is (Paul is a co-founder of Where Peter Is and one of hosts of the Pope Francis Generation Podcast.)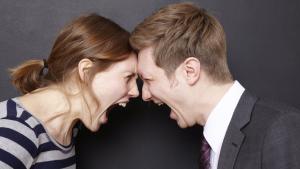 Good and Fallen
In other words, the goodness we all have by nature of our status as God's creation is corrupted. Our Baptism cleanses us from our original sin, but "the consequences for nature, weakened and inclined to evil, persist" (CCC 405). As a result, even those of us who have been cleansed by the waters of Baptism are engaged in a spiritual battle of good and evil throughout our lives. Far from justifying us giving up and settling for our sinful state, it is our obligation as Christians to do everything we can to fight for the victory of good. Pope Francis's challenging social teachings have made this clear throughout his papacy and I wonder if some of the resistance he has faced stems from a poor understanding of our fallen human nature.
The good news is that while the battle we face is fierce, we are not left to fight it alone. Instead, God Himself fights with us.
Ariane Sroubek The Other Side of The Good News – Where Peter Is  Ariane went to school at Gordon College in Wenham, MA.  This is where Mark grew up and lived. He graduated Hamilton-Wenham high school in 1990. Her work can be found at medium.com/@sroubek.ariane and at https://mysustaininggrace.com.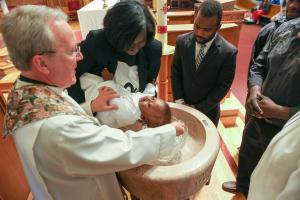 Growing in Love
Walking on the water, even with Jesus, is frightening. I have to let go of my familiar framework, relinquish my control, step out of my own world onto a shifting surface, and I am suddenly aware of a strange new universe that I cannot grasp. Like Peter, I am only aware of the strong wind blowing about me.
It was not the Sadducees or the Romans, the materialists of the 1st century, who clamored for the death of Jesus. It was the devout, religious Pharisees—those who were sure that they knew the will of God—who had it written down and committed to heart. They were determined in their devotion, but they were bound to their own understanding. They failed to observe one of the laws of love: the law of growth.
"Let this, in sum, be the conclusion: that we strive always to advance. And if we don't advance, let us walk with great fear. Without doubt the devil wants to cause some lapse, for it is not possible that after having come so far, one will fail to grow. Love is never idle, and a failure to grow would be a very bad sign." (St. Teresa "Int. Cast." V, 4, 10)
If I do not grow in love, spiraling ever outwards to the vastness of God's love, then I will spiral inwardly, clinging with intense tenaciousness to ever more minute demands and details.
Sister Gabriela of the Incarnation, O.C.D. Walking on the Water – Traditional or Truly Traditional? – Where Peter Is (Sister Gabriela is the cloistered nun Mike mentioned in the Tweet at the beginning of this article.)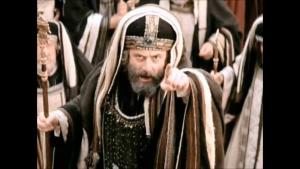 Importance of Art
Art, especially literary art, is a necessity. As a Church, we used to understand this. We used to know that beautiful frescos and statues and great literary works were as imperative to the Faith as praying a Rosary is. Recent trends, both within and without the Church, and towards a more stripped aesthetic. If it isn't directly related or absolutely essential, it very often gets the boot. This is a loss for the Church.
I still remember how, before I could read, I would look at the beautiful paintings of the life of Christ on the sanctuary wall behind the altar of my childhood parish. The images rose from both sides of the altar and culminated in a painting of the Ascension directly above the crucifix. It was a perfect telling of the basic tenants of our faith, and it was how I first learned about the person of Jesus. Right before my First Communion, the church was remodeled and the wall was painted over in plain white and light blue.
God is, before all else, a good artist. He created every tiny aspect of the world, put it into motion, and endowed it with his love.
Art can ease the suffering of the world and allow us to dream, even amid great sorrow. That is why art is so important and why it is imperative that our Church and the wider culture must take a renewed interest in it. It is not something of long ago but of right now. We are called to be co-creators with God and art is an irreplaceable and important mode of this that benefits us all.
Theresa Zoe Williams The Necessity of Art – Where Peter Is  (She has contributed to the books Catholic Hipster Handbook: The Next Level and Epic Saints: Wild, Wonderful, and Weird Stories of God's Heroes.  She blogs at www.PrincipessaMeetsWorld.com.)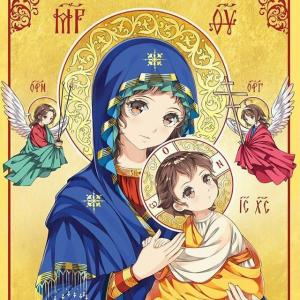 Lack of Sacraments
Some Catholics, even in the face of the strict demands of public health authorities, are demanding that everything possible be done to provide access to the sacraments.
The COVID-19 restrictions, which have made the sacraments temporarily unavailable for many, are a test of our Christian hope.
Let us take Pope Francis's advice and, if we have grave sins that we must confess, ask God directly for forgiveness in acts of perfect contrition, motivated primarily by Easter hope rather than the fear of Hell. Even if we are barred from the sacraments, which despite their absence remain the focal points of our Christian life, Jesus is still with us. To think otherwise would be to reject our status as Easter people and transform our religion, which binds us in one Body, into an idol.
D.W. Lafferty Easter People and the Fear of Death – Where Peter Is (Mr. Lafferty is a prolific writer and someone I see tweeting on a regular basis about this that and the other thing @rightscholar.
Liturgy
The liturgy produced by the Second Vatican Council is beautiful. It touches hearts and makes Christ accessible to the worshipper. The liturgy is the work of the entire People of God. In decreeing that "the liturgical books promulgated by Saint Paul VI and Saint John Paul II, in conformity with the decrees of Vatican Council II, are the unique expression of the lex orandi of the Roman Rite," the new rite should never be seen as an aberration, but as an enrichment of Catholicism's rich communal tradition. In reforming the liturgy, the words of the Constitution on the Liturgy Sacrosanctum Concilium were certainly on the minds of the venerable Council Fathers: "Mother Church earnestly desires that all the faithful should be led to that fully conscious, and active participation in liturgical celebrations which is demanded by the very nature of the liturgy." (n 14)
Kevin Stephon R. Centeno The Liturgy is for the People – Where Peter Is  (Kevin is 22 years old and an incoming Jesuit novice for the Philippine province. He taught philosophy courses for one year in his local seminary. He loves reading theology books.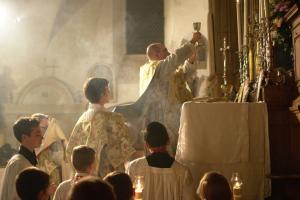 Prayer of Intercession
Continuing to read Pope Francis's Fratelli Tutti during Lent I am focusing on these words from Chapter 2: "Each day we have to decide whether to be Good Samaritans or indifferent bystanders" (FT 69).
This can be interpreted in the sense of 'active' charity and apostolate, of course, but I think it can also be interpreted within our 'contemplative' vocation and our more hidden works of prayer. The Good Samaritan is also the person who takes seriously their obligation to pray for others. [I have been taught that the) prayer of intercession is a mystical reality. "
Gareth Thomas God will know his name" – Where Peter Is (Gareth is the hermit who lives in Spain with four mules Mike mentioned in the Tweet at the beginning of this article.)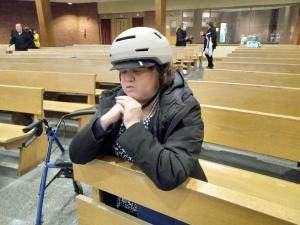 Pro-Life Movement
Doing what is right does not mean that it is easy. Quite the opposite actually. Doing what is right is usually very hard. Therefore, pro-lifers should act and speak with sobriety and sensitivity, aware of the gravity of the issue and the concerns of others. We cannot let activism present an idealized version of reality that will collapse when confronted with concrete situations in real life.
Certainly many pro-choice people also speak callously, as if performing an abortion is no big deal. They do not consider abortion as taking a human life. Their rhetoric has gone from saying that abortion should be "safe, legal, and rare" to "Shout your abortion!" Their strategy is effectively to deny that an ethical dilemma exists at all.
Pro-lifers should not mirror this behavior. We should not downplay any of the principles at play, even if they conflict and we must ultimately choose one of them. Here is where the pro-lifers saying "the real work starts now" are right.
We must be realistic and empathetic. We can't be callous. We must take women's concerns about autonomy. Those who attribute all abortion to hedonism or a thirst for "baby-killing" are incorrect and unhelpful. If we don't advocate and work for the welfare of women and families, any legal "victories" for the pro-life movement will be short-lived, and any hope of providing legal protection for the unborn in the foreseeable future will be wiped away.
Pedro Gabriel The pro-life movement and ethical principles – Where Peter Is (Pedro is the author of the non-fiction The Orthodoxy of Amoris Laetitia and the fantasy novel Ironcraft (Chronicles of Dumah) )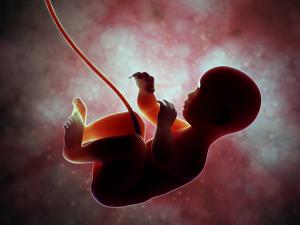 Our Lady of Guadalupe and Pachamama
Our Lady of Guadalupe appeared to a Mexica man and spoke to him in Nahuatl, the language of the Mexica people and the Aztec Empire of which they were the (wildly unpopular) rulers. She appeared at a site formerly associated with the worship of the goddess Tonantzin, in colors–teal and brown–associated with Mexica rather than Castilian concepts of royalty and divinity. The Franciscan missionaries present in Mexico, as might be expected, were initially highly skeptical of the perceived survival of pagan, even demonic, elements in the Guadalupe apparitions.
The delay in recognizing Our Lady of Guadalupe and the controversy surrounding "Pachamama" are symptoms of the same root problem: a persistent hesitancy in white Catholicism to accept that the Church is truly global, and not merely an outgrowth of the familiar aspects of one's own culture. There is a pernicious double standard in many white Catholic circles to accept European aesthetics and traditions as compatible with the faith while distrusting non-Western and particularly indigenous versions of the same; it is sad but not surprising that Marian apparitions aimed at speaking to non-Western and indigenous people would be subject to intense scrutiny as a result.
Nathan Turowsky , Meredith Dawson  Pachamama 1.0 – Where Peter Is (Nathan writes at Silicate Siesta and Meredith is a Cherokee Native American and an independent Tolkien scholar.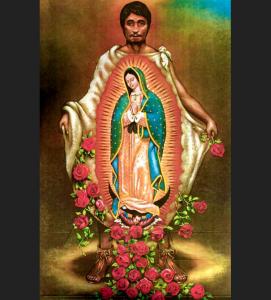 Reform Fallout
The cloud of ignorance and confusion that tends to surround any reform shouldn't scandalize anyone. Almost every general council has been followed by a period of unrest – a tussle between reformers and resisters. The First Council of Nicaea, which defined the dogma of the divinity of Christ, was followed by a period in which Arianism rivaled Catholicism as the dominant form of Christianity. The Council of Trent was resisted not only by the Protestants but also by the Catholic princes of Europe; they did not want to surrender their "traditional" influence over the Church. Indeed, the kings of France accepted only its doctrinal decrees, but not its disciplinary rulings. This resistance to the Council of Trent is reminiscent of the way that the members of the Society of St. Pius X (SSPX) and other traditionalists sift through Vatican II, only accepting the statements they happen to agree with.
It can be tempting to cling to old paths and to shy away from the risks and adventure of reform.
Gary Campbell Something Worse than Unsatisfactory Liturgy – Where Peter Is (Gary is the former SSPX priest Mike mentioned in the Tweet at the beginning of this article.)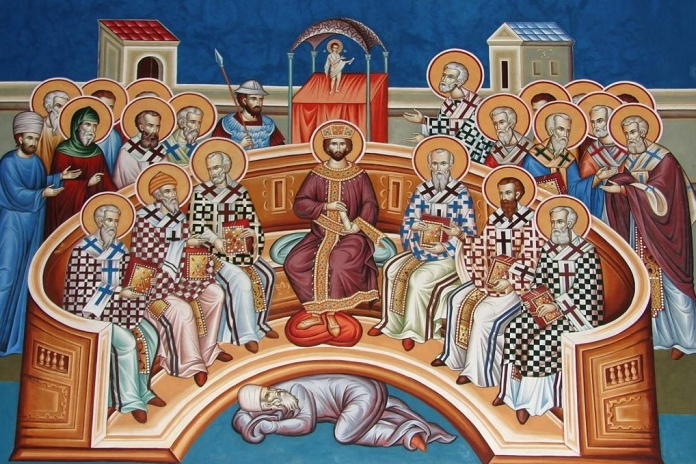 Reality of Heaven
Some of us like to speculate about how awesome the Resurrection of the Body will be—wondering whether we'll be able to bilocate or walk through walls! As the mom of seven kids, I make my joke about how my resurrected body will definitely give me a waist again.
Heaven is not simply a reward for living a good life, comparable to a transaction or a prize. Heaven is measured by the soul's ability to withstand the love of God. Like eyes adjust to a bright light, the soul must adjust to the unrestrained love of God in heaven. We prepare our souls when we learn, know, and actively participate in God's love in this earthly kingdom. God's love is self-gift, and this is manifested through the gift of self to our neighbors.
Melinda Ribnek Our mission through an eschatological lens – Where Peter Is (Melinda is a normal wife and mother of 7 kids)
I found her mediation on heaven to be extremely profound and thought provoking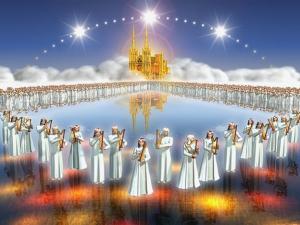 Same-Sex Unions
It must also be said that the pope's words about same-sex civil unions change nothing about the way the Church perceives homosexual acts on a moral or doctrinal level. In effect, Francis is simply affirming that the "danger" that concerned Ratzinger—the fear that legalization of civil unions would lead to the legalization of same-sex marriage —has in fact come to pass, and now the Church must deal with the pastoral consequences. And so the pope recognizes that, in light of those consequences, the Church must stand with same-sex couples and their dependents who are in need of legal protections for their health and well-being.
Likewise, Pope Francis's openness to legal protection for same-sex couples is in no way a departure from Catholic moral teaching.  Pope St. John XXIII, in his 1963 encyclical, Pacem in terris, distinguished between error and the dignity of those who fall into error (no. 158). And although Vatican II recognized the right of religious freedom in the civil order, the Council "[left] untouched the traditional moral duty … toward the true religion and toward the one Church of Christ" (Dignitatis humanae § 1). Pope Francis has made it clear that "there are absolutely no grounds for considering homosexual unions to be in any way similar or even remotely analogous to God's plan for marriage and the family" (Amoris laetitia, 251). He does, however, recognize the human dignity of homosexuals, and he believes they deserve legal protection in the civil order.
Dawn Eden Goldstein and Robert Fastiggi Has Pope Francis changed Church teaching on same-sex civil unions? – Where Peter Is ( Dawn and Robert are both prolific authors whose commentary can be found at various places on social media. Dawn will soon be publishing a book about the life of Father Edward Dowling, S.J., who was a spiritual adviser to Alcoholics Anonymous founder Bill Wilson.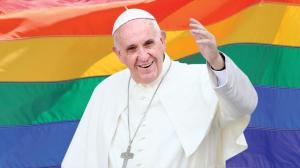 Sailing with the Church
It seems, at least to some, that the Church is primarily a fortress where she exists to preserve her culture, her history, and especially her teachings.
In reality, the Church has been traditionally called the "Barque (Ship) of Peter." Where do we find the Church? Is she is dry docked at a cozy harbor? Is she in a fortress? Or is she sailing the ocean, in calm seas and hurricane-force winds, tossed about as rogue waves threaten to capsize her as she casts her nets far and wide, searching for fish?
The Holy Father understands that the Church's mission is always to move, to sail the waves and cast the nets into the deep because he knows that even in the fiercest storms, Our Lord is with us, even if it seems he's taking a nap just as he did in the Gospels.
Therefore, let us accept this challenge. Don't be afraid. Leave the fortress and come aboard Peter's ship. Cast the nets always with a heart for evangelization and healing, because that is what the Church is.
Rachel Dobbs The Ship of Peter – Where Peter Is (Rachel is  a happily married woman with two black cats and is a novice Benedictine oblate. Her interests include history, reading, knitting, fantasy, and RPGs.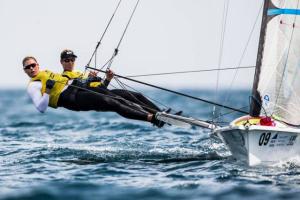 Spiritual Growth
Growth in the Christian spiritual life leads to an increase in charity and a greater understanding of the gratuitousness of God's mercy. The Beloved Apostle, by including this detail of the pouring forth of blood and water from the side of Jesus, gives us an image that beautifully captures God's love and forgiveness for us.
As we celebrate the Paschal Mystery, may we reflect on the blood and water that poured from Jesus' side as a reminder that no obstacle, not even sin, suffering, or death, is too great for God's triumph of love and tender mercy.
Mike Lewis Blood and water: A sign of the total gift of Christ – Where Peter Is (Mike Lewis is the founding managing editor of Where Peter Is. He and Jeannie Gaffigan co-host Field Hospital, a U.S. Catholic podcast.)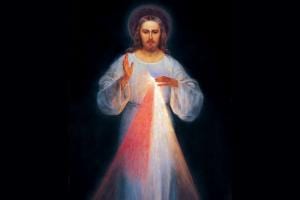 Transportation to Mass
Just because a person is unable to drive or lacks connections shouldn't prevent them from being able to go to Mass. As Catholic Christians, we must take everyone, even those with disabilities, into consideration. The solutions to this problem can be very simple.
If our parish communities want to be truly welcoming places, then every effort should be made to help those with limited resources to be able to attend Mass in person. This is both a way to serve others and help bring them closer to Christ. Let us make an effort to ensure that everyone is welcome in the Church.
JM Kraemer "Who do I ask?" Transportation to Mass is an unrealized need – Where Peter Is (JM Kraemer is a Catholic artist and disability advocate based in Saginaw, Michigan. He is known for his annual Lego Church Project that he has been doing for over twenty years.)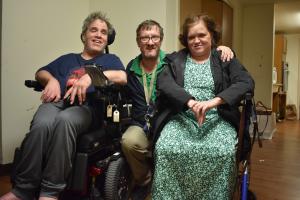 Trust
Consider the scientific method for a moment. Scientific inquiry involves experimentation, falsification, gathering data, and drawing conclusions. But this process is not intended to be undertaken by isolated individuals. How would scientific progress be possible if every scientist felt compelled to prove that the earth was round, or that the sun was at the center of the solar system? How could scientists develop human knowledge if they did not accept germ theory, the existence of electrons, or gravity? Without trusting what others who went before have already discovered and reported, humanity would be limited to what could be confirmed by a single generation. Science tests hypotheses, yes, but it also requires trust. The breakdown of this trust has catastrophic results for science and for society at large.
While science is a different way of knowing about the universe than faith, to be sure, both share this in common. Both faith and science are built upon the testimony and witness of trustworthy people. Thomas did have evidence; he had the testimony of his most trusted friends, women, and men with whom he had spent years and shared a deep bond.
Fr. Alex Roche Faith, Science, and Trust – Where Peter Is (Fr. Alex Roche writes various scripture reflections for WPI. He went to college with a girl who went to high school with the niece of the guy who played Al in Quantum Leap. Mark just recently introduced his wife to this great wonderful spectuale of time-traveling storytelling.
You can listen to his podcast at www.wadicherith.com.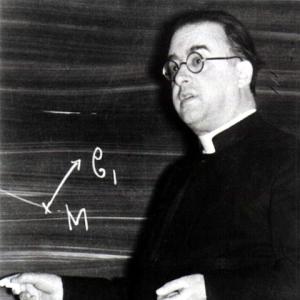 I wouldn't want to be fussy about that [Communion in the hand]. It was done in the early  Church. A reverent manner of receiving Communion in the hand is in itself a perfectly reasonable way to receive Communion. Which Pope said this? – Where Peter Is
WPI Podcasts
Field Hospital Archives – U.S. Catholic (uscatholic.org) with wife of comedian Jim Gaffigan, Jeannie Gaffigan
 Pope Francis Generation – YouTube