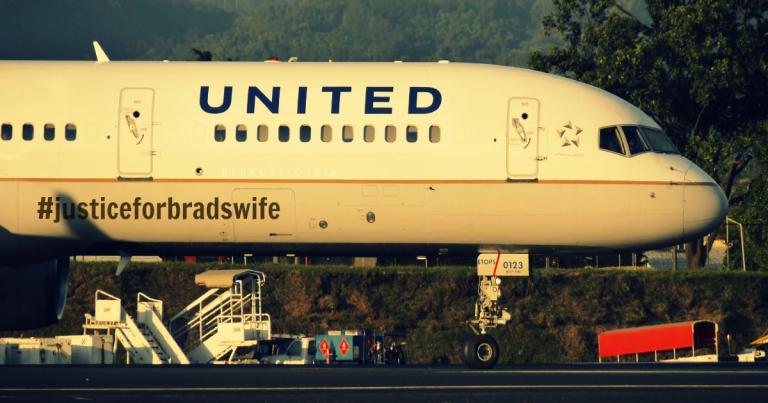 CHICAGO, IL – In less than 48 hours after a video went viral depicting a man being dragged off a plane, United Airlines is making efforts to repair their damaged public image. This morning they announced plans to fire current CEO, Oscar Munoz, and hire former Cracker Barrel waitress, Brad's wife.
Brad's wife rose to fame on the internet after she was wrongly fired from Cracker Barrel earlier this year, after 11 years of faithful service.
"Being in the business of travel, United Airlines has learned a thing or two about what it takes to care for people when they feel misplaced," explained an United Airlines spokesperson. "That is why when he heard about the mistreatment of this person named Brad's wife, we couldn't ignore it. We recognized qualities like loyalty, service, humility, and kindness in her; she embodies all that we stand for as a company. We want to show America that we are a company that deeply cares about the common person. We too want justice for Brad's wife. Because of this, we are announcing that current CEO, Oscar Munoz will be re-accommodated, and Brad's wife will be replacing him as CEO of United Airlines. In addition, United Airlines will also be putting the phrase "#justiceforbradswife" on the side of all of our planes to further express our excitement."
When asked about the timing of the hire being immediately in the aftermath of the current PR nightmare, The United Airlines spokesperson responded, "I will not deny that the recent incident didn't influence our decision, but let's not talk about that. We don't want that to distract from the fact that Cracker Barrel wrongly fired a loyal and capable employee; it's terrible. We might drag a human being off a plane. We might toss our passengers around, like their luggage, but we would never fire Brad's wife. That sort of thing is absolutely despicable. We are the type of company that believes in second chances."
Despite some media backlash, analysts around the world are calling this a "bold, but clever move" from United Airlines. Stocks prices jumped almost 20% within an hour of the announcement. The world is eager to to see how Brad's wife can bring friendly smiles back to the skies.
"United Airlines has, almost overnight, gone from zero to hero," explained MSNBC business analyst, Ron Insana. "Yet, as excited as all of us are, we will likely have to wait a few weeks before major changes are experienced. These kind of transitions tend to take time. I mean, we don't even know her name."
But that has not stopped some from speculating on how Brad's wife will revolutionize travel. "It would be great if I could start getting a Sunrise Sampler on my morning flights," commented one frequent flier. "Maybe justice for Brad's wife will mean justice, breakfast, and oldies CD's for us all."
Original Photo Attribution: Source; CC 2.0