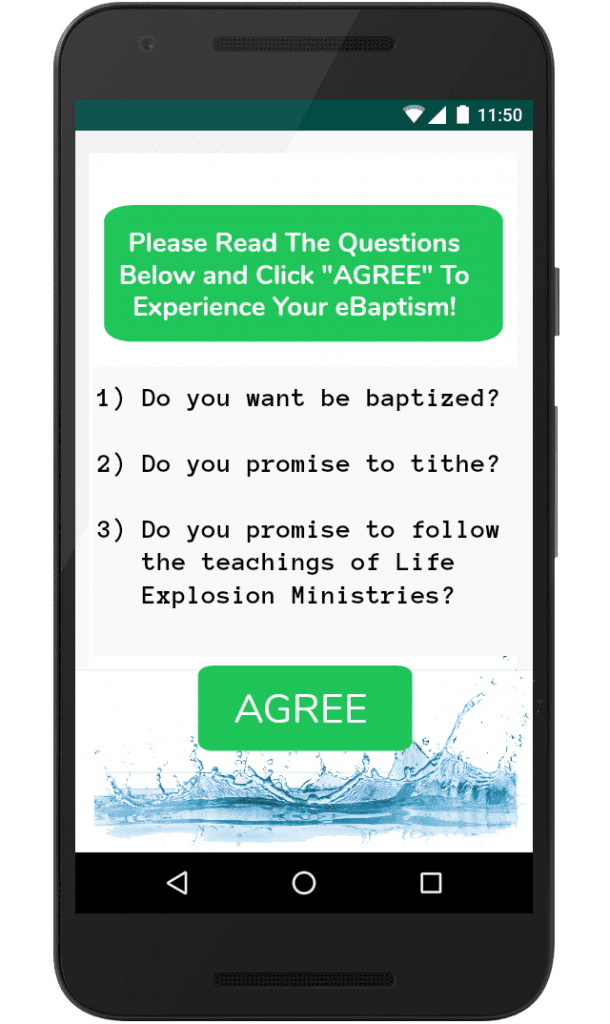 Oklahoma City, OK – Non-denominational megachurch Life Explosion Ministries, has announced plans to make baptisms more accessible than ever before. Starting in 2 weeks the church will offer an app for electronicbaptisms called The eBaptism eMersion Experience.
"We have been aware of the baptism problem at our less-important satellite campuses for some time now" stated Pastor Jim Norwood. "It's difficult to coordinate mass baptisms when you don't have an onsite pastor – and this gives us the opportunity to offer altar calls and baptisms all at once."
"Previously, we had to send our elders on site to meet with folks interested in learning more about Jesus. Then, they would have to drive to the main campus to get baptized and the whole thing was just way too slow and personal." He added, "The virtual eMersion Experience offers all the benefits of baptism with none of the cleanup. It really gives me room for all the important pastoral duties, like vision-casting and brand-building."
A spokesperson for Life Explosion Ministries explained The eBaptism eMersion Experience App will be recommended at the end of each live-streamed sermon. Once downloaded, users simply answer a few questions pertaining to faith and click "Agree". After that, the app will use the Facetime Camera to simulate a water baptism, followed by a "whoosh" sound that lets them know they've been filled by the Spirit.
The app gives churchgoers the opportunity to really sink into the background and avoid some of the harder questions like, "What is the gospel?" and "What did Jesus save you from?" Users will also be able to get baptized all over again at the end of each dramatic conversion experience from week to week. Frequent re-baptizees can even add up Explosion points to be used in their campus's bookstore, coffee lounge, or arcade room.
"Our satellite campuses won't be an afterthought anymore. Think of how many baptisms we can add each quarter – that truly shows a church that's alive!"
The app will cost $4.99 and will be available for download on apple and android devices by the end of the week.
Feature Photo Attribution Source; CC 2.0