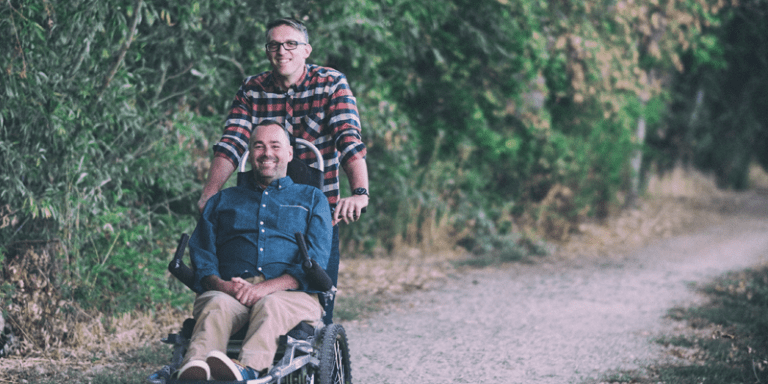 John Piper argues in his book Desiring God that it is a false dichotomy to pit good works against self-interest. In commenting on the great "Love Chapter" of 1 Corinthians 13, he says, "Paul does not think the moral value of an act of love is ruined when we are motivated to do it by the anticipation of our own joy in it and from it. If it were, then a bad man who hated the prospect of loving could engage in pure love, since he would take no joy in it; while a good man who delighted in the prospect of loving could not love, since he would 'gain' joy from it and thus ruin it."
A new documentary that opens this week, I'll Push You, shows two friends going on a unique journey in order to see the world but ultimately to delight in each other's friendship. Through their journey they learn humility and how serving brings joy.
Patrick Gray and Justin Skeesuck are lifelong best friends who decide to hike the 500-mile pilgrimage trail known as the Camino de Santiago in northern Spain. The catch is that Justin has a degenerative muscle disorder that confines him to a wheelchair. This means, of course, that Patrick must push Justin on oftentimes difficult terrain, not to mention bathe, clothe, and feed him. Both men must swallow their pride and admit their need; Justin seeing his friend give so much and Patrick when his legs give out and he must ask other travelers for help.
What Patrick gains in serving his friend and what others gain in helping out demonstrate the genius of God's design for mutual joy through servanthood. As one person says near the end of the documentary, when you help someone, you gain more than they do.
It's obvious these guys are Christians, but the movie is not an explicit "Christian movie" and contains some earthy elements some Christians might object to. But to get hung up on a swear word would be to miss a beautiful story of a Jonathan and David-type friendship.
The film will have a one-night-only release on Thursday, November 2nd, at 7:30 p.m. You can also visit the following link to find theaters near them and to purchase tickets: https://www.fathomevents.com/events/ill-push-you.