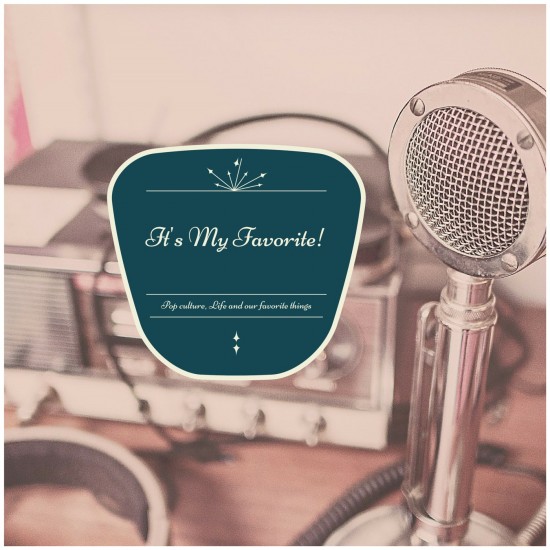 Hey everyone,
Been a bit of a crazy week here in terms of posting. Wrapping up an assignment for school, work has been busy and last weekend was filled with a few different activities that didn't leave much time for blogging. There's some fun stuff ahead this weekend and into next week, so I appreciate your patience while everything settles down.
But one thing I'm not promoting as well as I should here is "It's My Favorite," the twice-monthly podcast I co-host with my friends Matt and Beth. We've been going on this show a little over two years and recording it is easily one of the highlights of my month. To those who haven't listened before, we spend the time talking about "pop culture, life and our favorite things," and really it's just an excuse to sit around and talk about the things we love with friends. Our first episode of the month, which I tend to refer to as "It's My Favorite Classic" is the more structured episode, where we each pick out one thing we're particularly enjoying during the month, followed by something we're anticipating in the coming month. We used to do a separate Movie Club episode, but a few months back we changed it to the "Scoop Du Jour," which is just basically an episode with one theme we banter about. Lately, we've had great fun also pulling topics out of a hat and riffing on them, resulting in some of our loosest and most fun shows.
The first episode of March, released a few weeks back has some good stuff. We talk the new Zelda game for the Nintendo Switch, the podcast "Missing Richard Simmons" and banter a bit about the movie Logan. It was a lot of fun and I'm interested to see how some of our favorites shape out in the coming month.
This month's Scoop Du Jour, just released tonight, was also a great deal of fun. We pulled out our hat and talked about some of our favorite things — from roller coasters to concerts to part-time jobs. I say this a lot, but this was definitely one of my favorite episodes to record, and we've considered doing a follow-up soon.
We are, of course, planning two new episodes for April, so I hope you'll tune in. In the meantime, I hope you enjoy these two.
I'll be back this weekend with the return of the Monthly Catch, and I have some fun things in store for next week. Thanks for reading!