Why is faith important to the believer?  What are some of the most important verses in the Bible on faith?  What is your favorite Bible verse about faith?
A Definition of Faith
I love the biblical definition of faith from Hebrews 11:1 "Now faith is the assurance of things hoped for, the conviction of things not seen."  There are some key words here in this verse.  First of all, faith is not blind.  It does not tell us to take a leap in the dark.  Faith is assurance.  It is a know-so and not just a hope-so.  It is a conviction of things we have not seen.  The word "conviction" is the same word used in trying and convicting a criminal of a crime.  A conviction comes about by a set of irrefutable facts that convinces a judge or jury to assess a penalty, fine, or imprison someone.  The decision is made because of evidence that has been provided.  The heroes of faith in the so-called "hall of faith" are given in Hebrews 11 and these heroes and heroines all had faith but their faith was substantive or based upon something tangible.   Even today "by faith we understand that the universe was created by the word of God, so that what is seen was not made out of things that are visible" (Heb 11:2).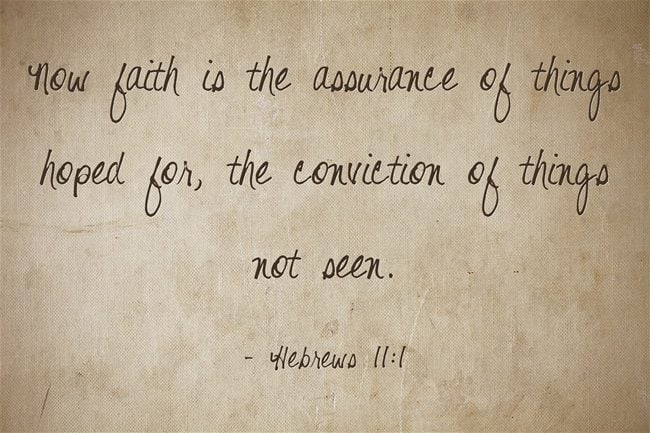 Here is why faith is so important
Ephesians 2:8 "For by grace you have been saved through faith. And this is not your own doing; it is the gift of God."
If we are saved by our works as a necessary contribution to our salvation, then I would be very concerned because even the Apostle Paul struggled with sin and he couldn't do enough good works to make sure his salvation (Rom 7). Thankfully it is by grace (a free, unmerited gift) that we are saved but it is not a faith that is alone but a faith that produces works.  It is not a salvation of works but a salvation that has as its by-product works. We are saved by faith and that faith is in Jesus Christ.
James 2:17 "So also faith by itself, if it does not have works, is dead."
If your faith does not produce works, it is dead.  In other words, if you claim to have faith and have no works to reveal that your faith is real, then you are lying to yourself and perhaps to others but most importantly you are lying to God.  A faith that saves is a faith that works.  It is not the works that save but the faith that works is a saving faith.  It is genuine faith.
First Thessalonians 1:2-3 "We give thanks to God always for all of you, constantly mentioning you in our prayers, remembering before our God and Father your work of faith and labor of love and steadfastness of hope in our Lord Jesus Christ."
This verse fits perfectly with James "faith without works is dead" verse and so I put it right after his verse.  This reaffirms what James was saying that believers have a "work of faith and [a] labor of love."  This faith is real because it naturally labors to produce works and as a result of the faith that we have good works come out…and the results of our good works is the evidence that our faith is genuine (James 2:17).
Titus 11:1-2 "Paul, a servant of God and an apostle of Jesus Christ, for the sake of the faith of God's elect and their knowledge of the truth, which accords with godliness, in hope of eternal life, which God, who never lies, promised before the ages began."
Paul tells us that faith in God is according to "their knowledge of the truth" revealing that faith is a conviction or evidence and this evidence is our "hope of eternal life" which is in "God, who never lies."  I have a few trusted friends who I know tell me the truth, even when it is uncomfortable both for them to say and for me to hear but all men are liars but God never does (Rom 3:4; Psalm 116:11).  Since God has promised eternal life to those who have faith in Him, we know that this is true because we can believe Him.
Hebrews 11:6 "And without faith it is impossible to please him, for whoever would draw near to God must believe that he exists and that he rewards those who seek him."
If my young son refused to jump into my arms in the pool then he is showing me that he doesn't trust me.  Obviously that would not please me because he was afraid and that fear would freeze him from acting.  The same principle applies to God.  If we don't trust Him we cannot please Him.  In fact, it's impossible to please God if you don't have faith.  For those who have trusted in, believed upon, and have faith in Christ, then this is well pleasing to the Father, therefore we know that "whoever would draw near to God must believe that he exists" and that in faith we believe that "he rewards those who seek him."  It is impossible to please God without having faith in Him because having faith in Him shows that we believe Him and trust Him.   A lack of faith is a lack of trust and belief.  God is not pleased when we are fearful because we do not trust Him with our future and if God can create the universe, don't you think He can take care of us!?
Romans 10:17 "So faith comes from hearing, and hearing through the word of Christ."
I have been asked many times how a person might have more faith or how can they increase their faith and my answer is almost always the same.  Faith involves believing what God says and that what He says is completely trustworthy.   The faith that saves is not of human origin but it is a gift of God (Eph 2:8).   It doesn't come from me or from anyone else however faith can be strengthened by the hearing the Word of God and that is what is preached from the pulpit, from a Bible study, or from personal Bible study.  The more you read and the more you listen to the Word of God, the more your faith grows.  Without being connected to the vine a branch withers and dies.  Jesus said that unless you abide in Him and in His Word, you are not going to produce fruit (or works) and the Word of God is not just Jesus but it is His Word, the Bible. In John 15:4-5 He states that you should "Abide in me, and I in you. As the branch cannot bear fruit by itself, unless it abides in the vine, neither can you, unless you abide in me.  I am the vine; you are the branches. Whoever abides in me and I in him, he it is that bears much fruit, for apart from me you can do nothing."
Matthew 14:30-31 "But when he saw the wind, he was afraid, and beginning to sink he cried out, "Lord, save me."  Jesus immediately reached out his hand and took hold of him, saying to him, "O you of little faith, why did you doubt?"
Clearly Jesus shows us the opposite of faith and it is doubt because He rebukes Peter by "saying to him, 'O you of little faith, why did you doubt?"  Doubt is about not trusting in someone or believing what someone tells you.  You can believe Jesus.  Let's go back to the analogy of my son jumping into my arms for the first time in the pool.  He had doubts because he couldn't swim and he was afraid of the water but he kept hearing my words and I kept encouraging him to trust me that I would catch him.  Peter was able to walk on the water but only when he kept his eyes on Jesus.  When he looked away and down at the water, he began to be filled with doubt and then he started to sink.  The lesson here is that if we keep our eyes on Jesus, our faith can remain strong but how can we keep our eyes on Jesus since He is presently in heaven?  We can keep our eyes on Christ by keeping our eyes on His Word, the Bible.  I believe the best way to keep your faith strong is to read the Bible every single day.  I start off my day by reading the Bible because we cannot live by bread alone (food) but by every word that precedes from the mouth (the Word or the Bible) of God (Matt 4:4). To live by every word is to have a daily Bible reading plan where you can read the Bible in a year or so.  Eventually, you will read every Word of God, from Genesis to Revelation and by keeping our eyes on the Word, we keep our eyes on the Word of God that Word if Christ (John 1:1-14).
Conclusion
You cannot please God without faith because if you lack faith in God you lack trust.  Faith is nearly the same as trust.  When my young son jumped into my arms into the pool, he didn't put his faith in his own jumping ability nor did he put his faith in his ability to swim (because he couldn't).  He put his faith in the arms of his father and sure enough, I caught him.  He would not jump into a strangers arm and for some reason he wouldn't jump into his mother's arms but only in his father's.  That day he and his first cousin both learned to swim that day because they trusted me in the water.  They both had faith that I wouldn't let them drown. When we believe in God we act on our faith in Him and this puts feet to our faith because a faith that has no works is not really faith at all (James 2:17).

Article by Jack Wellman
Jack Wellman is Pastor of the Mulvane Brethren church in Mulvane Kansas. Jack is also the Senior Writer at What Christians Want to Know whose mission is to equip, encourage, and energize Christians and to address questions about the believer's daily walk with God and the Bible. You can follow Jack on Google Plus or check out his book  Blind Chance or Intelligent Design available on Amazon