What are some encouraging Bible verses that can encourage you?  What are your favorites?  Add a comment below with one of yours.
Here are 10 of my most encouraging Bible verses about God's Promises
Encouragement
You likely have your own favorite Bible verses and these may naturally differ from mine and for different reasons.  We all need the encouragement of our family, our friends, or our co-workers but encouragement from God is always sincere, without hypocrisy, and always genuine.
Deuteronomy 31:6 "Be strong and courageous. Do not be afraid or terrified because of them, for the LORD your God goes with you; he will never leave you nor forsake you."
In a world where family betrays family member, spouses cheat on one another and people it is encouraging to know that God never leaves us or forsakes us. We sometimes forsake God but He never every does us and His love never fails and He never gives up on us.  We do…He doesn't. That's strong encouragement.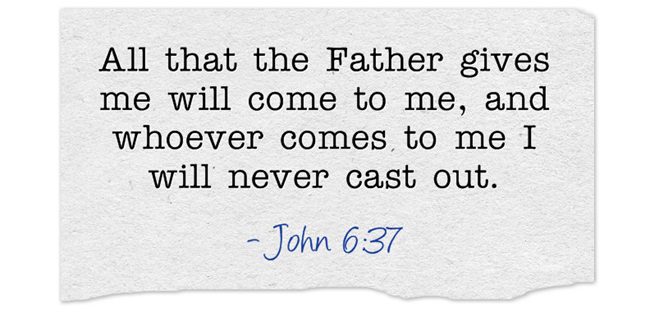 John 6:37 "All that the Father gives me will come to me, and whoever comes to me I will never cast out."
This promise sounds very reassuring to me because Jesus will never, ever cast or turn anyone away that comes to Him.  This "whoever" means that anyone can come to Him and also tells us that God is no respecter of persons.  When people come to Jesus for eternal life, He turns no one away…regardless of social status.
Get this great daily devotional for women written by Crystal McDowell in your email → Daughters Of The Creator
Romans 8: 38-39 "For I am convinced that neither death nor life, neither angels nor demons, neither the present nor the future, nor any powers, neither height nor depth, nor anything else in all creation, will be able to separate us from the love of God that is in Christ Jesus our Lord."
I need to be persuaded at times by the Holy Spirit and by Scripture that we cannot be separated from God by any created thing and that includes my own doubt.  When a person is saved and even for a longtime Christian, doubt can creep in and make them and me have doubts about my salvation.  This is the work of the enemy for God gives us peace through Jesus' death (Rom 5:1) and I need to trust God for what He has said.
First John 1:9 "If we confess our sins, he is faithful and just and will forgive us our sins and purify us from all unrighteousness."
God is always faithful and I am not but when I sin, and it's only a matter of time when I do, I must claim the promise that God forgives us when we confess our sins.  He not only forgives us but also purifies "us from all unrighteousness."  Then I must learn to forgive myself and sometimes my standard of forgiving myself is higher than God's is.  If my children ask me to forgiven them, why wouldn't I?  I know God is even more forgiving than I am since He is faithful.  That is so encouraging to know that no matter how many times I sin, He will always forgive me if I confess it to Him.  To sin is to literally "miss the mark" but Jesus' own death enables us to hit the bulls eye for absolution (2 Cor 5:21).
Second Corinthians 5:21 "God made him who had no sin to be sin for us, so that in him we might become the righteousness of God."
If we do ask for forgiveness (1 John 1:9) then I know that I can be forgiven but more importantly, when we repent and trust in Christ, He declares us to be righteous.  We are declared righteous in His sight because Jesus became sin for us so that we "might become the righteousness of God."  It's not a matter of if I sin but when and if I say I don't have sin, then I make God out to be a liar (1 John 1:10) which of course He is not…but I am.  May I repent every time I do sin and confess it to Him because when we are born again (John 3:3) we are new creatures in Christ and God sees us as He does His own son!
Romans 8:28 "And we know that in all things God works for the good of those who love him, who have been called according to his purpose."
No matter what is presently going on or will happen in the future, we can know that all things will work out for our best.  It is not saying that all things will be good but even bad things can work out for our ultimate best.  He will not keep us from going through storms or take us out of the storms but promises us to be with us in the storms.  This verse applies only for those who are Christ's because the opposite is true for non-believers…all things will not work out for their best because they have not been "called according to His purpose."  If we are called, we will be called to go through some painful experiences but even these are "according to his purpose."
Romans 5:8 "But God demonstrates his own love for us in this: While we were still sinners, Christ died for us."
Imagine someone dying for you while you were their enemy.  God's love is no better demonstrated than on the cross because He died for believers before they were saved.  To die for someone who is your enemy is the most powerful demonstration of unconditional love that there is.  When still enemies of God and sinning before Him, Jesus Christ died and this death of His on our behalf, reconciled us to God and we are made to be His children.
First Peter 5:7 "Cast all your anxiety on him because he cares for you."
We often try to carry our burdens alone and this weight is too heavy for us so Peter is telling us to cast all anxieties…that is every one of them…onto the broad shoulders of Jesus Christ.  Why?  Because He cares for us.  He cares enough to carry what we cannot carry on our own.  If someone wants to help us carry something, why don't we?  Especially if it is He Who is the God of the universe.  What is too heavy for Him to bear?  The answer is nothing.  It is like a sorrow shared is halved but a joy shared is doubled.  When I cast my cares upon Him, that means that I don't have possession of them anymore.
Isaiah 41:10 "So do not fear, for I am with you; do not be dismayed, for I am your God. I will strengthen you and help you; I will uphold you with my righteous right hand."
The anxiety I just mentioned can sometimes lead to fear it is isn't disposed of so God tells us that we need not fear because God is our God and He Himself will strengthen us.  Not only that, God will uphold us (hold us up) in His righteous right hand.  It is His right hand meaning that is His primary hand and most people being right handed means that this is the strongest sense of His strength, being in His right hand. No dismay is necessary, no fear need encumber us.  He is there to strengthen us and hold us up.  If God is holding us up, there should be no need to fear, right?
John 11:25-26 "Jesus said to her, "I am the resurrection and the life. The one who believes in me will live, even though they die; and whoever lives by believing in me will never die. Do you believe this?"
Jesus is the giver of eternal life.  If a person believes in Him, when they die, they can die with the assurance of living again with Him.  It is not so much if we die, for all will (1 Cor 5:22), but when we die in Christ, we will be resurrected again to eternal life.  The older I get, the more this promise has richer meaning.
Conclusion
Jesus reassures everyone who comes to Him in faith to "Come to me, all who labor and are heavy laden, and I will give you rest. Take my yoke upon you, and learn from me, for I am gentle and lowly in heart, and you will find rest for your souls.  For my yoke is easy, and my burden is light" (Matt 11:29-30).  If we review all of these Bible verses on encouragement, consider all that they tell us.  We can be strong and courageous because He will never leave because He will not forsake us; whoever comes to Him He will n not cast or turn away; there is nothing that can separate us from God's love; He forgives us of every sin we confess; we are declared righteous in Christ; everything will work out for our best whether good or bad; He died for us while we were still His enemy and His love was demonstrated on the cross; and we can cast every fear and anxiety away because we have believed on Him and even when we die, we know that we will live again.  Jesus asks, "Do you believe this?"  My prayer is that you do. Now, post your own encouraging Bible verse and tell us why it is encouraging to you.
Article by Jack Wellman
Jack Wellman is Pastor of the Mulvane Brethren church in Mulvane Kansas. Jack is also the Senior Writer at What Christians Want To Know whose mission is to equip, encourage, and energize Christians and to address questions about the believer's daily walk with God and the Bible. You can follow Jack on Google Plus or check out his book  Blind Chance or Intelligent Design available on Amazon