AIDS is a terrible, life-threatening disease to live and die with but is there anything that Christians can or should do?  What do you think Jesus' approach to AIDS victims would be?  Compare what His earthly ministry was like to what He might do today.
Who are we to Judge?
I do not agree with the late Jerry Falwell's belief that AIDS is God's punishment for homosexuals.   For one thing, we all deserve God's judgment and it is only by the grace of God that the believer in Christ has had the wrath of God removed from them and placed on Christ (2 Cor 5:21) and so why should we even care how someone got AIDS?  Does it really matter now anyway?  They have AIDS and that is all we need to know and that should be our starting point and instead of asking "Why?" we should ask "What can I do to help?"  If I ever caste stones, my first and only target would have to be me!  Paul wrote to the church at Rome, "Why do you pass judgment on your brother? Or you, why do you despise your brother? For we will all stand before the judgment seat of God; So then each of us will give an account of himself to God" (Rom 14:10, 12). Every, single one of us will have to stand before Christ to give an account.  They don't have to stand before me!  I have no right to be sitting on the throne.  That is right is reserved for Jesus Christ.  Anyway, God "does not deal with us according to our sins, nor repay us according to our iniquities" (Psalm 103:10) so how can I judge anyone else?  My only question is what can I do to help?  I truly believe that is what Jesus would do.
Doing for the Least is Doing for Him
Someday Jesus is going to return to judge the world.  For those who have never repented and trusted in Christ He will be their judge but for those who have been saved, He will come with His rewards and be given to every believer. Their rewards will be according to what they have done for Him since they came to saving faith. Paul said as much to the church at Corinth when he wrote that "we must all appear before the judgment seat of Christ, so that each one may receive what is due for what he has done in the body, whether good or evil" (2 Cor 5:10). Here is what the King will say on the day of His return:
"'Come, you who are blessed by my Father, inherit the kingdom prepared for you from the foundation of the world. For I was hungry and you gave me food, I was thirsty and you gave me drink, I was a stranger and you welcomed me,  I was naked and you clothed me, I was sick and you visited me, I was in prison and you came to me.'  Then the righteous will answer him, saying, 'Lord, when did we see you hungry and feed you, or thirsty and give you drink?  And when did we see you a stranger and welcome you, or naked and clothe you?  And when did we see you sick or in prison and visit you?'  And the King will answer them, 'Truly, I say to you, as you did it to one of the least of these my brothers, you did it to me'" (Matt 25:34-40).
Would this really be any different if Christ were to say "I had AIDS and you visited me" and then we might say "when did we see you with AIDS and visited you?" Jesus would answer, when "you did it to one of the least of these my brothers, you did it to me."  Here is how Jesus answers those who were never His servants in the first place: "Lord, when did we see you hungry or thirsty or a stranger or naked or sick or in prison, and did not minister to you?' Then he will answer them, saying, 'Truly, I say to you, as you did not do it to one of the least of these, you did not do it to me.' And these will go away into eternal punishment, but the righteous into eternal life" (Matt 25:44-46).  Was it that they didn't see the sick or the AIDS victims or really, was it that they didn't even care to help or care to even look?  Jesus says that when we do things for those who are the least or in the worst of all possible situations, then we essentially are doing it for Him.  Since He can't be on the earth right now we have to be Jesus' hands and feet, walking as His feet to those who are sick and hurting and reaching out to the sick being His hands.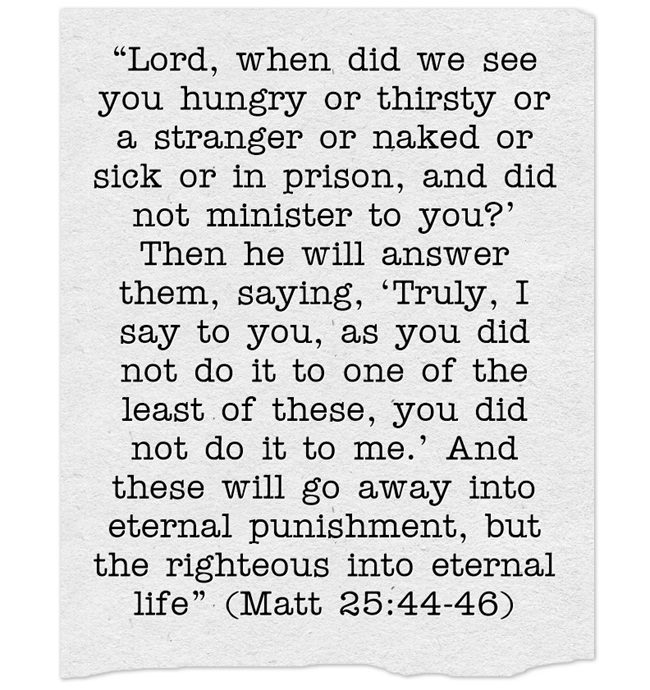 Losing their life to Save it
Joseph De Veuster's father had hoped that his son would follow in his footsteps in farming but Joseph had something else in mind and joined the Congregation of the Sacred Hearts of Jesus and Mary and was ordained in1864 and became known as Father Damien. When he was assigned to the Hawaiian Islands he asked to serve on Molokai Island which had an area that was a settlement of lepers.  They were put there on the island was a way to segregate them from the rest of the population who lived there.  Knowing the high risk of becoming a leper by having contact with them, he still bandaged their wounds and ministered to them and to no one's surprise, he contracted leprosy.
Mary Reed was a pioneering missionary to India and when she visited a leper colony there, she was so moved with compassion that she decided to minister hands-on with these unfortunate souls and so also contracted leprosy.  She knew the risks but did it anyway.  Both Mary Reed and Father Damien knew that they would likely contract leprosy because at the time, but that didn't stop them.  And who could better understand the needs of those who lived with leprosy than someone who had the disease?  What happened was that Mary Reed and Father Damien were able to lead many to saving faith in Christ and as a result of the love and compassion they showed in helping them, hundreds of souls were saved.  They had lost their lives to save it.  Even though Mary Reed lived until a ripe of age and even though Father Damien life would be terribly hard and painful (as leprosy is), both had lost their lives to save it (as in eternal life)…and to save others (also to eternal life).
When I read the stories of Mary Reed and Father Damien, I thought of Jesus words, "If anyone would come after me, let him deny himself and take up his cross and follow me. For whoever would save his life will lose it, but whoever loses his life for my sake will find it" (Matt 16:24-25).  These saints of God followed after Christ, they denied themselves a good life, they took up their cross and followed Him to the leper colonies, and since they essentially lost their own life in following Christ, they found it in helping to save others and thus, they too received eternal life and eternal rewards.  Of course they were saved by faith in Christ and not by their works, but can you imagine what their rewards will be when Jesus comes back?  Was it not Martin Luther that said, as I paraphrase, we are saved by faith alone but not by a faith that is alone?
Would Jesus Heal AIDS Victims?
Today many men and women, predominantly Christian, are ministering to AIDS victims when fear and prejudice keep most people away.  I would ask you, what do you think Jesus would do in these cases?  Would He condemn them or would He, as I believe He would, heal them irrespective of why they had the disease?  I think if Jesus were on the earth today, He would be healing AIDS victims and doing so without condemning them.  Jesus frequently healed indiscriminately and did so without following it by a lecture.   Jesus spoke about the final judgment and equated doing for others as doing for Him because He said "I was sick and you visited me" and aren't these poor AIDS victims sick?  Are we not commanded to visit the sick, the orphans, and the widows? Isn't that what James called "pure religion" (1:27)?  Perhaps we ought to have a view toward being the hands and feet of Jesus and think about what His view toward sickness and disease was.  His view should be our view as well.  I think Christians should not take a "see, you deserved that" kind of attitude toward sickness, including the disease of AIDS, for there go you and I except by the grace of God.  True?

Article by Jack Wellman
Jack Wellman is Pastor of the Mulvane Brethren church in Mulvane Kansas. Jack is also the Senior Writer at What Christians Want To Know whose mission is to equip, encourage, and energize Christians and to address questions about the believer's daily walk with God and the Bible. You can follow Jack on Google Plus or check out his book  Blind Chance or Intelligent Design available on Amazon