Jesus spoke some very controversial verses in the Bible, many of which are still controversial, so here are some of Jesus' most controversial statements in the Bible and why He said them.
Luke 14:26 If anyone comes to me and does not hate his own father and mother and wife and children and brothers and sisters, yes, and even his own life, he cannot be my disciple.
If you read this at face value and without reading the context, you might think this is a command to hate your own family, but context is king since taking texts out of context can create a pretext, and often, a false one, so looking at the context is critical to understanding Scripture. The context of this radical verse rests within the costly call of discipleship, and a costly call it is. Sometimes it costs familial relationships and personal friendships, but Jesus is not saying that we must actually hate our family, but when we follow Jesus, our devotion to Him is so strong that it looks like hate to the world. Jesus is incomparable. He is before all things and has preeminence before all people (Matt 6:33).
Matthew 18:9 And if your eye causes you to sin, tear it out and throw it away. It is better for you to enter life with one eye than with two eyes to be thrown into the hell of fire.
Jesus uses some extreme words here to be sure, but again, we must look at the context, and what He is saying is that we must take extreme or radical measures to deal with ongoing, besetting sins. One example was when I was counseling a young married man who had an addiction to pornography. I told him about this verse and said it would be like getting rid of the Internet. At first, it might seem to be an overreaction, but I asked him, "How badly do you want to overcome this?" and "Isn't saving your marriage worth it?" By cutting off the source of pornography, it could be seen as cutting off a hand that was causing him to offend, and sin before God and his wife and family.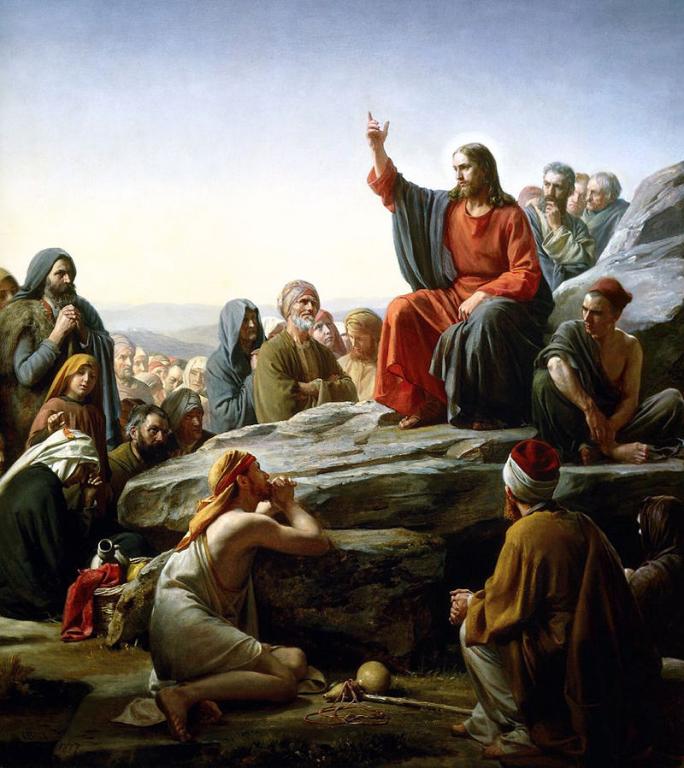 Luke 6:22 Blessed are you when people hate you and when they exclude you and revile you and spurn your name as evil, on account of the Son of Man!
Why people who have trusted in Christ are never persecuted is a mystery to me because the Apostle Paul said "all who desire to live a godly life in Christ Jesus will be persecuted" (2 Tim 3:12), and the last time I checked the Greek ("pas"), all still means all, so the problem is either the believer is living a life of isolation or they do not desire to live a godly life, and if that's the case, they might want to read 1 John chapter 3 and do a self-examination. Paul wrote, "Examine yourselves, to see whether you are in the faith. Test yourselves. Or do you not realize this about yourselves, that Jesus Christ is in you?—unless indeed you fail to meet the test" (2 Cor 13:5)! Jesus did not bring the good news to solve our every problem, including personal relationships. He said, "Do not think that I have come to bring peace to the earth. I have not come to bring peace, but a sword. For I have come to set a man against his father, and a daughter against her mother, and a daughter-in-law against her mother-in-law. And a person's enemies will be those of his own household" (Matt 10:34-36), so again Jesus says, "Whoever loves his life loses it, and whoever hates his life in this world will keep it for eternal life" (John 14:26).
Hard Sayings
Jesus said, "For whoever would save his life will lose it, but whoever loses his life for my sake will find it" (Matt 16:25), which brings light to Philippians 1:21 where Paul wrote, "For to me to live is Christ, and to die is gain." Paul understood the cost of following Jesus and why Jesus would say, "If anyone would come after me, let him deny himself and take up his cross daily and follow me" (Luke 9:23). For most of us, it won't be losing our life, but losing some of our time, talent, and treasure; in short, our life. As we sow these three into the kingdom, it denies the world's conventional thinking because "whoever would be great among you must be your servant, and whoever would be first among you must be your slave. For even as the Son of Man came not to be served but to serve, and to give his life as a ransom for many" (Matt 20:26-27). Jesus spoke such hard words in order to soften the hard hearts and humble them, because just like many today who declare themselves good people, the Jewish religious leaders were trusting in their own righteousness (Luke 18:9). They thought they were good, but not even one is good (Rom 3:10-11). It's just that we're saved by a very good God and have Jesus' righteousness imputed on our behalf (2 Cor 5:21). If only they had listened to Jesus' warning that "Not everyone who says to me, 'Lord, Lord,' will enter the kingdom of heaven, but the one who does the will of my Father who is in heaven. On that day many will say to me, 'Lord, Lord, did we not prophesy in your name, and cast out demons in your name, and do many mighty works in your name?' And then will I declare to them, 'I never knew you; depart from me, you workers of lawlessness" (Matt 7:21-23).
Conclusion
Jesus referred to Himself as the Living Water (John 4:10-15), and the Bread of Life (John 6:25-59), so when He said, "my flesh is true food, and my blood is true drink. Whoever feeds on my flesh and drinks my blood abides in me, and I in him" (John 6:55-56), it is not strange that "After this many of his disciples turned back and no longer walked with him" (John 6:66). Only later would this strange verse make sense; at Jesus establishing the New Covenant at the Passover. How interesting that those who reject Christ in this chapter are set against Christ, because whoever is not for Christ is against Him (Matt 12:30; Luke 11:23), and even the chapter and verse number (6:66) is symbolic of being anti-Christ. Jesus spoke some very hard words but only to those with the hardest of hearts; even this was in the hopes of softening them. For Jesus, hard words were spoken to hard hearts because they can sometimes soften hearts, while soft words spoken to hard hearts (like the self-righteous, self-justifying) will only serve to further harden the heart. Either way, controversy followed Jesus wherever He went, so the fact that many of the Bible's controversial verses were from Jesus Himself should not surprise us. His ways are certainly not our ways, and His thinking not like our thinking (Isaiah 55:8), but the first step in understanding His ways is by humbling ourselves. God will always oppose the proud, but only to the humble will He give His grace (James 4:6).
Article by Jack Wellman
Jack Wellman is Pastor of the Mulvane Brethren Church in Mulvane Kansas. Jack is a writer at Christian Quotes and also the Senior Writer at What Christians Want To Know whose mission is to equip, encourage, and energize Christians and to address questions about the believer's daily walk with God and the Bible. You can follow Jack on Google Plus or check out his book Teaching Children the Gospel available on Amazon.