How did Jesus' work on the cross go back 2,000 years to cover Abraham and the other saints in the Old Testament?
Obedience and Faith
How did Jesus' work on the cross go back 2,000 years to cover Abraham and the other saints in the Old Testament? Let's begin with Genesis 22 and Psalm 89. These two chapters have a lot in common. In Genesis 22:12 it says, the angel of the Lord said, "Do not lay your hand on the boy or do anything to him, for now I know that you fear God [or, "are a fearer of God"], seeing you have not withheld your son, your only son, from me," so Genesis 22 speaks about God's covenant, but so does Psalm 89. The former to Abraham and the latter to David, but even David's covenant was made with Abraham's in mind as Ethan the Ezrahite writes of David, "My faithfulness and my steadfast love shall be with him, and in my name shall his horn be exalted," and sounding very much like God's promise to Abraham, "I have made a covenant with my chosen one; I have sworn to David my servant: 'I will establish your offspring forever, and build your throne for all generations" (Psalm 89:3-4). God knew that Abraham believed in God's promises because he was willing to sacrifice his son, so God said, "I know that you fear God" (Gen 22:12). The author of Hebrews adds, it was "By faith Abraham, when he was tested, offered up Isaac, and he who had received the promises was in the act of offering up his only son" (Heb 11:17). Just as David knew he had an eternal covenant with the Lord, it was "By faith Abraham obeyed when he was called to go out to a place that he was to receive as an inheritance. And he went out, not knowing where he was going" (Heb 11:8), showing Abraham believed God, and God accounted that to him as righteousness (Gen 15:6). Abraham knew God was faithful and cannot deny His own word. David was just as certain.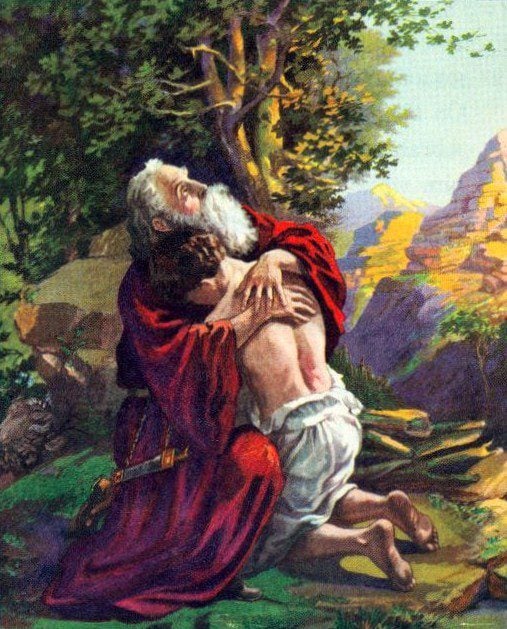 Faith and Works
In writing about works and faith, James asked, "What good is it, my brothers, if someone says he has faith but does not have works? Can that faith save him" (James 2:17)? Of course not. That's a faith that DOA. That faith can't save anyone. James is not saying we're saved by works, but works show we are saved. It's not having faith in faith, but faith in God, but "faith apart from works is dead" (James 2:26). Abraham, when asked to sacrifice his only son, meaning the son of promise, did all but sacrifice Isaac. Abraham's faith was so strong he knew God would have to resurrect Isaac in order for His promises to be fulfilled. Abraham "considered that God was able even to raise him from the dead, from which, figuratively speaking, he did receive him back" (Heb 11:19), so Abraham was willing to sacrifice his own son because he believed what God had promised him would surely come to pass.
Promise Fulfilled
Long after Abraham was gathered unto his people, the children of Abraham knew that "Not one word of all the good promises that the LORD had made to the house of Israel had failed; all came to pass" (Joshua 21:45). Abraham believed God and his works proved he believed God, so both Genesis 22 and Psalm 89 reflect the criteria of God's sure and certain promises for those that believe in Him. God "said, "By myself I have sworn, declares the LORD, because you have done this and have not withheld your son, I will surely bless you, and I will surely multiply your offspring as the stars of heaven and as the sand that is on the seashore. And your offspring shall possess the gate of his enemies" (Gen 22:17). Joshua lived to see that day and Moses too. God cannot be unfaithful to His own word for He swears by His own Self and there is none greater, since there is no greater Name to swear by than God's own name.
Justified by Faith
Justification by faith alone is not new or unique to the New Testament. Abraham was accounted righteous before God because He believed God (Gen 15:6), and there is no more important doctrine in the Bible than being justified by faith. The Apostle Paul wrote that "since we have been justified by faith, we have peace with God through our Lord Jesus Christ" (Rom 5:1), and now, there is "no condemnation for those who are in Christ Jesus" (Rom 8:1). There is no justification without the Justifier, and there is no salvation without faith in Christ, but even this is a free gift of God (Eph 2:8-9), but our works are evidence of our faith, and even these works were long ago ordained by God (Eph 2:10). We are not saved by works, but a saved person will naturally do works (e.g. Matt 25:35-36), but they don't do them to be saved; they do them because they are saved. And besides, we do these things for Christ (Matt 25:40), not to be seen by others (Matt 6:1). The doctrinal position of our justification by faith alone in Christ alone is the bedrock of the Christian faith. To have faith is to believe in or to trust in God. We know that there is no other way to receive eternal life than through our repentance and trust in Jesus Christ (Acts 4:12). That is at the heart of the gospel according to Jesus (Mark 1:14-15). It is by our believing in (trusting in, having faith in) Jesus Christ that we are saved, so it shouldn't surprise us that without faith, we cannot please God (Heb 11:6).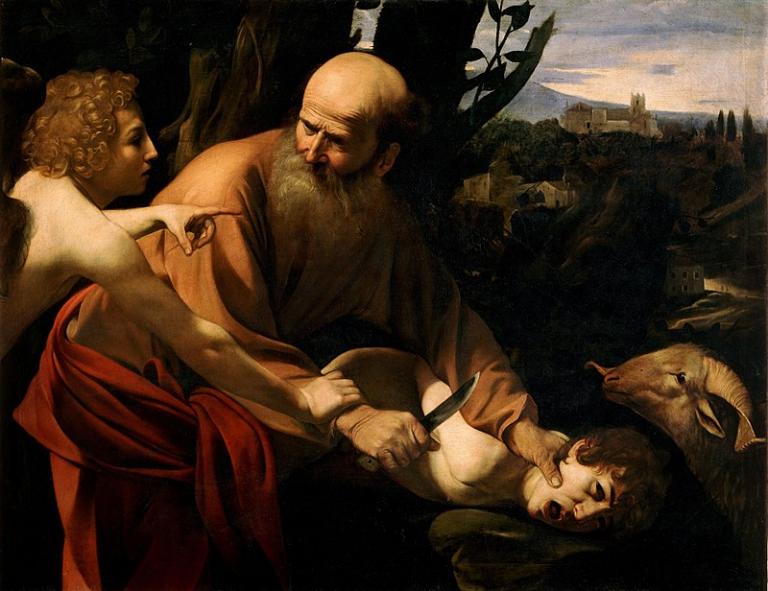 Conclusion
After reading the Bible for so long, I've seen that obedience typically comes before understanding. I've found that true in my own life too. I might not precisely understand what God's Word tells me to do in some cases, so I must trust the Spirit and yield to His influence. The Spirit might prompt me to do something that I'd not ordinarily do, and even though my own flesh says, "No," I sense it's what God wants me to do, and more often than not, I discovered that, in His sovereignty, God had placed me in such a place and time to do just what He willed for me to do. I know that if what I do helps others; if it glorifies God, and it's revealed in the Word of God, then I must do it, even if I don't fully understand it at the time.
After reading Jesus' command to "Love your enemies, do good to those who hate you, bless those who curse you, pray for those who abuse you" (Luke 6:27-28), I discovered I can't do this in my own strength and be sincere about it. It must take God's Spirit to "Love your enemies, do good to those who hate you, bless those who curse you," and "pray for those who abuse you." I don't believe Abraham completely understood what God was doing by asking him to sacrifice his son, but he did it anyway. Naturally, that would have been the last thing on earth he wanted, but I also must admit that there are times when I cannot understand why we're commanded to pray for our enemies, do good to those that hate us, bless those who curse us, and pray for those who abuse us (mostly verbally or by the written word)…but, I did it anyway and do it today. Only later, after doing these things (Luke 6:27-28), did I finally understand what God was saying about Himself and His infinite love (Rom 5:6-10). I just believed God and His Word and did as I was commanded. And not one second have I ever regretted it.
Article by Jack Wellman
Jack Wellman is Pastor of the Mulvane Brethren Church in Mulvane Kansas. Jack is a writer at Christian Quotes and also the Senior Writer at What Christians Want To Know whose mission is to equip, encourage, and energize Christians and to address questions about the believer's daily walk with God and the Bible. You can follow Jack on Google Plus or check out his book Teaching Children the Gospel available on Amazon.