Fornication is one of those words that the general public seldom uses. For many Christians, fornication is a word that brings to mind sexual immorality. Others tie fornication to sexual impurity before marriage. To clarify the real meaning of fornication we must find out, "What is the Bible definition and explanation of fornication?"
What is the definition of fornication?
Fornication is defined as sexual intercourse between people not married to each other (1). Biblically, fornication has a little wider definition. It can refer to prostitution or promiscuous behavior or indulging in unlawful lust by either sex. It can also refer figuratively to committing idolatry (2) (2 Chronicles 21:11; Isaiah 23:15-17; Revelation 17:2).
What does the Bible teach about sexual fornication?
The Bible addresses sexual fornication in several places. The most direct explanation is found in
1 Corinthians 6:13-7:2 as follows:
Meats for the belly, and the belly for meats: but God shall destroy both it and them. Now the body is not for fornication, but for the Lord; and the Lord for the body. And God hath both raised up the Lord, and will also raise up us by his own power. Know ye not that your bodies are the members of Christ? shall I then take the members of Christ, and make them the members of an harlot? God forbid. What? know ye not that he which is joined to an harlot is one body? for two, saith he, shall be one flesh. But he that is joined unto the Lord is one spirit. Flee fornication. Every sin that a man doeth is without the body; but he that committeth fornication sinneth against his own body. What? know ye not that your body is the temple of the Holy Ghost which is in you, which ye have of God, and ye are not your own? For ye are bought with a price: therefore glorify God in your body, and in your spirit, which are God's. Now concerning the things whereof ye wrote unto me: It is good for a man not to touch a woman. Nevertheless, to avoid fornication, let every man have his own wife, and let every woman have her own husband. Let the husband render unto the wife due benevolence: and likewise also the wife unto the husband. The wife hath not power of her own body, but the husband: and likewise also the husband hath not power of his own body, but the wife. Defraud ye not one the other, except it be with consent for a time, that ye may give yourselves to fasting and prayer; and come together again, that Satan tempt you not for your incontinency. (1 Corinthians 6:13-7:5)
In this passage we are taught that as believers we are joined together with Christ. We also see that sexual relations are the part of a marriage, which makes us physically joined together with our spouse.
Marriage is the earthly representation of the relationship between Christ and the Church (Ephesians 5:22-33). Since the Holy Spirit lives in us instead of a building (Ezekiel 37:14; John 14:15-20; Romans 8:9-11), we are the temple of the Holy Spirit (1 Corinthians 6:19-20). Therefore physical purity is representative of the holiness of the temple of the Holy Spirit.
God realizes that not everyone has the gift of being able to remain celibate (Matthew 19:9-12; 1 Corinthians 7:7-9). Therefore, in 1 Corinthians 7:1-5 God tells us that a man should have his own wife and a woman should have her own husband to avoid fornication. He also explains that each spouse's body is given and belongs to the other spouse and they should do everything physically satisfy each other.
God finishes by admonishing couples not to withhold their bodies from one another or else they would be taking something that is not theirs. This is because the wife's body is given physically to the husband and the husband's body is given physically to the wife. Some people think that this is extreme, but God is teaching us that the focus of each spouse is to please the other spouse physically by using their own body.
God also tells us that if a couple does withhold their bodies from one another that it should only be with mutual consent for prayer and fasting. Additionally, a time should be set when they will reunite physically so they are not tempted by Satan for their inability to succumb to fornication with someone else.
Practically speaking, in my experience as a Biblical counselor, some people say they have decided to have a temporary or trial separation. When I hear this I ask them if they will be praying and fasting and if they have set a date to reunite physically. Usually the answer is no, but there are those times where praying and fasting is needed separately by a husband and wife with the intention of drawing closer to God. Even so, reuniting physically must be planned.
What does the Bible teach about idolatrous fornication?
Idolatrous fornication refers to engaging in idolatry, unrighteous behaviors, or worship of anything other than God (Colossians 3:1-11). Often it used in the Old Testament in referring to the nation of Israel forsaking God and following other gods or heathen practices. This too is referenced symbolically to the marriage relationship between God as the husband and Israel as the bride (Ezekiel 16).
An extensive symbolic demonstration of this is found in the book of Hosea. This book tells of the marriage between Hosea and Gomer, a common prostitute. The book represents God's love for the nation of Israel despite the many times she was unfaithful. Israel's sin, judgment, and forgiveness by God are presented in a way that strongly ties the story to what can happen when there is an unfaithful spouse in a marriage. Practically speaking, Hosea is an excellent resource to use with couples seeking reconciliation after one or both of them have been unfaithful.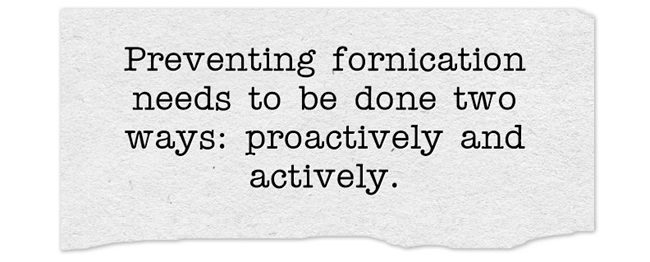 How does someone prevent fornication?
Preventing fornication needs to be done two ways: proactively and actively. Proactively, we should continually be studying our Bible, memorizing Scripture, attending church, praying, socializing with other believers, and developing a close relationship with a mentor that can hold us accountable for our Spiritual growth.
Actively, we should constantly be on guard for situations where we would be tempted to develop a sexual relationship with someone to whom we are not married. Several ideas are as follows:
We should avoid being alone with a member of the opposite sex or someone we are attracted to.
We should never have a conversation with someone that we should only be having with a spouse.
We should avoid pornography, suggestive entertainment, and things that lead us to think sexual thoughts.
If something makes us think about a sexual relationship outside of marriage, it can lead to it happening.
Finally, and most importantly, we should be filling our life with wholesome things that lead us to a deeper relationship with Christ. This will help us rely on His power and leading to keep us pure.
Conclusion
Fornication can be literal sexual relations between two people who are not married or engaging in idolatry, unrighteous behaviors, or worship of anything other than God. The key to overcoming or preventing both types of fornication is a deep relationship with Jesus Christ.
Article By Dr. Michael Williams
Dr. Michael L. Williams is a pastor, author, Christian educator and Biblical counselor who has served in ministry since March of 2000. Dr. Mike holds under-graduate through post graduate degrees in Christian Education and formerly worked as a nurse. Dr. Mike is the Senior Pastor of Selah Mountain Ministries, which he founded in March of 2010 in Albuquerque, New Mexico, USA (selahmountain.org). In addition to counseling, he teaches how to overcome life issues Biblically on topics such as anger management, marriage, addictions, and other subjects typically referred to as mental illnesses. Dr. Mike is also a writer at What Christians Want To Know. Dr. Mike lives with his wife Pamela Rose and adult daughter Hollie Rose. He and Pamela have other adult children and several grandchildren as well. Learn more about Dr. Mike at his personal ministry web site Wisdom4Today
Resource – Scripture quotations are from The Holy Bible, King James Version. (1) Google. (2014). "Fornication". Retrieved from https: //www. google.com/? gws_ rd=ssl#q=what+is+fornication. (2) Strong, James, (2014). "Fornication". Strong's Talking Greek & Hebrew Dictionary: #4202 & #4203. Retrieved from WordSearch 10.