Have you ever just stopped and thought about the current state of our world? If you haven't, it would be wise for you to do so! When you turn on the news it seems all you see is pain; war, murder, infidelity, and crime are on every news report. But, every once in a while there is an inspiring story that warms the hearts of many and gives hope to those who have lost it due to living in this world. The Bible is very similar in this regard. Much of what's included in the Bible is bad; people die, sin abounds, and various crimes are committed. Yet, amidst all of that there is the message of hope. Despite all of the evil, charity is often illuminated within the pages. But, what does charity mean in the Bible? Like usual, to find out, we must look into the Word of God and see where charity is talked about.
2 Corinthians 9:7 "so let each one give as he purposes in his heart, not grudgingly or of necessity; for God loves a cheerful giver."
In the Bible, much like what we would believe today, charity is equated with giving. To be charitable, literally, would mean to be a giver. In the context of 2 Corinthians 9, the Apostle Paul is talking about money; however, charity is never limited to money within the Bible. Regardless, the Bible does tell us to bless others as much as we can. Yet, it must be done cheerfully, otherwise it is meaningless. We should never feel obligated to be charitable—we should want to be! After all, Jesus was incredibly charitable to us.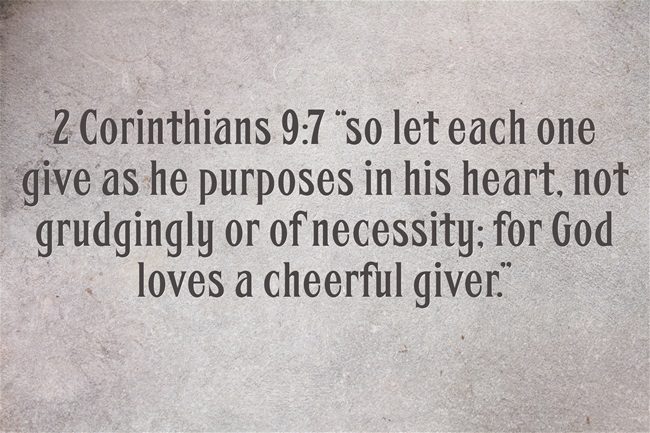 Proverbs 19:17 "He who has pity on the poor lends to the Lord, and He will pay back what he has given."
Charity involves helping those who need it. Often times, it will be through giving tithes to a church or through handing someone in need some money. But, there are other ways to be charitable to the less fortunate, too. If we know someone in need, we can always buy the groceries, give some type of gift card, or pay for a bill that we know is coming up.
Hebrews 13:2 "Do not forget to entertain strangers, for by so doing some have unwittingly entertained angels."
In order to be charitable, it is also important to be hospitable. The two often go hand-in-hand. Hospitality means we are willing to open up our homes and lives to those that need it. It doesn't mean that we have to allow strangers to sleep in our homes, but it does mean we are to be friendly, compassionate, and kind to anybody around us—including strangers!
Philippians 2:3-4 "Let nothing be done through selfish ambition or conceit, but in lowliness of mind let each esteem others better than himself. Let each of you look out not only for his own interests, but also for the interests of others."
This is a perfect definition of charity found in the Bible. Again, it doesn't necessarily mean money has to be given (although that's certainly included). The fact is, it's far greater than just handing out money or tithing—it goes deep into our hearts. If we are a charitable person, we will start caring for other people more than we care for ourselves. We will start wanting to listen to other people's troubles more than we like to speak about our own. In other words, to be charitable according to the Bible is to be a sacrificial giver of every part of our life, from our money to our time.
Conclusion
To see what charity looks like in the Bible, look no further than Jesus Christ. It is through His life that you see the epitome of charity. He did not worry about his own life, career, or popularity. What he did care about, however, was people. In John 15:13, Jesus even claimed: "greater love has no one than this, than to lay down one's life for his friends." That is the greatest charity known to man, and Jesus performed it by dying on the cross for all of us. Love is what prompted his charity. Without love, charity is nothing more than a good deed done for some type of selfish reason (1 Corinthians 13 showcases that beautifully). So, if you really want to know what the biblical definition of charity is, look to Jesus!
Article By Michael Krauzer