What does the Bible say about brother love? How do the Scriptures define it?
Who is my Brother?
Jesus once told the Parable of the Good Samaritan when asked "Who is my brother?" In this parable Jesus (Luke 10:25-37) shows that it is basically anyone in need and not someone who is only a blood relative so brotherly love is shown to all men and women who need help at various times in their lives, just as we do from time to time. Just as the author of Hebrews says in 13:1 "Keep on loving one another as brothers and sisters" so it has nothing really to do with one's own immediate family but those who we encounter during our lifetime and the imperative "keep on loving" means that it's not a onetime act but an ongoing action which is why we're told to "Love one another with brotherly affection. Outdo one another in showing honor" (Rom 12:10). By the way "If anyone says, "I love God," and hates his brother, he is a liar; for he who does not love his brother whom he has seen cannot love God whom he has not seen" (1 John 4:20). You cannot call someone brother while hating them. If you do, you can't claim to love God.
The Greatest of Love
Truly there is no greater love than someone who is willing to die for their friends (John 15:13) and that is exactly what Jesus did (Rom 5:8). Jesus says that this is how people "will know that you are my disciples, if you have love for one another" (John 13:35). Those who are brothers and sisters "have unity of mind, sympathy, brotherly love, a tender heart, and a humble mind" (1 Pet 3:8) and this is how "We know that we have passed out of death into life, because we love the brothers" (1 John 3:14). This love of God is revealed when we "Love [our] enemies [and] do good to those who hate [us]" (Luke 6:27). Sometimes hate and love is very closely related because the opposite of love isn't hate, its indifference or apathy. Jesus was the epitome of love which was displayed on the cross and shown to those who were crucifying Him when He said "Father, forgive them, for they know not what they do" (Luke 23:34). We may not realize that they didn't take Jesus by surprise and by force to kill Him because He actually said "No one takes it from me, but I lay it down of my own accord. I have authority to lay it down, and I have authority to take it up again. This charge I have received from my Father" (John 10:18) and "I lay down my life for the sheep" (John 10:15) which is why He said "Do you think that I cannot appeal to my Father, and he will at once send me more than twelve legions of angels" (Matt 26:53)? Just think, Jesus voluntarily died for us while we were still sinners (Rom 5:8) and even worse, while we were still His enemies (Rom 5:10). That is the greatest love of all.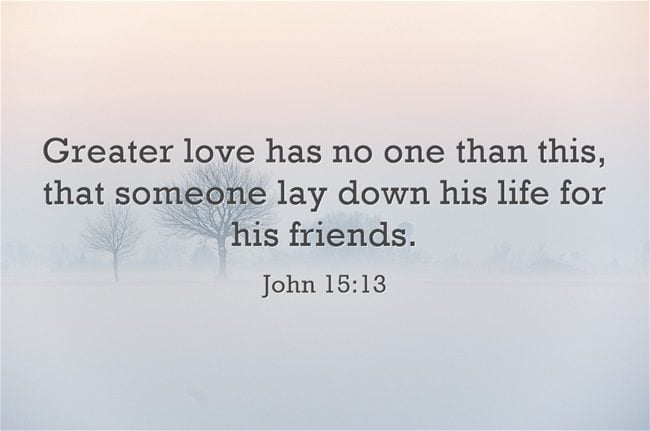 A Brother Loves at all Times
I have a very close friend and brother who is really closer than my own blood brother and it is true that "A friend loves at all times, and a brother is born for adversity" (Prov 17:17). He isn't afraid to tell me the truth and doesn't worry about offending me when I'm wrong because "Faithful are the wounds of a friend [but] profuse are the kisses of an enemy" (Prov 27:6). The most brotherly thing he can do is to tell me the truth when I am wrong so that I can grow and learn something. Insincere flattery really gets me nowhere which is why Solomon wrote "Whoever rebukes a person will in the end gain favor rather than one who has a flattering tongue" (Prov 28:23) for it is far better to "Let a righteous man strike me–that is a kindness; let him rebuke me–that is oil on my head" (Psalm 141:5). For me, he is that "friend who sticks closer than a brother" (Prov 18:24b). He willingly choses to honor others above himself (Rom 12:10b) and to esteem others better than himself (Phil 2:3).
The Highest Love
In the Book of 1st John chapter four, John uses the Greek word "agape" (as a noun) or as a verb "agapao" and this is the highest level of all loves mentioned in the Bible. It is much higher than brotherly love (Greek, "philia"). It is the same love that Jesus showed on the cross and spoke of that God loved the world so much that He predetermined to gives His one and only unique Son, Jesus Christ, to die for those who would believe in Him (John 3:16). The word used for love is "agapao" and is a love that someone has where they're willing to die for those who hate them and are unworthy (which is all of us). The Apostle John understood this love because He was there with Jesus during His earthly ministry and observed Him dying on the cross. This must have been what He was thinking about when he wrote "let us love (agapaō) one another, for love (agape) is from God, and whoever loves (agapaō) has been born of God and knows God. Anyone who does not love (agapaō) does not know God, because God is love (agape)" (1 John 4:7-8) and "In this the love (agape) of God was made manifest among us, that God sent his only Son into the world, so that we might live through him. In this is love (agape), not that we have loved (agapaō) God but that he loved (agapaō) us and sent his Son to be the propitiation for our sins" (1 John 4:9-10). Here we see that God loved us first. God made the first move and so we should love our brothers and our sisters in a way that is self-sacrificing and even if it means giving your life for your friends or brothers and sisters.
Conclusion
God is love but love typically produces obedience and for all who refuse to repent and believe in Christ, they receive justice. For those who do trust in Christ, they receive what they don't deserve (called grace) and have withheld what the really did deserve (called mercy). Which side are you on? Do you have eternal life (John 3:36a) or do you still have the wrath of God still abiding on you (John 3:36b)?
Article by Jack Wellman

Jack Wellman is Pastor of the Mulvane Brethren church in Mulvane Kansas. Jack is also the Senior Writer at What Christians Want To Know whose mission is to equip, encourage, and energize Christians and to address questions about the believer's daily walk with God and the Bible. You can follow Jack on Google Plus or check out his book  Blind Chance or Intelligent Design available on Amazon.