Does the Bible give us a clear definition of submission? What does Christian submission mean and look like?
Submission Definition
The word submit or submission means to submit under the authority or power of someone else and is usually deemed mandatory or obligatory. We submit to the authorities every time we obey the speed limit. We submit to the laws of the U.S. every time we file our taxes (at least honestly). If we sign a contract, we are submitting to the conditions stated in the contract and if we fail to live up to those requirements, we can do ourselves harm either criminally, in a civil lawsuit, or financially. To submit or be submissive is to be obedient to some requirement or authority and it is the very act of submitting to or being under that authority or control of someone or something else. The biblical idea of submitting or submission is quite a bit different than what was stated above as we shall read.
Submission of Wives
Peter saw submission as a godly thing and wrote in 1st Peter 3:4-6 to the women of the church to "let your adorning be the hidden person of the heart with the imperishable beauty of a gentle and quiet spirit, which in God's sight is very precious. For this is how the holy women who hoped in God used to adorn themselves, by submitting to their own husbands, as Sarah obeyed Abraham, calling him lord. And you are her children, if you do good and do not fear anything that is frightening." I know of very few Christian women who are not willing to submit to their husbands if the man loves his wife as Christ loved the church and was willing to die for her if necessary and living with her in a way as to "give himself up for her" which is commanded of men (Eph 5:25). Nowhere in the Bible is it taught that a woman must submit to anyone other than her own husband. No other man has the right to make a woman submit to him…that is specified only to her husband. This doesn't mean that she is anything less than the man…they are co-equals and co-heirs in Christ as Jesus submitted to the Father but both were co-equally God in all aspects.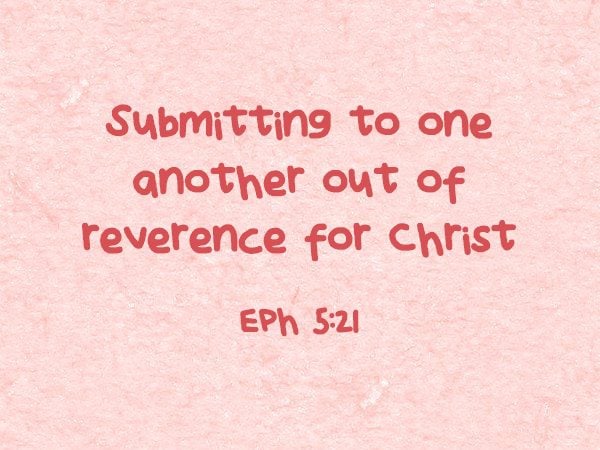 Submission to God
We all are commanded to submit to or to be in submission to God as James writes in 4:7 "Submit yourselves therefore to God. Resist the devil, and he will flee from you." The way James writes this is that our being able to resist the devil is conditioned on whether we are submitting ourselves to God…only then will "he flee from you" but if you're not submitting to God, you might not be able to resist the devil because you resisting God and you can't expect God's help in resisting temptation from the devil or his demons while you're refusing to submit to Him. There is no guarantee that he will flee from you at all under this circumstance.
Submitting to God's Law
When Paul writes to the church at Rome that "the mind that is set on the flesh is hostile to God, for it does not submit to God's law; indeed, it cannot" (Rom 8:7) it is because it takes the Holy Spirit to be able to submit to God, not to mention to submit to His law. I think in the context of this chapter, Paul is obviously speaking about the Ten Commandments and not the Mosaic Law. For those who don't have the Spirit of God they're "being ignorant of the righteousness of God, and seeking to establish their own, they did not submit to God's righteousness" (Rom 10:3). This means that we are to submit to man's laws too, at least when they don't conflict with the Laws of God. Paul writes "Let every person be subject to the governing authorities. For there is no authority except from God, and those that exist have been instituted by God" (Rom 13:1) and the reason is that "whoever resists the authorities resists what God has appointed, and those who resist will incur judgment" (Rom 13:2). This means we should "Pay to all what is owed to them: taxes to whom taxes are owed, revenue to whom revenue is owed, respect to whom respect is owed, honor to whom honor is owed" (Rom 13:7). That is godly submission. Resisting those in authority is resisting God Himself and if you aren't submitting to the laws of the land, you are not submitting to God. The reason that Israel was disciplined so often was that she "would not submit" to God (Psalm 81:11). Peter understood that we should "Be subject for the Lord's sake to every human institution, whether it be to the emperor as supreme, or to governors as sent by him to punish those who do evil and to praise those who do good" (1 Pet 2:13-14).
Submitting to One Another
We typically don't think of submitting to one another in the church but only to those who are in authority over us but that's not the case as Paul writes that we are to be "submitting to one another out of reverence for Christ" (Eph 5:21). This means we "serve one another humbly in love" (Gal 5:13) and "in humility value others above yourselves" (Phil 2:3) and as Peter tells the church "clothe yourselves with humility toward one another, because, 'God opposes the proud but shows favor to the humble'" (1 Pet 5:5). Paul writes to the church at Corinth to be "subject to such as these, and to every fellow worker and laborer" (1 Cor 16:16) so submission isn't just for some, it is for all.
Conclusion
The Bible teaches that we should submit to one another out of a reverence for Christ, to esteem others better than ourselves, to obey those who have authority over us, and most of all, to submit ourselves under God's authority and His Law because God will resist all who refuse to submit and humble themselves but will only give grace to the humble and humble people are submitting people.
Article by Jack Wellman

Jack Wellman is Pastor of the Mulvane Brethren church in Mulvane Kansas. Jack is also the Senior Writer at What Christians Want To Know whose mission is to equip, encourage, and energize Christians and to address questions about the believer's daily walk with God and the Bible. You can follow Jack on Google Plus or check out his book Blind Chance or Intelligent Design available on Amazon.