What does the Bible say about arrogance? How does it define it? What comes from having an arrogant attitude?
What is Arrogance?
Arrogance can be defined as having an attitude of superiority and being full of self or having an extreme form of pride. It can be manifested in an overbearing personality that makes it hard for others to be around. They usually have an inflated ego and sense of self-worth that is highly overestimated and an arrogant person can be presumptuous or claim to be superior and all others are deemed to be far inferior and that they feel that they are so much better than others. An athlete that is arrogant claims far more credit for him or herself than others on the team. At the heart of all arrogance is pride and we know from the Bible that God resists the proud (James 4:6).
What God thinks of the Arrogant
Surprisingly, the Book of Psalms has more to say about arrogance than any other book in the Bible and the fact is that "The arrogant cannot stand in your presence" (Psalm 5:5) or in God's presence and "To the arrogant I say, 'Boast no more,' and to the wicked, 'Do not lift up your horns" (Psalm 75:4). A wicked person will "pour out arrogant words; all the evildoers are full of boasting" (Psalm 94:4) but God will "rebuke the arrogant, who are accursed, those who stray from your commands" (Psalm 119:21).   The psalmist also wrote "May the arrogant be put to shame" (Psalm 119:78). What will be the end of the arrogant? "The eyes of the arrogant will be humbled and human pride brought low; the Lord alone will be exalted in that day" (Isaiah 2:11) and "So people will be brought low and everyone humbled, the eyes of the arrogant humbled" (Isaiah 5:15).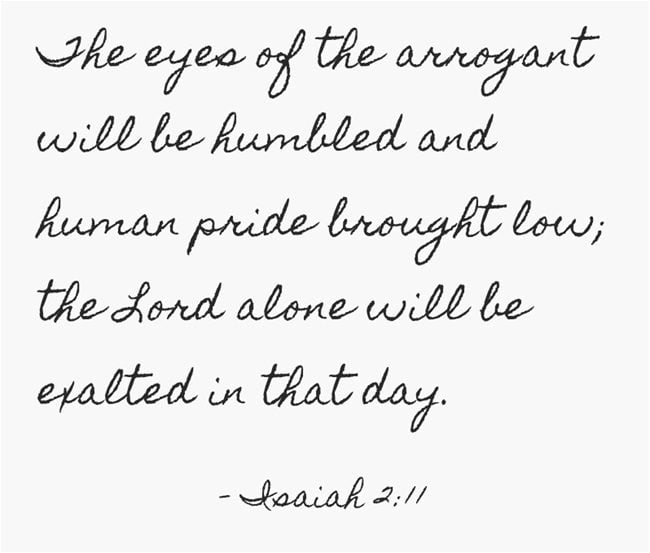 The Fate of the Arrogant
Jeremiah tried to warn the arrogant nation of Israel and the leadership that unless they repented and humbled themselves, they would be sent into captivity but they didn't listen. Even so, Jeremiah tried warning them by writing "See, I am against you, you arrogant one," declares the Lord, the Lord Almighty, "for your day has come, the time for you to be punished" (Jer 50:31) because eventually "The arrogant one will stumble and fall and no one will help her up; I will kindle a fire in her towns that will consume all who are around her" (Jer 50:32). Just as with pride, King Belshazzar also had an arrogant heart which is why Daniel wrote about him "when his heart became arrogant and hardened with pride, he was deposed from his royal throne and stripped of his glory" (5:20). In fact, whoever is "is arrogant [will] never [be] at rest" (Hab 2:5). God warned Jerusalem too saying "I will remove from you your arrogant boasters. Never again will you be haughty on my holy hill" (Zeph 3:11).
The Arrogance of Unbelievers
Paul mentions a list of attributes of the unregenerate such as "slanderers, God-haters, insolent, arrogant and boastful; they invent ways of doing evil; they disobey their parents" (Rom 1:30) which explains why he tells Christians "Do not be arrogant, but tremble" before God (Rom 11:20) because some of them had apparently "become arrogant" (1 Cor 4:18). It seems easier for the rich to be arrogant which explains why James wrote "Command those who are rich in this present world not to be arrogant nor to put their hope in wealth, which is so uncertain, but to put their hope in God' (James 4:16) and "those who follow the corrupt desire of the flesh and despise authority [are] bold and arrogant, they are not afraid to heap abuse on celestial beings" (2 Pet 2:10).
Conclusion
We have no need to be arrogant because this is very much like being full of pride and we know that God hates pride and those who are full of pride and arrogant are those who God is against and He will humble them who are (1 Pet 5:5). The Bible defines arrogance as someone who is presumptuous, has an overinflated ego, and estimates their self-worth far above what their real value is. Why have God resist you when we know that He draws near to those who are of a humble and contrite spirit (Psalm 34:18). Since this is true, so too is the opposite; He will be far from those who are arrogant and prideful.
Article by Jack Wellman

Jack Wellman is Pastor of the Mulvane Brethren church in Mulvane Kansas. Jack is also the Senior Writer at What Christians Want To Know whose mission is to equip, encourage, and energize Christians and to address questions about the believer's daily walk with God and the Bible. You can follow Jack on Google Plus or check out his book  Blind Chance or Intelligent Design available on Amazon.